Lethen and Roberts in sf/fantasy mode, fantasy stalwarts Kuang, Sanderson, and Winter with new works, and Chloe Neill shape-shifting to a new subgenre.
Kuang, R.F. The Burning God. Harper Voyager. Nov. 2020. 560p. ISBN 9780062662620. $26.99. FANTASY
Kuang wraps up her Compton Crook Award–winning, Nebula and Locus Award–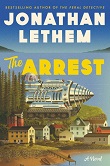 nominated, multi-best-booked "The Poppy War" trilogy with heroine Rin, a war orphan–turned–military leader with shamanic powers, retreating to the southern provinces from whence she came and amassing an army of common folks who see her as their savior during civil war. But can she defeat the Dragon Republic, the colonizing Hesperians, and the voice of the Phoenix begging her to burn down the world?
Lethem, Jonathan. The Arrest. Ecco. Nov. 2020. 288p. ISBN 9780062938787. $27.99. lrg. prnt. SF/POSTAPOCALYPTIC
Protean award winner Lethem here conducts us through the Arrest, a weirdly undefinable time when everything from computers to guns have stopped working. Screenwriter Sandy Duplessis, who has retreating to Maine to help his organic farmer sister, suddenly finds himself playing host to old writing partner Peter Todbaum, who arrives from Hollywood with unclear intentions and a retrofitted tunnel-digger powered by a nuclear reactor. With a 125,000-copy first printing.
Neill, Chloe. The Bright and Breaking Sea. Berkley. Nov. 2020. 368p. ISBN 9781984806680. pap. $16. FANTASY/ACTION & ADVENTURE
Kit Brightling boasts a near-magical connection to water that helped her become that rare female captain in Queen Charlotte's fleet. Now she's been sent on a special mission to rescue a spy, but she's stuck with an unwelcome partner—Rian Grant, Viscount Queenscliffe, whose motives are murky. New York Time best-selling author Neill diverges from her past work (e.g., "Chicagoland Vampires") to embrace historical fantasy.
Roberts, Nora. The Awakening. (The Dragon Heart Legacy, Bk. 1). St. Martin's. Nov. 2020. 464p. ISBN 9781250272614. $28.99. CD. FANTASY
Wildly popular in every genre, Roberts launches her next fantasy series (after the "Chronicles of The One" trilogy) with Breen Kelly finally realizing that she can no longer wait for the father who abandoned her when she was 12 years old, promising that he would return. Instead, on a trip to Ireland, she steps through a portal to discover that she has magical powers—and a call to battle evil. With a million-copy first printing and a one-day laydown on November 24.
Sanderson, Brandon. Rhythm of War. (The Stormlight Archive, Bk. 4). Tor. Nov. 2020. 1088p. ISBN 9780765326386. $34.99. CD. FANTASY/EPIC
In this fourth in the "Stormlight Archive" series and sequel to the No. 1 New York Times best-selling Oathbringer, Dalinar Kholin and his Knights Radiant have been fighting against enemy invasion for a year. New technoloyg seem to be helping the enemy, and an arms race is on. With a 500,000-copy first printing and epic indeed; check out the page count.
Winter, Evan. The Fires of Vengeance. Orbit: Hachette. Nov. 2020. 544p. ISBN 9780316489805. $28. Downloadable. FANTASY
Born in England to South American parents and raised in Africa near the historical territory of his Xhosa ancestors, Winter draws on his background to light up this second book in "The Burning" series, wherein a queen who has lost her throne joins with a young warrior in a battle to regain it. With a 75,000-copy first printing; originally scheduled for July 2020.