Orange Prize long-listed Clare Clark, IMPAC short-listed Tim Pears, and National Book Award finalist Howard Norman are joined by aspiring young writers who are already buzzing.
Clark, Clare. In the Full Light of the Sun. Houghton Harcourt. Jul. 2019. 400p. ISBN 9780544147577. $27; ebk. ISBN 9780544146822. LITERARY/HISTORICAL
Author of the Orange Prize long-listed Savage Lands and The Great Stink, also a Washington Post Best Book, Clark returns with a 1920s Berlin–set story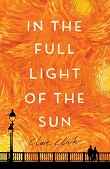 of art student Emmeline, art expert Julius, and shadowy dealer Rachmann, caught up in what appears to be the discovery of 32 heretofore unknown paintings by van Gogh. Inspired by a real-life forgery scandal and defining a generation caught between hope and humiliation.
Dukess, Karen. The Last Book Party. Holt. Jul. 2019. 256p. ISBN 9781250225474. $27; ebk. ISBN 9781250225467. LITERARY
In late 1980s New York, aspiring writer Eve Rosen is trying to keep up her spirits as a lowly assistant when she lucks out with an invitation to an event at the Cape Cod home of New Yorker writer Henry Grey and his poet wife, Tillie. She lucks out further when she becomes Grey's research assistant and is invited to the couple's oh-so-chic Book Party, but soon she's starting to think that the publishing world isn't so glamorous after all. UN speechwriter Dukess gets a national tour for her fiction debut.
ffitch. Madeline. Stay and Fight. Farrar. Jul. 2019. 304p. ISBN 9780374268121. $27; ebk. ISBN 9780374719715. LITERARY
Her boyfriend quickly tires of living off the land in Appalachian Ohio, but Helen survives the winter with some neighborly help and soon brings in Karen and Lily, forced from the Women's Land Trust after their son's birth. But the outside world won't stay outside. From an activist with Appalachia Resist! and cofounder of the punk theater company Missoula Oblongata, a first novel on the realities of a neglected region.
Koe, Amanda Lee. Delayed Rays of a Star. Nan A. Talese: Doubleday. Jul. 2019. 384p. ISBN 9780385544344. $27.95; ebk. ISBN 9780385544351. Downloadable. LITERARY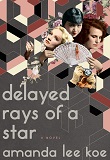 In 1928 Berlin, photographer Alfred Eisenstaedt captures rising stars Marlene Dietrich and Anna May Wong and soon-to-be-vilified director Leni Riefenstahl in a single frame, from which Koe spins a story that in manuscript won the 2017 Henfield Prize, awarded to the best work of fiction by a graduating MFA candidate at Columbia University. Koe is also the youngest winner of the Singapore Literature Prize for her debut story collection, Ministry of Moral Panic, so expect something good.
Maizes, R.L. We Love Anderson Cooper: Short Stories. Celadon: Macmillan. Jul. 2019. 176p. ISBN 9781250304070. $25; ebk. ISBN 9781250304094. SHORT STORIES
A young man outs himself at his bar mitzvah. A cold-shouldered artist embellishes his skin with tattoos that come alive. A Jewish actuary accuses his cat of cheating on him with his Protestant girlfriend. These are such intriguing-sounding stories that I would include this collection here even if Maizes claims a Pushcart nomination and Honorable Mention in Glimmer Train's Fiction Open contest.
Morris, Kevin. Gettysburg. Grove. Jul. 2019. 300p. ISBN 9780802147387. $26; ebk. ISBN 9780802147394. LITERARY
In Morris's follow-up to All Joe Knight, long-listed for the Center for Fiction First Novel Prize, Hollywood entertainment lawyer John Reynolds enjoys a successful career but feels big-picture dissatisfied. So, having escaped rural Gettysburg, PA, in his youth, he signs up for a reenactment of the Battle of Gettysburg in California's Chino Valley—impulsively inviting along a former Playmate and a former Miss Spain. Note that entertainment lawyer Morris is coproducer and Tony Award winner for Broadway's big-hit The Book of Mormon.
Norman, Howard. The Ghost Clause. Houghton Harcourt. Jul. 2019. $27; ebk. ISBN 9780544988064. $27. LITERARY
Simon Inescort succumbed to a heart attack on a Nova Scotia–bound ferry, but he still meditatively floats about the Vermont farmhouse his widow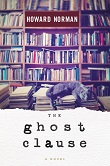 just sold to newlyweds Zachary and Muriel. The deed contains a so-called ghost clause permitting reimbursement if a house turns out to be haunted (apparently such clauses are an actual thing in Vermont), but the real problem is a missing child whose case falls to newbie private detective Zachary. Genre blending from National Book Award finalist Norman
McQuade, Kate. Tell Me Who We Were: Stories. Morrow. Jul. 2019. 208p. ISBN 9780062869791. $25.99; ebk. ISBN 9780062869814. LITERARY
A handsome young romance language teacher at an all-girls boarding school is found dead at the bottom of Reed Pond, and as McQuade shows in a series of linked stories, the lives of Lilith and Romy, Evie and Claire, Nellie and Grace are changed forever. First love, first loss, and an intriguing-sounding first book with a 40,000-copy first printing.
Pears, Tim. The Redeemed. Bloomsbury. (West Country Trilogy, Bk. 3). Jul. 2019. 400p. ISBN 9781635573824. $29; ebk. ISBN 9781526601049. LITERARY/HISTORICAL
A multi-award-winning and -nominated author (e.g., he was short-listed for the IMPAC Dublin Literary Award in 2012), Pears wraps up his "West Country" trilogy with the Great War in full blast, Leo Sercombe hauling coal far from home on the HMS Queen Mary, and Lottie Prideaux defiantly roaring about the West Country roads on her motorcycle and studying to be a veterinarian.
Smith, Sarah Elaine. Marilou Is Everywhere. Riverhead. Jul. 2019. 288p. ISBN 9780525535249. $26; ebk. ISBN 9780525535263. Downloadable. LITERARY
Living in rural Pennsylvania with two older brothers, intermittent electricity, and a mother who drops in occasionally, 14-year-old Cindy does something audacious. When a glamour-queen teen goes missing from her well-appointed home, Cindy finds a way to take her place and discovers unabashed comfort and maternal love while wondering about her own intentions. A debut from a recipient of a Rona Jaffe Wallace fellowship.