Callender's Caribbean-inspired historical fantasy series wraps, horror master Miller returns, and more.
Callender, Kacen. King of the Rising. Orbit: Hachette. Dec. 2020. 480p. ISBN 9780316454940. pap. $16.99. HISTORICAL FANTASY
Hawke, Sam. Hollow Empire: A Poison War Novel. Tor. Dec. 2020. 560p. ISBN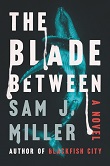 9781250207081. $30.99; pap. 9780765396945. $19.99. FANTASY/EPIC
Merbeth, Kristyn. Memoria. Orbit: Hachette. Dec. 2020. 464p. ISBN 9780316454018. pap. $16.99. SF/SPACE OPERA
Miller, Sam J. The Blade Between. Ecco. Dec. 2020. 384p. ISBN 9780062969828. $26.99. HORROR
VanderMeer, Jeff. Ambergris: City of Saints and Madmen; Shriek: An Afterword; Finch. MCD: Farrar. Dec. 2020. 928p. ISBN 9780374103170. $35. SF
Drawing inspiration from Callender's Caribbean homeland, King of the Rising closes the "Islands of Blood and Storm" series with the formerly enslaved Loren Jannik fighting to keep the islands of Hans Lollik free (30,000-copy first printing). Winner of Ditmar, Hemming, and Aurealis honors, Australian author Hawke continues the "Poison Wars" with Hollow Empire, as the city-state of Silasta is besieged by assassins and witches (40,000-copy paperback and 5,000-copy hardcover first printing). Merbeth's Memoria continues the "Nova Vita Protocol" trilogy with two planets at war, as Scorpia Kaiser aims to head off to the stars and brother Covus continues his soldiering (30,0000-copy first printing). In the Nebula Award–winning Miller's The Blade Between, gay photographer Ronan returns to his fading upstate New York town, connecting with first love Dom and Dom's wife, Attalah, to challenge troublesome newcomers—and inadvertently stirring up the town's underlying spirits (50,000-copy first printing). VanderMeer's Ambergris is a single-volume hardcover reissue of his famous "Ambergris" trilogy, in case your copies of the originals are now worn to shreds (50,000-copy first printing).