Key titles in a brave new world marked by pandemic and political upheaval.
Click here for additional new Prepub Alert columns
Ackerman, Spencer. Reign of Terror: How the 9/11 Era Destabilized America and Produced Trump. Viking. Aug. 2021. 384p. ISBN 9781984879776. $30. Downloadable. POLITICAL SCIENCE
Ackerman, a multi-award-winning national-security correspondent, shows how the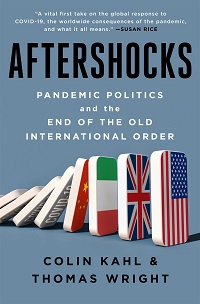 nativist sentiments amplified by the War on Terror, both here and abroad, on the ground and through drone strikes, digital surveillance, and torture, did not just fracture America but led to the emergence of a demagogue like Donald Trump. With a 35,000-copy first printing.
Chemerinsky, Erwin. Presumed Guilty: How the Supreme Court Empowered the Police and Subverted Civil Rights. Liveright: Norton. Aug. 2021. 320p. ISBN 9781631496516. $27.95. DISCRIMINATION
Dean of the University of California, Berkeley, School of Law, Chemerinsky argues that the emergence of a conservative Supreme Court has continued to sustain America's long history of racist policing, with rulings that have allowed stop-and-frisks, discouraged suits aimed at police reform, and failed to challenge the use of chokeholds. The solution? A court system rededicated to civil rights.
D'Aguiar, Fred. Year of Plagues: A Memoir of 2020. Harper. Aug. 2021. 240p. ISBN 9780063091535. $27. lrg. prnt. Downloadable. MEMOIR
For British-Guyanese poet/novelist D'Aguiar, 2020 was a very bad year. Not only did pandemic, protest, and wildfire rage (D'Aguiar currently lives in California, teaching at UCLA) but he was diagnosed with stage 4 cancer. Here he draws on his Caribbean heritage and American perspective to consider how one can write when faced with such crises and cut off from the support community can provide. With a 25,000-copy first printing.
Kahl, Colin & Thomas Wright. Aftershocks: Pandemic Politics and the End of the Old International Order. St. Martin's. Aug. 2021. 320p. ISBN 9781250275745. $29.99. POLITICAL SCIENCE
Two national security experts—Kahl, an adviser to Joe Biden when he was vice president, and Brookings senior fellow Wright—consider how COVID-19 has impacted American and global institutions and ideals, what its ongoing consequences will be, and what it means that until now American leadership has been absent throughout the pandemic. Fingers crossed with the authors that America could emerge with the will to deal with new and different threats and the desire to face them by cooperating with other nations. With a 125,000-copy first printing.
Meyer, Robert & Dan Koeppel. Every Minute Is a Day: A Doctor, an Emergency Room, and a City Under Siege. Crown. Aug. 2021. 272p. ISBN 9780593238592. $28. Downloadable. SOCIAL SCIENCE/DISEASE
Senior staff writer at the New York Times's Wirecutter, Koeppel texted his cousin Robert Meyer, a senior doctor in the emergency room at Montefiore Medical Center in the Bronx, as COVID-19 emerged. He asked, "On a scale of 1-10, ten being overwhelmed, where do you think you are?" Meyer replied: 100. Their subsequent texts served not just as diary and emotional support but the foundation of this you-are-there chronicle of the pandemic's unfolding.
Marya, Rupa & Raj Patel. Inflamed: Deep Medicine and the Anatomy of Injustice. Farrar. Aug. 2021. 288p. ISBN 9780374602512. $28. CD. SOCIAL SCIENCE/DISEASE
Marya, associate professor of medicine at the University of California, San Francisco, currently helping to establish the Mni Wiconi Health Clinic and Farm at Standing Rock, and political economist Patel, author of the New York Times best-selling The Value of Nothing, join forces to reveal that human health is profoundly impacted by issues of social justice. This colonization of medicine is not just a matter of who gets decent treatment and who doesn't but the political, economic, and social forces that combine to create living and working conditions that for many of us aren't safe.
Nafisi, Azar. Read Dangerously: The Subversive Power of Literature in Troubled Times. Dey Street: Morrow. Aug. 2021. 256p. ISBN 9780062947369. $26.99. LITERARY CRITICISM
It is hardly surprising to see the author of the New York Times best-selling Reading Lolita in Tehran readdress literature as both solace and subversive power but bitterly sad that the need arises owing to a president and party that have challenged both press and writing itself. Here, Nafisi calls on authors from James Baldwin to Margaret Atwood as she considers how literature helps us face our enemies while offering a free exchange of ideas that can reshape politics. With a 75,000-copy first printing.
Serwer, Adam. The Cruelty Is the Point: Essays on Trump's America. One World: Random. Aug. 2021. ISBN 9780593230800. $27. POLITICAL SCIENCE
Trump's mudslinging and the human cost of his policies? These weren't byproducts of a political agenda, argues Hillman Prize–winning Atlantic journalist Serwer, but the very intention. Blending previously published essays with new work, Serwer doesn't just interrogate the present but looks back at American history to see how we arrived at today's tragic schadenfreude.
Tubbs, Michael. The Deeper the Roots: A Memoir of Hope and Home. Oprah: Flatiron: Macmillan, Aug. 2021. 288p. ISBN 9781250173447. $27.99.
Raised in Stockton, CA, with his father in prison and tended by his church-loving grandmother, library-loving aunt, and Tupac-loving mother, Tubbs made it to Stanford, served in the Obama White House, and then returned home to become Stockton's mayor—at age 26. He recently lost his bid for reelection, perhaps owing to attacks from a local blog, perhaps because fixing a town like Stockton is complicated, perhaps because folks thought he was on to bigger things—and that at least seems to be true. Here's his story. With a 75,000-copy first printing.