Big names like Coleman, Jance, Patterson, and Robb grace the thriller list in September. Look for newbies, too; David Koepp gets a 500,000-copy first printing.
Barber, Lizzy. Anna in the Dark. Mira: Harlequin. Sept. 2019. 368p. ISBN 9780778308997. pap. $15.99; ebk. ISBN 9781488052279. THRILLER
In Barber's debut, winner of the Daily Mail First Novel Competition, Anna breaks Mamma's rule never to go to Astroland and sneaks in on her 18th birthday. She's surprised by how familiar it all seems. Meanwhile, Rosie misses her long-gone older sister and takes up the hunt 15 years after she vanished. With a 100,000-copy first printing.
Barclay, Linwood. Elevator Pitch. Morrow. Sept. 2019. 464p. ISBN 9780062678287. $26.99; ebk. ISBN 9780062678300. lrg.prnt. THRILLER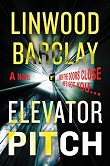 From New York Times best-selling author Barclay, here's the story of elevators that keep crashing from top to bottom floor in New York City office buildings, terrifying workers into staying home and bringing commerce to a standstill. Two detectives and a gung-ho journalist must discover who's behind it all before the city opens its tallest residential building ever. With a 100,000-copy first prining.

Coleman, Reed Farrel. Robert B. Parker'sThe Bitterest Pill. Putnam. Sept. 2019. 368p. ISBN 9780399574979. $27; ebk. ISBN 9780399574986. THRILLER
In this latest from the three-time Shamus Award winner, the opioid epidemic crashes into the placid town of Paradise with a cheerleader's probable death from overdose, and Police Chief Jesse Stone must wrestle with on-edge teachers and administrators, students and parents to get at the truth.
Hood, Joshua Hood. Robert Ludlum's The Treadstone Resurrection. Putnam. Sept. 2019. 400p. ISBN 9780525542551. $27; ebk. ISBN 9780525542568. CD/downloadable. THRILLER
In this first in a new series about Operation Treadstone, the way-under-the radar CIA black ops program that nearly did in Adam Hayes, Adam has tried to keep his distance by working as a cabinetmaker in Oregon. A colleague's spooky letter and an assassination attempt pull Adam back into the game.
Cussler, Clive & Jacques Du Brul. Untitled. Putnam. Sept. 2019. 416p. ISBN 9780735217263. $29; ebk. ISBN ISBN 9780735217270. CD/downloadable. ACTION & ADVENTURE
The mega-best-selling Cussler, here teaming with "Philip Mercer" author Du Brul, brings together protagonists from two of his popular series—Isaac Bell and Dirk Pitt—who work a century apart to solve the world's worst maritime disaster. At least Dirk has the benefit of Isaac's notes.
Flynn, Vince & Kyle Mills. Lethal Agent. Emily Bestler: Atria. Sept. 2019. 400p. ISBN 9781501190629. $28.99; ebk. ISBN 9781501190643. CD. THRILLER
Created by late thriller great Flynn and here deployed by No. 1 New York Times best-selling Mills, Mitch Rapp gets busy when ISIS forces a leading French microbiologist to manufacture anthrax, hiring a Mexican cartel to smuggle the drug across the U.S. border and showing videos to get the world anxious. But it's all a feint to disguise their plans to use a deadly virus discovered in Yemen. With a 500,000-copy first printing.
Graham, Heather. The Stalking. Mira: Harlequin. Sept. 2019. 320p. ISBN 9780778308249. $27.99; pap. ISBN 9780778308119. $8.99. PARANORMAL ROMANTIC SUSPENSE
When a girl vanishes, Cheyenne Donegal and Det. Andre Rousseau join forces and head into the misty bayous, wondering if they will find the Mortician, a serial killer who murdered Cheyenne's cousin way back when. With a 400,000-copy paperback and 10,000-copy hardcover first printing.
Gross, Andrew. The Fifth Column. Minotaur: St. Martin's. Sept. 2019. 400p. ISBN 9781250180001. $28.99; ebk. ISBN 9781250180018. lrg. prnt. CD. THRILLER
In 1941 New York, Charles Mossman has done time for an ill-considered bar fight and is now allowed to spend only late afternoons with his daughter. He's increasingly suspicious of the elderly Swiss couple living next door, who are teaching his daughter German and might just be part of a Nazi spy ring. Gross has multiple best sellers of his own (e.g., No Way Back), plus five No. 1 New York Times best sellers with James Patterson.
Koepp, David. Cold Storage. Ecco. Sept. 2019. 320p. ISBN 9780062916433. $27.99; ebk. ISBN 9780062916457. lrg. prnt. CD. THRILLER
A screenwriter/director famed for his work on Jurassic Park, Spider-Man, and more, Koepp debuts with this story Pentagon bioterror operative Roberto Diaz, who discovered an organism that could pretty much destroy all living creatures and buried it in cold storage beneath a barely there military repository. Alas, the organism has escaped, and he must corral it with the help of two unsuspecting security guards. With a 500,000-copy first printing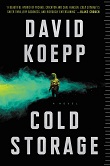 and already optioned for film.
Jance, J.A. Sins of the Fathers: A J.P. Beaumont Novel. Morrow. Sept. 2019. 368p. ISBN 9780062853431. $26.99; ebk. ISBN 9780062853455. lrg. prnt. CD. THRILLER
Former Seattle homicide cop J.P. Beaumont is enjoying retirement when old-time acquaintance Alan Dale shows up with a newborn baby in hand and a plea to help find his daughter. It gets murderous. With an eight-city tour and a 250,000-copy first printing.
Logan, T.M. 29 Seconds. St. Martin's. Sept. 2019. 368p. ISBN 9781250182296. $27.99; ebk. ISBN 9781250182319. CD. THRILLER
Sarah's work has become a living hell, with the professor in control a famed scholar and TV host who makes millions for the university and trouble for female colleagues. But when Sarah prevents the kidnapping of a child whose father is a wealthy businessman with questionable connections, there might be a way out. From the author of the best-selling LIES.
Lutz, Lisa. The Swallows. Ballantine. Aug. 2019. 368p. ISBN 9781984818232. $27; ebk. ISBN 9781984818249. THRILLER
The Edgar Award–nominated author of the beloved "Spellman" series returns with gender wars at the academy as Alex Witt, Stonebridge's new creative writing teacher, suspects nastiness after she gets some shady answers on an assignment. There's a Darkroom and a cock-of-the-walk group called The Ten, and girls need to be encouraged to say no.
Macmillan, Gilly. The Nanny. Morrow. Sept. 2019. 400p. ISBN 9780062875556. $26.99; ebk. ISBN 9780062875570. THRILLER
In 1988, seven-year-old Hannah was shattered by the abrupt departure of her nanny and, when she comes of age, bitterly abandons her parents and their ancestral digs. Years later, as she is trying to mend her relationship with her mother, the discovery of human remains and a disturbing visit set the past spinning again. With a 125,000-copy first printing; from the best-selling author of What She Knew.
Parnell, Sean. All Out War. Morrow. Sept. 2019. 400p. ISBN 9780062668813. $27.99; ebk. ISBN 9780062668837. lrg. prnt. THRILLER
A retired U.S. Army Infantry captain known for the memoir Outlaw Platoon, Parnell continues the story of Man of War's special operative Alex Steele, who was badly injured while countering a rogue agent. But he's still intent on discovering who broke into his home, hurting his mother and stealing his father's pistol. What's more, he must deal with the terrorist Zakayev, who has escaped from a maximum-security prison in Russia. With a 200,000-copy first printing.
Patterson, James with Howard Roughan. Killer Instinct. Little, Brown. Sept. 2019. 400p. ISBN 9780316420297. $28; ebk. ISBN 9780316422345. lib. ebk. ISBN 9780316422352. lrg. prnt. Downloadable. POLICE PROCEDURAL
Known even to nonreaders owing to the hit CBS series, Dr. Dylan Reinhart and Det. Elizabeth Needham reunite when terror again hits New York City. As a name on the casualty list brings back shadows from Dylan's past, Elizabeth draws the attention of the perpetrator when she's praised for her heroism during the attack.
Robb, J.D. Vendetta in Death: An Eve Dallas Novel. St. Martin's. (In Death, Book 49). Sept. 2019. 368p. ISBN 9781250207173. $28.99; ebk. ISBN 9781250207180. CD. THRILLER
On her latest cause, futuristic homicide detective Eve Dallas is seeking Lady Justice, who ensnares wayward men with her charms and then makes them pay for the crimes they have committed. Her latest victim: businessman Nigel McEnroy, whose misbehavior went well beyond workplace harassment and whose wife denies all. With a national one-day laydown on September 3.
Unger, Lisa. The Stranger Inside. Park Row: Harlequin. Sept. 2019. 336p. ISBN 9780778308720. $26.99; ebk. ISBN 9781488050985. THRILLER
Having barely avoided abduction in her youth (friends Tessa and Hank weren't so fortunate), Rain Winter lives quietly as a stay-at-home mom. Her would-be abductor was murdered upon his release from prison, and now a man acquitted of killing his wife has been dispatched as well, which draws Rain to investigate the case. With a 250,000-copy first printing; from the New York Times best-selling author of Under My Skin.
Watt, Holly. To the Lions. Dutton. Sept. 2019. 400p. ISBN 9781524745455. $27; ebk. ISBN 9781524745479. THRILLER
Eminent reporter Casey Benedict, who's brought down a number of corrupt powermongers, overhears a conversation in a London nightclub about the suspect suicide of a wealthy young man and follows clues to a gathering in northern African of more of those corrupt powermongers. With colleague Miranda and combat veteran Ed, she's going to find out what's up. Investigative reporter Watt's fiction debut.