Click here for additional new Prepub Alert columns
Elliott, Andrea. Invisible Girl: Poverty, Survival, and Hope in an American City. Random. Sept. 2021. 448p. ISBN 9780812986945. $30. SOCIAL SCIENCE
A Pulitzer Prize–winning investigative reporter for the New York Times, Elliott wrote a five-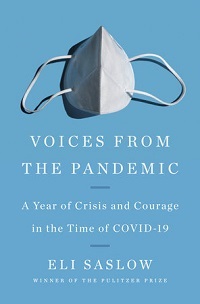 part series in 2013 about Dasani, an 11-year-old living in a homeless shelter in New York. A blistering account of a child and a family caught up in the churn of race, poverty, gentrification, and substandard schooling, it received a record-breaking three million hits and inspired 22,000 tweets. Here, Elliott expands the series with material bringing Dasani up to age 18.
Farah, Boyah J. America Made Me a Black Man: A Memoir. Harper. Sept. 2021. 240p. ISBN 9780063073357. $23.99. SOCIAL SCIENCE/RACE RELATIONS
Shaped by codes of conduct that helped him survive tough living conditions and civil war in Somalia, a self-confident Farah felt he would thrive when he arrived in America. Instead, he was shocked by the racism and police brutality he encountered. As an African refugee and a Black man in America, he offers a unique insider-outsider perspective on these issues. With a 50,000-copy first printing.
Glaeser, Edward & David Cutler. The Survival of the City: Human Flourishing in an Age of Isolation. Penguin Pr. Sept. 2021. 336p. ISBN 9780593297681. $28. DOMESTIC POLITICS
Glaeser and Cutler—an urbanist and a public health care expert, respectively, in Harvard's economics department—examine the issue of cities, much discussed in the wake of COVID-19. Yes, they concur, cities abet the spread of disease, but that is precisely why they have been key to public health advances, and for millennia they also have spread creativity, connection, and civilization. The authors don't envision a post-urban world but do think cities will change—e.g., older people may move from cities, making room for go-getting younger ones—even as they remain laboratories for America's health-care crisis and the attendant issues of income inequality and growth.
Hayhoe, Katharine. Saving Us: A Climate Scientist's Case for Hope and Healing in a Divided World. One Signal: Atria. Sept. 2021. 224p. ISBN 9781982143831. $27. SCIENCE/CLIMATE CHANGE
Director of the Climate Science Center at Texas Tech University, plus a United Nations Champion of the Earth and one of Time's "100 Most Influential People," among other encomiums, Hayhoe believes that the divide between climate-change believers and doubters can be bridged with language that avoids extremism and hence guilt, alarm, and despair. That way, we can care for our world together. With a 75,000-copy first printing.
Henning, Kristin. The Rage of Innocence: How America Criminalizes Black Youth. Pantheon. Sept. 2021. 512p. ISBN 9781524748906. $32. DOMESTIC POLITICS
A Georgetown professor who won the Robert E. Shepherd Jr. Award for Excellence in Juvenile Defense, Henning has been representing Black youth in Washington, DC's juvenile court system for 25 years. Here she argues that racist policing in America starts with the treatment of Black children, who are surveilled, physically harassed, and verbally abused by the police, condemned for the kind of push-the-limits behavior regarding sex and drugs, music and hairstyle routinely tolerated in white youth. Thus begins aggression on one side and fear and resistance on the other that defines and fuels racial injustice today.
Johnston, David Cay. The Big Cheat: How Donald Trump Fleeced America and Enriched Himself and His Family. S. & S. Sept. 2021. 320p. ISBN 9781982178031. $28. POLITICAL SCIENCE
How did Donald Trump benefit financially from being president? Foreign governments rented out whole floors of his White House–adjacent hotel, lobbyists did their persuading in the hotel's restaurants, trade groups shifted their conventions to his golf resorts, and those wanting a chance to bend the president's ear rushed to join the Mar-a-Lago club (admission fee: $200,000). All of it added up to $1.7 billion for Trump and his associates, argues Pulitzer Prize–winning investigative reporter Johnston author in this follow-up to the best-selling The Making of Donald Trump. With a 100,000-copy first printing.
Kennedy, Randall. Say It Loud! On Race, History, and Culture. Pantheon. Sept. 2021. 528p. ISBN 9780593316047. $30. HISTORY/RACE RELATIONS
Michael R. Klein Professor of Law at Harvard Law School, Kennedy collects essays that survey the cultural and historical factors shaping race relations in America over the past 25 years. In the process, he celebrates the journey of Black Americans from enslavement to high-profile involvement in all aspects of American life while also highlighting the ugly racism that remains, coming to the fore under Donald Trump's administration.
Makari, George. Of Fear and Strangers: A History of Xenophobia. Norton. Sept 2021. 304p. ISBN 9780393652000. $27.95. HISTORY
While fear of strangers may be a constant throughout human history, xenophobia is something new, explains Makari (Soul Machine), a professor of psychiatry at Weill Cornell Medical College. The term was the creation of doctors and political commentators in the late 1800s, and its use paralleled the rise of Western nationalism, colonialism, mass migration, and genocide. Now we're confronting an all-new, ramped-up xenophobia for which he gives context.
Miller, Kei. Things I Have Withheld. Grove. Sept. 2021. NAp. ISBN 9780802158956. $26. SOCIAL SCIENCE
Costa and Commonwealth short-listed for his poetry and short fiction, respectively, and the winner of multiple awards for his novel Augustown, Jamaican author Miller here addresses the silence that invades our conversations on race, sex, and gender—and the risks entailed in breaking that silence.
Nelson, Maggie. Freedom: Four Songs of Care and Constraint. Graywolf. Sept. 2021. 288p. ISBN 9781644450628. $27. LITERARY/ESSAYS
How do we talk about freedom in a world where extremists sometimes use the term in ways that seem prejudiced, perverted, or narrowly focused on self-interest? Author of the New York Times best-selling and National Book Critics Circle Award–winning The Argonauts, University of Southern California professor Nelson excavates the nuances of the term in four key areas: art, sex, drugs, and climate. With a 75,000-copy first printing.
Nordell, Jessica. The End of Bias: A Beginning; the New Science of Overcoming Unconscious Bias. Metropolitan: Holt. Sept. 2021. 320p. ISBN 9781250186188. $27.99. RACE & DISCRIMINATION
Science and culture journalist Nordell delves into cognitive science, social psychology, and developmental research to explain how we can change implicit bias, that is, unintentional prejudiced behavior that contradicts our consciously held beliefs. With a 100,000-copy first printing; originally scheduled for May 2021.
Osnos, Evan. Wildland: The Making of America's Fury. Farrar. Sept. 2021. 400p. ISBN 9780374286675. $30. POLITICAL SCIENCE
A New Yorker staffer who wrote the National Book Award–winning and Pulitzer Prize finalist Age of Ambition and the internationally best-selling Joe Biden in his spare time, Osnos revisits places he has lived—Greenwich, CT; Clarksburg, WV; and Chicago, IL—to find out why Americans are so angry. In the end, he delivers six years' worth of stories from everyday individuals. With a 100,000-copy first printing.
Rubin, Jennifer. Resistance: How Women Saved Democracy from Donald Trump. Morrow. Sept. 2021. 320p. ISBN 9780062982131. $27.99. POLITICAL SCIENCE
Opinion writer for the Washington Post, Rubin moves from the first Women's March the day after Trump's inauguration and the Blue Wave in the 2018 midterms, to the surge of female presidential candidates in the 2020 elections and the inauguration of Kamala Harris as vice president, to donations and everyday campaign work to show how women helped bring Donald Trump down. With a 100,000-copy first printing.
Saslow, Eli. Voices from the Pandemic: A Year of Crisis and Courage in the Time of COVID-19 . Doubleday. Sept. 2021. 256p. ISBN 9780385547000. $26.95. HISTORY/SCIENCE
When COVID-19 struck, Pulitzer Prize–winning Washington Post reporter Saslow began asking people what experiencing pandemic was like. From overwhelmed patients, doctors, and EMT personnel, to a restauranteur who must shut down the longtime family business and a New York grocery store owner feeding his neighborhood for free, to rural residents who deny that the whole thing is happening, here's a blow-by-blow account.
Tooze, Adam. Shutdown: How Covid Shook the World's Economy. Viking. Sept. 2021. 320p. ISBN 9780593297551. $28. ECONOMICS
Having addressed the critical 2008 economic downturn in the Lionel Gelber Prize–winning Crashed, Columbia history professor Tooze turns to the current pandemic's impact on the world economy, which contracted 20 percent in just a few weeks as a result of COVID-19. The future may still be murky, but as Tooze argues, one thing is certain: countries can no longer claim isolation or independence; we're all in this together.