From celebrated Chinese artist Ai Weiwei to Van Gogh's influences to illustrator Edward Sorel.
Click here for additional new Prepub Alert columns
Ai Weiwei. 1000 Years of Joys and Sorrows: A Memoir. Crown. Nov. 2021. 400p. ISBN 9780553419467. $32. CD/downloadable. MEMOIR
Exiled with his family to China's remote Little Siberia after his father was declared a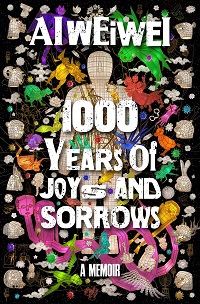 rightist during the Cultural Revolution, Ai was eventually able to study art in America, where he befriended Allen Ginsberg and checked out Andy Warhol's work. He returned home to become a world-renowned artist, the subject of two award-winning documentaries and a member of the team that designed the Bird's Nest Olympic Stadium in Beijing. He also became an ardent activist who has been jailed for his art and his beliefs. With two eight-page color inserts and line drawings throughout.
Danchev, Alexander. Magritte: A Life. Pantheon. Nov. 2021. 512p. ISBN 9780307908193. $45. Downloadable. BIOGRAPHY
A biographer of Braque and Cézanne, as well as a professor of international relations, Danchev argues that iconic iconoclast René Magritte was the single greatest influence on imagery in the modern world and a constant challenge to our understanding of reality itself. With 32 pages of color inserts and black-and-white images throughout; Danchev died just as he was completing this work, which was originally scheduled for November 2020.
Hunt, Tristram. The Radical Potter: The Life and Times of Josiah Wedgwood. Metropolitan: Holt. Nov. 2021. 352p. ISBN 9781250128348. $29.99. BIOGRAPHY
Director of the Victoria & Albert Museum, Hunt tells the story of Josiah Wedgwood—and there's a lot more to it than his iconic pottery. Wedgwood was a farsighted businessman, crucial in his contributions to the Industrial Revolution and the scientific advances of the time. He was also a leading abolitionist. With a 40,000-copy first printing and three eight-page color inserts.
Marks, Ann. Vivian Maier Developed: The Untold Story of the Photographer Nanny. Atria. Nov. 2021. 368p. ISBN 9781982166724. $40. BIOGRAPHY
While working as a nanny in mid-20th-century Chicago, Vivian Maier ambled the streets and took some 140,000 photographs that were not discovered until after her death in 2009. She's since become famous, but little was known of her life until former corporate executive Marks devoted her retirement to studying the photographer nanny. Here's the story of someone who fled a family that had some corrosive secrets and who eventually captured extraordinary emotional resonance in her images. With a 40,000-copy first printing and nearly 400 color and black-and-white illustrations throughout.
Murakami, Haruki. Murakami T: The T-Shirts I Love. Knopf. Nov. 2021. 192p. tr. from Japanese by Philip Gabriel. ISBN 9780593320426. $25. Downloadable. FASHION
Hugely popular Japanese author Murakami offers fans a peek into his closet, stacked high with his beloved T-shirts, from the one that inspired the short story "Tony Takitani" to those celebrating Springsteen on Broadway and the Beach Boys in Honolulu. With numerous brief, revealing essays; a decidedly different book.
Naifeh, Steven. Van Gogh and the Artists He Loved. Random. Nov. 2021. 448p. ISBN 9780593356678. $40. Downloadable. ART HISTORY
With his late husband, Gregory White Smith, Naifeh wrote the Pulitzer Prize–winning Jackson Pollock: An American Saga and four other New York Times best sellers, including Van Gogh: The Life. Here, Naifeh shows that while Van Gogh was a groundbreaker, he actually built on the work of artists he admired, ranging from Jean-François Millet to Claude Monet to Henri de Toulouse-Lautrec. Color illustrations throughout juxtapose works by these artists with Van Gogh's, representing 275 paintings altogether.
Richardson, John. A Life of Picasso: The Minotaur Years; 1933–1943. Knopf. Nov. 2021. 320p. ISBN 9780307266668. $35. BIOGRAPHY
Having issued three acclaimed volumes, Picasso expert Richardson completed this fourth volume on Picasso's life shortly before his death in 2019. It covers a crucial decade in Picasso's life, starting with the creation of his masterpiece, Guernica, first shown at the 1937 World's Fair in Paris. He also deepened his involvement with the surrealists Man Ray, Salvador Dalí, Paul Éluard, and André Breton on the magazine Minotaur and survived Nazi-occupied Paris and prohibitions against exhibiting because he was classed as a degenerate artist by the Nazis. With 213 illustrations and 24 pages of four-color art.
Sorel, Edward. Profusely Illustrated: A Memoir. Knopf. Nov. 2021. 336p. ISBN 9780525521068. $30. MEMOIR
Illustrator/caricaturist Sorel, whose work is familiar to readers of Vanity Fair, the Atlantic, and The New Yorker, tracks his life from the Depression-era Bronx and New York's celebrated High School of Music & Art to his founding in the hot Sixties atelier Push Pin Studios with Milton Glaser and Seymour Chwast and ascent to New York's top art and literary circles. With 169 four-color illustrations throughout.