The celebrated Pulitzer Prize finalist explores one young man's journey to find himself.
Lee, Chang-rae. My Year Abroad. Riverhead. Feb. 2021. 496p. ISBN 9781594634574. $28. LITERARY
Long on heart but short on talent and ambition, a young American named Tiller has his life turned around when he meets successful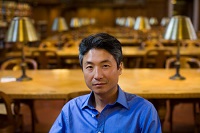 Chinese American businessman Pong Lou. The dynamic and talented Pong takes Tiller on a year-long trip to Asia, where he enjoys a globetrotter's lavish lifestyle while experiencing moments both funny and tragic that change him forever. Homeward-bound, he becomes involved with an older woman and her son, whom he meets in an American airport, switching easily from his hedonistic travels to a much quieter life. A new work from the Pulitzer Prize finalist, one of The New Yorker's 20 Writers for the 21st Century, going strong since Native Speaker.