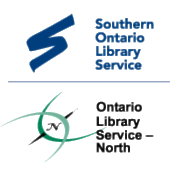 A 50 percent cut to Ontario library services' budget has already triggered the suspension of provincial government–sponsored interlibrary loan service in the south. Now the northern service has cut half of its unionized staff, which will mean a rollback in the support it provides to municipal libraries.
The two library services—Southern Ontario Library Service (SOLS) and Ontario Library Service North (OLS-North)—were informed on April 12 meeting that their budgets would be cut in half. SOLS announced soon after that it would suspend interlibrary loan delivery service as of April 26.
The northern libraries were informed on May 9 that OLS-North would be cutting five full-time unionized positions while reducing a sixth to part-time, according to a joint statement. In addition, one non-union position was eliminated and another reduced to part-time.
Much of the focus in the mainstream media has been on interlibrary loan service, which SOLS operated, but none of the staff eliminated in OLS-North were involved in administering that service, a statement dated May 9 and signed by 55 northern libraries said.
"The positions that were lost at OLS-North provided direct support to northern libraries for staff and board training initiatives, services to First Nations Libraries, technology consulting, policy and strategic planning consulting, website development for small libraries, the administration of joint purchasing agreements, and support for the Joint Automation Server Initiative (JASI) program, which provides essential library software to 133 rural and Northern library systems across Ontario," it read in part.
BEYOND INTERLIBRARY LOAN
Northern librarians were concerned about what the budget cut could mean and how it would affect the services provided to them beyond interlibrary loan.
"It is now clear that provincial cuts to the Ontario Library Service will impact programs and services beyond interlibrary loan," the statement said. "The diminished capacity of OLS-North to deliver those programs will negatively impact our public libraries, and we believe that even programs and services that are maintained will operate at a reduced capacity due to extensive personnel cuts."
Dayna DeBenedet, Dryden Public Library (DPL) chief librarian, had said previously the cuts especially hurt small, northern, and rural libraries because they have the least ability to take on the costs themselves.
"We believe these cuts have disproportionately and unfairly impacted libraries in Northern Ontario and jeopardize our ability to provide equitable library service in the North," the May 9 statement from OLS-North said. "We are also dismayed that the government chose to make these cuts without undertaking any consultation with northern libraries about what the impacts could be on our organizations and our patrons."
Even though the positions eliminated in the North don't directly work with interlibrary loan, some libraries may have to limit the number of books they can lend via interlibrary loan because of the cost, while others may have to opt out, said DeBenedet, adding that the northern libraries rely heavily on interlibrary loan. "We just don't have the access to the same kind of material that the urban libraries have."
DPL officials haven't made any final decisions on how they will continue to participate in interlibrary loan services, including how many books they can lend. The library borrowed over 1,000 books and lent 651 via interlibrary loan services in 2018.
John Pateman, Thunder Bay Public Library (TBPL) chief librarian, said the library doesn't purchase every book patrons ask for, but they have always been able to find a copy somewhere else in the province.
TBPL patrons requested about 2,000 items last year, he said, and now they may not be able to access requested books in the future. "Interlibrary loan is the kind of fundamental element of a good library service because we work as a network and support each other's collections," Pateman said.
Both librarians said their libraries rely on the other services provided by OLS-North, too; Pateman cited the professional development provided by the province. The library has a new board, he said, and those members normally would be sent for training with the provincial service.
DeBenedet said her library is one of few in the north that is accredited as outlined by the Ontario Public Library Guidelines Monitoring and Accreditation Council, and she and her staff would not have accomplished it without the help from OLS-North.
"These other libraries are often single-staffed and do not get that same level of resources [as larger libraries], and they are almost entirely reliant on what they get in from Ontario Library Services North," Pateman said. "They are going to be in very desperate straits.… The best thing we can do is stand in solidarity with them. We're saying an injury to one is an injury to all and therefore we stand shoulder to shoulder with our fellow librarians across the province, especially across the northern, remoter areas."
IMPACTING FIRST NATIONS
First Nations libraries could be affected dramatically by the loss of provincial services. Sheri Mishibinijima, librarian at the Wikwemikong Public Library (WPL), told LJ she isn't sure how her library would continue to operate as it does without the $500 (CAD) base grant it receives annually— based on population served—from the provincial services. The library also receives a $13,000 grant to cover salary costs.
"This is just way beyond me to figure out how to resolve this or find a solution to this, because this is going to be major in the long run," she said. "I don't know how the First Nations libraries are going to be able to operate.... We seem to get ahead and then all of a sudden something happens and we're back to square one."
The loss of interlibrary loan services will be difficult, Mishibinijima said, because she has been using the service for years. She cannot absorb the cost in her budget, and can't afford to buy all the books patrons would want.
"We never got in the brand new books," she said, but they had the option to be able to borrow a book from another library within a few months of a patron request. Last year, WPL borrowed about 60 books via interlibrary loan services, which Mishibinijima said is a small number, "but it's still helping someone."
"That's the bottom line, to help people," she said. "If we can't offer that help, then where do we send those people?"
E IS NOT THE ANSWER
The office of Ontario premier Doug Ford issued a statement claiming that interlibrary loan is "slow, inefficient, environmentally unfriendly, and expensive" when there are digital resources available, but librarians said those resources are not the answer.
Mishibinijima said it's not unusual for Internet service to go down at the library. "This digital thing, they're saying, is a wonderful world," she said. "It's not a wonderful world in the remote areas. It's [difficult to] get a good signal and download properly."
DeBenedet agreed: many libraries in the northern part of the province don't have access to high-speed Internet, and the provincial services provide funding to help those libraries gain better access to the Internet. If that money ends up cut, she said, it would impact the ability for those libraries to deliver digital resources.
Plus, if the budget cuts affect the provincial service's assistance with costs for OverDrive, it would also impact how individual libraries can offer ebooks, she said.
Many of those who are using interlibrary loan in Dryden, DeBenedet noted, are senior citizens who are requesting large print books, which the library cannot afford to purchase. It's a group that may not be well-versed in ebook technology nor have the proper device to access them, she added.
"I'm a little bit disheartened by the suggestion that e-resources can overcome the gap for interlibrary loan because it just doesn't make sense to me," she said. It could cost $100 to buy an ebook that only one patron is requesting while it is much less expensive to borrow the same book from another library.
"I do think there's a bit of a misunderstanding in how libraries and e-resources work," DeBenedet said. "At the moment there's still more work to be done in getting on the same page about what our libraries do and how we do it."
Librarians across the province also are working on advocacy campaigns to persuade provincial government officials to restore the library services' budget. Shauna Costache, a librarian at Stratford Public Library, created an online petition opposing the budget cuts and asking they be rescinded. At press time, more than 57,000 people had signed the petition.
Pateman, previously a library director in Lincolnshire and London, England, said absorbing the costs of losing provincial services would send the wrong message to the government. If officials see that libraries absorb the costs, he said, what would stop them from coming back to cut more?
"I've been on this path in the UK, where they come for cuts, and you…absorb them and manage them, and they come back for more and more until there's nothing left to give and the library has to close," he said.
Minister of Tourism, Culture, and Sport Michael Tibollo's office said in a statement that the Ford-led government inherited a debt of over $340 billion dollars from the previous administration, "one of the highest subnational debts on the entire planet."
"As a part of the 2019 Ontario Budget, we are showcasing how we plan to put Ontario on a path to balance to protect what matters most," the statement said. "Protecting what matters most means making difficult decisions."
The statement went on to say that the ministry is maintaining a base funding of libraries at $25 million. "We are committed to working with Ontario's libraries and with our library service organizations to ensure that library services are delivered in the most efficient and effective ways possible. We recognize that libraries across Ontario, whether it be in urban centers, rural areas, or Indigenous communities, play an integral role in supporting Ontario's diverse culture."
Tibollo recently tweeted a photo of him meeting with librarians to discuss interlibrary loans and other services.
But the northern librarians said in the statement they were not consulted as to how the budget cuts would affect them.
The librarians called on provincial officials to halt the budget cuts and work with them to understand the impact the cuts would have on their libraries.
Pateman said officials use balancing the budget as a smokescreen. "I think the true agenda is an ideological assault on public services in which public services are not valued," he told LJ. "They don't see the point of libraries and they think everything should be...like the private sector. So that's why even in the face of evidence they're not going to stop coming for the cuts."