Chronicling post–Civil War social movements and the 18 African Americans who competed at the 1936 Berlin Olympics, getting reacquainted with Alexander the Great and David Ben-Gurion, and facing our most powerful predator: the mosquito
Draper, Deborah Riley & others. The Black Auxiliary: The Untold Story of 18 African Americans Who Defied Jim Crow and Adolf Hitler To Compete in the 1936 Berlin Olympics. Atria. Aug. 2019. 320p. ISBN 9781501162152. $28; ebk. ISBN 9781501162176. HISTORY
Jesse Owens is famed for winning four gold medals at the Berlin Olympics, but he wasn't the only African American competing there. Altogether 18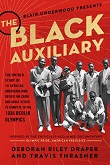 African Americans competed, including gold medal–winning high jumper Cornelius Johnson and silver medal–winning track star Mack Robinson, Jackie's brother. This companion piece to the acclaimed documentary Olympic Pride, American Prejudice draws on over 40 hours' worth of interviews and research that didn't make it into the film. With a 30,000-copy first printing.
Everitt, Anthony. Alexander the Great: His Life and His Mysterious Death. Random. Aug. 2019. 576p. ISBN 9780425286524. $28; ebk. ISBN 9780425286548. Downloadable. BIOGRAPHY
Magnetic conqueror of the ancient world, Alexander the Great has meant different things to different people over two millennia. Here, Everitt, a noted biographer of the ancients (he's assayed Hadrian, Augustus, and Cicero), aims to go beyond the mythmaking and even ventures to show how Alexander actually died.
Postel, Charles. Equality: An American Dilemma, 1866–1896. Farrar. Aug. 2019. 416p. ISBN 9780809079636. $30; ebk. ISBN 9781429946926. HISTORY
A winner of Bancroft and Frederick Jackson Turner honors for The Populist Vision, Postel considers the agricultural, labor, farmer's, and women's rights movements that sprang up in this country in the decades after the Civil War, even as the formerly enslaved asserted their rights and eventually ran into the roadblock of Jim Crow segregation. As we face raging socioeconomic inequality today, perhaps there is something here we can learn.
Segev, Tom. A State at Any Cost: The Life of David Ben-Gurion. Farrar. Aug. 2019. 896p. tr. from Hebrew by Haim Watzman. ISBN 9780374112646. $40; ebk. ISBN 9781429951845. BIOGRAPHY
Leading Israeli journalist/historian Segev (One Palestine, Complete) sums up a lifetime's worth of work in this nearly 900-page biography of Israel's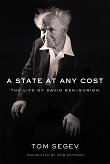 founder and longest-serving prime minister. As with any good biography, he tackles his subject's achievements and failures, and he draws on previously untouched archival material to reveal Ben-Gurion's secret negotiations with the British before Israel's independence, his willingness to consider the forced transfer of Arabs, and more. With major promotion.
Winegard, Timothy C. The Mosquito: A Human History of Our Deadliest Predator. Dutton. Aug. 2019. 480p. ISBN 9781524743413. $28; ebk. ISBN 9781524743437. Downloadable. HISTORY
With its bite having led to the death of an estimated 52 billion of the 108 billion people who have lived on Earth, the mosquito has profoundly affected human history and civilization. Political scientist and historian Winegard (The First World Oil War) explains exactly what that impact has been. Slap!