December is a slim month for publishing, and there aren't too many literary titles to recommend, but here are three works from award-winning authors that you'll want to investigate.
Olafsson, Olaf. The Sacrament. Ecco. Dec. 2019. 384p. ISBN 9780062899873. $26.99; ebk. ISBN 9780062899897. LITERARY
As a young nun sent by the Vatican investigates allegations of misconduct at a Catholic school in Iceland, the headmaster plummets to his death from the church tower, traumatizing a schoolboy who witnesses the fall. Two decades later, the now-grown lad persuades the nun to return to the school to reconstruct events surrounding the tragedy. What unfolds is a narrative that reflects on power, memory, and how we are shaped by key events. Olafsson has an interesting dual life as a novelist (One Station Away) and executive vice president of Time Warner, and his new work is billed as his "plottiest" yet. With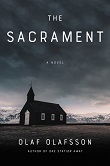 a 30,000-copy first printing.
VanderMeer, Jeff. Dead Astronauts. MCD: Farrar. Dec. 2019. 256p. ISBN 9780374276805. $26; ebk. ISBN 9780374720704. LITERARY
In a City with no name, ruled by a dangerously dominant Company, the fate of Earth—and other Earths—is at stake as rebels battle the reigning powers, a madman looks for an invisible monster he created for unknown purposes, a homeless woman finds the key to all things, and a blue fox heads out on a mission through various realms of time and space. This is billed as literary fiction, which fits VanderMeer's exceptional language, but of course the fantastical story is no surprise coming from the author of New York Times best-selling "Southern Reach" and the Nebula and Shirley Jackson Award–winning Annihilation. All types of readers for this one.
Williams, Niall. This Is Happiness. Bloomsbury. Dec. 2019. 400p. ISBN 9781635574203. $28; ebk. ISBN 9781635574203. LITERARY
In the remote Irish village of Faha, it's been raining for a long time—not a big surprise for Ireland's western coast. But as the rain is letting up—and Father Coffey is celebrating the coming of electricity—17-year-old Noel Crowe first encounters Christy outside his grandparents' house and knows that something crucial has changed. What follows is the story of Christy's hunt for a lost love even as Noel gets his first taste of romance and electricity transforms the town for good. From the author of the Man Booker Prize long-listed History of the Rain and Four Letters of Love, being made into a movie starring Mark Rylance.