Three top titles with characters in dislocation.
Engel, Patricia. Infinite Country. Avid: S. & S. Feb. 2021. 192p. ISBN 9781982159467. $26. LITERARY
With no prospects in violence-shattered Colombia, Elena and Mauro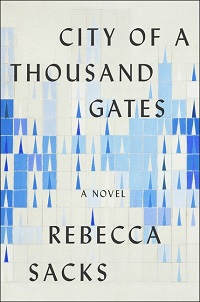 head to America, overstay their tourist visas, and start a family. Then Mauro is deported, and Elena must hold together her family alone. From the winner of a Dayton Literary Peace Prize (It's Not Love, It's Just Paris) and a finalist for the Pen/Hemingway and Young Lions Fiction Awards (Vida); with a 75,000-copy first printing.
Mendelsund, Peter. The Delivery. Farrar. Feb. 2021. 304p. ISBN 9780374600426. $27. LITERARY
In an unnamed city, an undocumented refugee works as a Delivery Boy, ferrying dinner to the wealthy as he pedals crazily through traffic and hopes for a good tip and the good rating that will impress his chilly dispatcher, who at least helps him with his English. Will he ever be Delivery Man? An iconic story by a celebrated graphic designer–turned–novelist (Same, Same).
Sacks, Rebecca. City of a Thousand Gates. Harper. Feb. 2021. 400p. ISBN 9780063011472. $27.99. LITERARY
Debut author Sacks offers a tightly wound necklace of stories clarifying West Bank tensions as college student Hamid slips illegally into Israeli territory for work, bumping into German journalist Vera, who's writing about a Palestinian boy beaten by vengeful Israeli teenagers and is nearly sideswiped by a car whose anxious driver mulls the terrorist killing of a Jewish girl in her settlement. At another settlement, 19-year-old Ori guards a checkpoint through which Hamid's professor must pass. Lots of in-house love; with a 40,000-copy first printing.