Picks Sophie Hannah, Jonathan Kellerman, Mary Kubica, Sarah Pinborough, and Lori Rader-Day, plus newcomer Heather Chavez, top a list of thrillers where much of the danger is close to home.

Thriller Picks
Chavez, Heather. No Bad Deed. Morrow. Feb. 2020. 400p. ISBN 9780062936172. $26.99; ebk. ISBN 9780062936196. lrg. prnt. SUSPENSE
In this promising debut—rights have already been sold to six countries—veterinarian Cassie Larkin is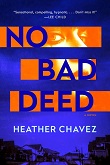 driving home on one of those fabled dark and stormy nights when she sees a man assaulting a woman by the roadside and gives chase. The perpetrator circles back to steal her car (so now he knows where she lives), her husband disappears the next night while trick-or-treating with their daughter (but, hey, he was growing distant; maybe he's absconded), and Cassie must take control of an upended life. With a 50,000-copy first printing.
Hannah, Sophie. Perfect Little Children. Morrow. Feb. 2020. 416p. ISBN 9780062978202. $27.99; ebk. ISBN 9780062978226. SUSPENSE
When Beth decides to drive by the house of former best friend Flora, whom she hasn't seen in 12 years, she is shocked to spot Flora with children Thomas and Emily. Flora has gently grayed, but the children—five and three when Beth last saw them—look to be exactly the same age. What's going on? More unnerving psychological suspense from one of its originators; with a 75,000-copy first printing.
Kellerman, Jonathan. The Museum of Desire: An Alex Delaware Novel. Ballantine. Feb. 2020. 352p. ISBN 9780525618522. $28.99; ebk. ISBN 9780525618539. CD/downloadable. THRILLER
Dr. Alex Delaware gladly accompanies LAPD Lt. Milo Sturgis on his rounds to offer psychological insight, but the case now staring them in the face is particularly grisly: four people with no obvious connection have been brutally murdered and displayed like awful artworks in a stretch limo. Next in a long line of mega-best-selling Delaware novels.
Kubica, Mary. The Other Mrs. Park Row: Harlequin. Feb. 2020. 384p. ISBN 9780778369110. $26.99; ebk. ISBN 9781488099601. THRILLER
Having moved from Chicago to a Maine island when her husband inherits a house from his sister, Sadie has plenty of reasons to worry, not the least of which is the murder of a neighbor. The house is creepy and creaky, her teenage niece Imogen is dark and disturbed, and townsfolk are eyeing the new family with suspicion. With a 200,000-copy first printing; Netflix grabbed the TV/film rights in an overnight preempt.
Pinborough, Sarah. Dead to Her. Morrow. Feb. 2020. 352p. ISBN 9780062856821. $27.99; ebk. ISBN 9780062856852. lrg. prnt. PSYCHOLOGICAL THRILLER
In steamy Savannah, Marcie Maddox works hard to keep up classy appearances and keep husband Jason interested. She's the hot new second wife of their oh-so-rich-and-Anglo set—until Jason's boss comes back from a London business trip with a follow-up spouse who's gorgeous, seductive, and black. Swiftly, Keisha takes over Marcie's role. Now that's revenge-worthy. From the author of the New York Times best-selling Behind Her Eyes; with a 150,000-copy first printing.
Rader-Day, Lori. The Lucky One. Morrow. Feb. 2020. 416p. ISBN 9780062938060. $26.99; pap. ISBN 9780062938077. $16.99; ebk. ISBN 9780062938084. SUSPENSE
Kidnapped as a child from her backyard in Indiana but quickly rescued by her policeman father, Alice now volunteers for The Doe Pages, scrolling through image after image of unidentified individuals in an effort to reunite loved ones. There she spots her long-ago kidnapper, which sends her on a mission to find him before he strikes again. From the Edgar Award–nominated and Anthony and Mary Higgins Clark award-winning author; with a 100,000-copy first printing.
More Top Thrillers
Brennan, Allison. The Third To Die. Mira: Harlequin. Feb. 2020. 400p. ISBN 9780778309444. $26.99; ebk. ISBN 9781488055430. THRILLER
While on leave, LAPD Det. Kara Quinn encounters the handiwork of the Triple Killer, who always leaves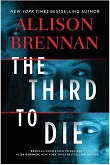 behind three victims with three deep cuts apiece, killed three days apart, with each triannual series beginning on March 3. Soon she's working with FBI forensic psychologist Catherine Jones, who's been tracking this monster for years. A stand-alone from the New York Times best-selling author; with a 100,000-copy first printing.
Carson, Scott. The Chill. Emily Bestler: Atria. Feb. 2020. 384p. ISBN 9781982104597. $27; ebk. ISBN 9781982104610. SUPERNATURAL THRILLER
A century ago, a town was drowned when the Chilewaukee reservoir was created in upstate New York to deliver water needed by millions in Manhattan. But the townsfolk didn't really go away, and now they're fulfilling a dark revenge prophecy. From a pseudonymous New York Times best-selling author; with a 100,000-copy first printing.
Dolan, Harry. The Good Killer. Mysterious: Grove Atlantic. Feb. 2020. 304p. ISBN 9780802148414. $26; ebk. ISBN 9780802148438. THRILLER
Sean Tennant is living quietly in Houston with Molly Winter when he rushes in to stop a troubled stranger who's shooting up a store. Unfortunately, the resultant media applause brings him unwelcome attention from two men: one who deems Sean responsible for his brother's death and another from whom Sean and Molly stole a fortune. Promotion at ALA Midwinter and PLA.
Grippando, James. The Big Lie: A Jack Swyteck Novel. Harper. Feb. 2020. 368p. ISBN 9780062915047. $27.99; ebk. ISBN 9780062915061. lrg. prnt. THRILLER
A nasty president who managed to avoid impeachment in his first term and get reelected—but not by the
popular vote—faces trouble from a Florida elector who says she will follow her conscience rather than the law and vote for his opponent, who didn't win the state. Now Miami attorney Jack Swyteck must keep her free—and safe. With a 50,000-copy first printing.
McInnis, S.L. Framed. Grand Central. Feb. 2020. 336p. ISBN 9781538732090. $28; ebk. ISBN 9781538751176. CD/downloadable. THRILLER
A drug deal gone bad has resulted in a quadruple homicide, with an undercover LAPD officer among the victims. As a woman in a blond wig walks away from the splatter with a suitcase full of cash, police cars careen past, and innocent drive-by Beth Crawford will soon encounter trouble. A debut thriller with a 40,000-copy first printing.
Perry, Thomas. A Small Town. Mysterious: Grove Atlantic. Jan. 2020. 336p. ISBN 9780802148063. $26; ebk. ISBN 9780802148070. THRILLER
Two years after 12 escapees rape, murder, and burn their way through a nearby town on their way out of prison, towering former basketball star and popular town cop Leah Hawkins goes on sabbatical, putatively to study police procedures nationwide. In fact, she's tasked with finding and killing the 12. From Mysterious Press's best-selling author, mostly recently of The Burglar.
Seo, Mi-ae. The Only Child. Ecco. Feb. 2020. 304p. tr. from Korean. ISBN 9780062905048. $26.99; ebk. ISBN 9780062905055. THRILLER
Even as she interviews a serial killer at his request, criminal psychologist Seonkyeong takes in her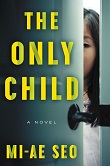 husband's 11-year-old daughter from a previous marriage, now that she's homeless after her grandparents' death in a fire. These two new people in her life resonate so uncannily that the killer starts giving her advice. From a best-selling Korean thriller writer and screenwriter; with a 75,000-copy first printing.
White, Randy Wayne. Salt River. Putnam. Feb. 2020. 384p. ISBN 9780735212725. $27; ebk. ISBN 9780735212749. CD/downloadable. THRILLER
Doc Ford's eyes pop when he learns that in his youth wacky friend Tomlinson fathered numerous children via sperm bank donations and is now being tracked down by grown children thanks to ancestry and DNA websites. Alas, one of them seems to have dark intentions. The first new Doc Ford novel in two years from the New York Times best-selling author.