Literary fiction imbued with ghosts and magical birds, spirit worlds and the internet as portal.
Arnott, Robbie. The Rain Heron. FSG Originals. Feb. 2021. 288p. ISBN 9780374539306. pap. $16. LITERARY
Long-listed for the Miles Franklin Literary Award and named a Sydney Morning Herald Best Young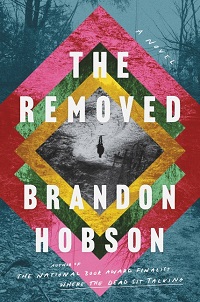 Australian Novelist, Arnott (Flames) unfolds the story of young Ren, surviving in the remote reaches of a country nearly destroy by coup d'état. When a young female soldier marches her army unit up Ren's mountain in search of the fabled rain heron—a scary, shape-shifting bird that can change the weather—Ren is reluctantly drawn into the quest.
Fine, Julia. The Upstairs House. Harper. Feb. 2021. 240p. ISBN 9780062975829. $26.99. LITERARY
Bram Stoker short-listed for her debut novel, What Should Be Wild, Fine here introduces us to childbirth-wracked Megan Weiler, tending her newborn alone as her husband travels for business and troubled by a haunting upstairs that only she can see. It's the ghost of Goodnight Moon author Margaret Wise Brown, bent on settling business with her former lover, actress Michael Strange, and she won't go easy. With a 30,000-copy first printing.
Hobson, Brandon. The Removed. Ecco. Feb. 2021. 288p. ISBN 9780062997548. $26.99. LITERARY
In the 15 years since the death of teenage son Ray-Ray, the Echota family staggers through life, with Maria tending her Alzheimer's-afflicted husband as daughter Sonya veers between obsession and withdrawal and runaway son Edgar turns to drugs. The Cherokee National Holiday, celebrated with bonfires, was also the occasion of Ray-Ray's death, and with its approach the Echotas find themselves sliding precariously toward the spirit world. From National Book Award finalist Hobson; with a 75,000-copy first printing.
Lockwood, Patricia. No One Is Talking About This. Riverhead. Feb. 2021. 224p. ISBN 9780593189580. $25. Downloadable. LITERARY
Having suddenly gained fame on social media, a woman travels worldwide to meet her worshipful fans and becomes increasingly spooked by the idea that all the voices bubbling up from this vast portal, as she calls it, are dictating her thoughts. Then she gets an urgent call from her mother, as stark reality and internet-fueled surreality collide. From the author of the memoir Priestdaddy, a New York Times best book.