Memoirists wrestle with catastrophic illness and on-the-outside-looking-in experiences today.
Austin, Nefertiti. Motherhood So White: A Memoir of Race, Gender, and Parenting in America. Sourcebooks. Sept. 2019. 304p. ISBN 9781492679011. $25.99. MEMOIR
A multi-award-nominated author whose work has appeared in venues like the Huffington Post, MUTHA, matermea.com, and Essence.com and was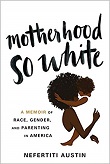 the subject of an article on race and adoption in the Atlantic, Austin is a single African American woman who chose to adopt a black baby boy out of the foster care system. That's when she came to realize that in America, motherhood is viewed strictly in terms of whiteness. Here she gives us perspective. Featured at Day of Dialog.
Boyer, Anne. The Undying: Pain, Vulnerability, Mortality, Medicine, Art, Time, Dreams, Data, Exhaustion, Cancer, and Care. Farrar. Sept. 2019. 320p. ISBN 9780374279349. $26; ebk. ISBN 9780374719487. MEMOIR
Inaugural winner of the 2018 Cy Twombly Award for Poetry from the Foundation for Contemporary Arts and nonfiction/poetry Whiting Award winner, Boyer uses her obvious writing talents to explain what it was like to be a single mother surviving paycheck to paycheck when she was diagnosed with an aggressive triple-negative breast cancer.
Fajgenbaum, David. Chasing My Cure: A Doctor's Race To Turn Hope into Action. Ballantine. Sept. 2019. 304p. ISBN 9781524799618. $27; ebk. ISBN 9781524799625. Downloadable. MEMOIR
A doctor famed for his focus and stamina, Fajgenbaum began suffering fatigue that quickly led to organ failures and repeated near-death moments until he was diagnosed with a form of Castleman disease, a rare but ominous cross between cancer and an autoimmune disease. He started testing his blood and devising a treatment that appears to have led to remission and has set the standard for scientists working together.
Gaffigan, Jeannie. When Life Gives You Pears. Grand Central. Sept. 2019. 256p. ISBN 9781538751046. $17; ebk. ISBN 9781538751039. MEMOIR
The mother of five children and the writing partner and wife of best-selling author/comedian Jim Gaffigan, Gaffigan found her life waylaid in 2017 when she was diagnosed with a pear-sized brain tumor. Here she talks not just about surviving but about tough conversations, feeling powerless, and coming to recognize the value of relationships.
Kimball, Kristin. Good Husbandry: A Memoir. Scribner. Sept. 2019. 288p. ISBN 9781501111532. $26; ebk. ISBN 9781501111662. MEMOIR
First came the nationally best-selling The Dirty Life, in which Kimball related her decision to move from New York City with her partner, Mark, to begin farming on the 500-acre Essex Farm near New York's Lake Champlain. In this new memoir, Kimball explains what happened next, including financial worry, Mark's injury, training other first-generation farmers, and negotiating a long-term relationship. With a 75,000-copy first printing.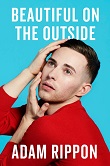 Rippon, Adam. Beautiful on the Outside: A Memoir. Grand Central. Sept. 2019. 256p. ISBN 9781538732403. $28; ebk. ISBN 9781538732397. CD. MEMOIR
Winner of the 2016 U.S. National Championships in figure skating, Rippon became the first openly gay U.S. male athlete to win a medal in a Winter Olympics when he helped his team to a bronze finish in 2018. Life as a figure skater might look glamorous, but as Rippon relates here, he grew up so poor he could afford only the free apples at his gym. Now he's got so many fans.
Ross, Rick with Neil Martinez Belkin. Hurricanes: A Memoir. Hanover Square: Harlequin. Sept. 2019. 352p. ISBN 9781335999283. $27.99; ebk. ISBN 9781488053634. MEMOIR
Major hip-hop force Ross relates his bound to the top, starting with a tough upbringing in the Coral City projects, the heart and soul of Miami's crack epidemic; finishing high school and receiving a football scholarship; working as a correctional officer by day while dealing drugs by night; early work with DJ Khaled and Def Jam; breaking out with "Hustlin'"; and lots of health issues, arrests, and personal feuds even as all ten of his albums sailed into the Top 10 of the Billboard 200. With a 350,000-copy first printing.