Lots of cozies for October, including the start of the holiday mysteries, though Emmy Award–winning journalist Tamron Hall's debut goes the crime reporter route.
Click here for additional new Prepub Alert columns
Andrews, Donna. The Twelve Jays of Christmas: A Meg Langslow Mystery. Minotaur: St. Martin's. (Meg Langslow Mysteries, Bk. 30). Oct. 2021. 304p. ISBN 9781250760180. $26.99. CD. MYSTERY/COZY
Meg's brother Rob and his fiancée, Delaney, don't want the splashy wedding their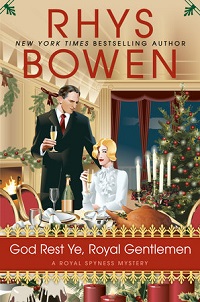 mothers would just love, so they throw a big party before Christmas with plans to elope afterward. But the partiers get snowed in, the mothers discover the couple's intentions to sneak away, and a dead body turns up. With a 40,000-copy first printing.
Beaton, M.C. with R.W. Green. Down the Hatch: An Agatha Raisin Mystery. Minotaur: St. Martin's. (Agatha Raisin Mysteries, Bk. 32). Oct. 2021. 256p. ISBN 9781250816139. $26.99. MYSTERY/COZY
Walking in Mircester Park, Agatha Raisin encounters the distraught Swinburns standing over the body of "the Admiral," a prickly park gardener known for his drinking. The police think he died after imbibing weedkiller stored in a rum bottle (surely he would have noticed), but soon suspicion falls on the Swinburns themselves, who hire Agatha to discover what really happened. Next and perhaps last in the popular series from the recently deceased Beaton; with a 75,000-copy first printing.
Bowen, Rhys. God Rest Ye, Royal Gentlemen. Berkley. (Royal Spyness Mystery, Bk. 15). Oct. 2021. 304p. ISBN 9780440000082. $26. MYSTERY/HISTORICAL
Lady Georgiana Rannoch's dream of spending her first Christmas as a married woman in her new home is not to be. Aunt Ermintrude has invited Georgie and husband Darcy to her home near the royal Sandringham estate, and there's no saying no; it's implied that Ermintrude is merely conveying the queen's wish. Not only is Georgie to keep an eye on the troublesome Wallis Simpson, but several gentlemen of the royal household have met untimely deaths, and there's a distinct feeling that someone in the royal family is in danger.
Childs, Laura. Twisted Tea Christmas. Berkley. (Tea Shop Mystery, Bk. 23). Oct. 2021. 336p. ISBN 9780593200865. $26. MYSTERY/COZY
In Charleston, tea maven Theodosia Browning and her tea sommelier, Drayton Conneley, are catering a Victorian Christmas party for the absurdly wealthy Drucilla Heyward, who's got something up her haute couture sleeve. At the event, she intends to announce that she will donate her wealth to various charities. Alas, her plans are waylaid when someone neatly sticks a syringe in her neck, and Theodosia has her hands full of more than mince pies.
Hall, Tamron. As the Wicked Watch: The First Jordan Manning Novel. Morrow. Oct. 2021. 384p. ISBN 9780063037038. $27.99. lrg. prnt. MYSTERY
Fresh from Texas, crime reporter Jordan Manning eagerly takes on Chicago, where she is often the only woman of color in the newsroom, always arrives first on the crime scene (in her trademark stilettoes), and frequently covers the murder of Black women. Sadly, these cases often don't get the attention they deserve, but Jordan plunges into the case of a 15-year-old discovered in an abandoned lot and follows it to the end. From Emmy Award–winning journalist Hall; with a 100,000-copy first printing.
Higashino, Keigo. Silent Parade. Minotaur: St. Martin's. (Detective Galileo, Bk. 4). Oct. 2021. 304p. tr. from Japanese. ISBN 9781250624819. $27.99. MYSTERY/POLICE PROCEDURAL
In this latest from Edgar finalist Higashino, Chief Inspector Kusanagi of the Tokyo Police confronts two remarkably similar murders, committed decades apart. The suspect is the same in both cases but for lack of concrete evidence has never been indicted. When he is himself dispatched during a local parade, Kusanagi seeks help from physics professor and sometime police consultant Manabu Yukawa, famously known as Detective Galileo. With a 35,000-copy first printing.
Lovesey, Peter. Diamond and the Eye. Soho Crime. (Detective Peter Diamond Mystery, Bk. 20). Oct. 2021. 336p. ISBN 9781641293129. $27.95. MYSTERY
Claimant to Gold, Silver, and Diamond CWA Daggers, Lovesey returns with another tale starring Chief Superintendent Peter Diamond of Bath, England, who's investigating the disappearance of a local antiques dealer. Alas, the dealer's daughter has complicated matters by hiring hopeless private eye Johnny Getz to look into the case, and the dead body in the storeroom doesn't make things any easier.
McCall Smith, Alexander. The Joy and Light Bus Company. Pantheon. Oct. 2021. (No. 1 Ladies' Detective Agency, Bk. 22). 240p. ISBN 9780593315736. $26.99. MYSTERY
Mma Ramotswe has another mystery to solve, and it proves to be a knottier knot than any she has had to untie in the past. Plus, Charlie and his new bride and Mma Makutsi and her talking shoes are giving Mma Ramotswe headaches. More fun in a long-running, much-loved series.
Priest, Cherie. Grave Reservations. Atria. Oct. 2021. 304p. ISBN 9781982168896. $26. MYSTERY
Travel agent Leda Foley's inconsistent psychic abilities surface just enough to compel her to rebook Seattle PD detective Grady Merritt's flight. That's good news for Grady, whose previous flight blows up on takeoff, convincing him that Leda has what it takes to offer insights on a cold case he can't conquer. Leda readily agrees because she'd like to figure out who murdered her fiancé. Might these cases be somehow linked? From the Locus Award–winning Priest, treading mystery territory; with 50,000-copy first printing.
Qiu Xiaolong. Inspector Chen and the Private Kitchen Murder. Severn House. (Inspector Chen Mystery, Bk. 12). Oct. 2021. 224p. ISBN 9780727850713. $28.99. MYSTERY
In his next outing, Chen Cao is no longer chief inspector; he's been made director of the Shanghai Judicial System Reform Office, then put on convalescence leave to curb his interfering ways. But he jumps right in when Min Lihau, who runs one of Shanghai's private kitchens, is accused of murdering her assistant in circumstances bearing resemblance to an historic case involving the famous Judge Dee. Dee (or Di) is based on Tang dynasty chancellor Di Renjie, who inspired the 18th-century Chinese crime novel Di Gong An and, later, mysteries, comics, TV shows, and films by a variety of creators, including the popular film starring Andy Lau.
Rader-Day, Lori. Death at Greenway. Morrow. Oct. 2021. 448p. ISBN 9780062938039. $27.99; pap. ISBN 9780062938046. $16.99. MYSTERY/HISTORICAL
As World War II descends, nurse-in-training Bridey Kelly is sent to Greenway House, Agatha Christie's holiday home near the English Channel, to watch over children evacuated from London during the Blitz. When a body washes up on the nearby beach, she and colleague Gigi immediately recognize that murder and not warfare has caused this death. Now they must deal with closed-in villagers and their own well-kept secrets. From the Edgar-nominated Rader-Day; with a 75,000-copy paperback and 30,000-copy hardcover first printing.
Rosenfelt, David. Best in Snow. Minotaur: St. Martin's. (Andy Carpenter Novel, Bk. 24).Oct. 2021. 304p. ISBN 9781250257178. $25.99. CD. MYSTERY
It's beginning to look a lot like Christmas in Paterson, NJ, with more than two feet of snow suddenly dumped by a passing December storm. As the snow melts, the dead body of nasty businessman Thomas Lansing is discovered. When it's also discovered that the local reporter Lansing had fired for libel is missing, lawyer Andy Carpenter gets busy, with golden retriever Tara at his side. With a 50,000-copy first printing.
Tursten, Helene. An Elderly Lady Must Not Be Crossed. Soho Crime. Oct. 2021. 272p. tr. from Swedish by Marlaine Delargy. ISBN 9781641291675. $14.99. MYSTERY/SHORT STORIES
Back after her best-selling short story collection, An Elderly Lady Is Up to No Good, 88-year-old Maud is still up to no good. With dead bodies accumulating around her, she's got the Gothenburg police vexed, so she decides on a little vacation in South Africa. Of course, trouble follows—just nothing she can't handle. From popular Swedish crime author Tursten.
Click here for additional new Prepub Alert columns