Timely thrillers and historical suspense, with psych wards and fancy fishing retreats as settings.
Click here for additional new Prepub Alert columns
Billingham, Mark. Rabbit Hole. Atlantic Monthly. Aug. 2021. NAp. ISBN 9780802158703. $27. SUSEPENSE
Confined to a psychiatric ward, Alice Armitage was once a police officer—or was she? Whatever she thinks, whatever the truth, whatever her past drink-and-drugs habits, Alice is ready to act when a patient on her ward is killed. Then her main suspect is knocked off,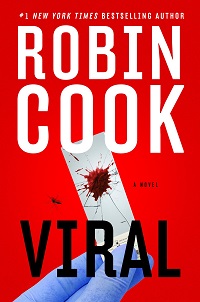 and she doesn't know whom to trust. A stand-alone from the award-winning British author of the "Tom Thorne" series.
Cook, Robin. Viral. Putnam. Aug. 2021. 400p. ISBN 9780593328293. $27. CD/downloadable. THRILLER/MEDICAL
In this timely thriller, Emma Murphy falls ill while vacationing with her family on Cape Cod and is rushed to the hospital in a coma, where she's diagnosed with the rare and virulent Eastern Equine Encephalitis. Then outrageous hospital bills start arriving, the insurance company balks at paying, and Emma's husband launches an investigation of underhanded medical practices. Meanwhile, the disease starts threatening others, and there's no effort by officials to inform the public.
Heller, Peter. The Guide. Knopf. Aug. 2021. 272p. ISBN 9780525657767. $26.99. THRILLER
A Los Angeles Times Book Prize finalist for The Painter, Heller crosses into thriller territory with a new work set at Colorado's exclusive Kingfisher Lodge, where the ultra-wealthy can shelter from the world behind huge gates and do some fancy fishing. At-loose-ends Jack is happy to land a job there, but he soon learns that something dark and dangerous is transpiring under the sparkling Colorado sun.
Kluger, Jeffrey. Holdout. Dutton. Aug. 2021. 352p. ISBN 9780593184691. $26. Downloadable. ACTION & ADVENTURE
An editor-at-large for Time magazine whose books include APOLLO 13 and APOLLO 8, Kluger takes us to outer space, where distinguished astronaut Walli Beckwith refuses to abandon her post at the international space station after an accident compels others to leave. Her reason? She's trying to persuade the U.S. president to intervene to stop paramilitary activity that is decimating the people and the environs of the Amazon. And what a platform she has.
Russell, Craig. Hyde. Doubleday. Aug. 2021. 336p. ISBN 9780385544443. $27. THRILLER/HISTORICAL
In this reimagining of Robert Louis Stevenson's The Strange Case of Dr. Jekyll and Mr. Hyde, Capt. Edward Henry Hyde, the upright if fearsome chief detective of Victorian Edinburgh, has no idea how he has arrived at a gruesome crime scene involving an ancient Celtic rite of sacrifice. Only his physician knows that he suffers from a rare form of epilepsy that results in lost patches of memory and too-visceral dreams, and the implications here are scary. Lots for Hyde to investigate; from the CWA Dagger in the Library–winning Scottish author Russell.
Santlofer, Jonathan. The Last Mona Lisa. Sourcebooks Landmark. Aug. 2021. 400p. ISBN 9781728243986. $27.99. THRILLER
Art professor Luke Perrone has reason to be obsessed with the 1911 theft of the Mona Lisa from the Louvre; the culprit was his ancestor Vincent Peruggia, a handyman at the museum. Rumors still abound that the recovered painting is actually an excellent forgery, and as Luke digs deeper, he ends up in some of the art world's darker corners. From Nero Award–winning writer/artist Santlofer.