Featuring John Banville, Faye Kellerman, Alexander McCall Smith, & more.
Banville, John. Snow. Hanover Square. Harlequin. Oct. 2020. 280p. ISBN 9781335230003. $27.99. MYSTERY
Christie, Agatha. Midwinter Murder: Fireside Tales from the Queen of Mystery.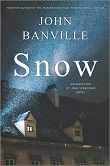 Morrow Paperbacks. Oct. 2020. 368p. ISBN 9780063030367. pap. $16.99. MYSTERY
Edwards, Martin. Mortmain Hall. Poisoned Pen: Sourcebooks. Sept. 2020. 368p. ISBN 9781464214059. pap. $15.99. MYSTERY
Johnson, Sara E. The Bones Remember. Poisoned Pen: Sourcebooks. Sept. 2020. 304p. ISBN 9781464213359. pap. $15.99. MYSTERY
Kellerman, Faye. The Lost Boys: A Decker/Lazarus Novel. Morrow. Oct. 2020. 384p. ISBN 9780062910455. $27.99. lrg. prnt. MYSTERY
McCall Smith, Alexander. How To Raise an Elephant. (No. 1 Ladies' Detective Agency, Bk. 21) Pantheon. Oct. 2020. 240p. ISBN 9781524749361. $25.95. MYSTERY
McDermid, Val. Still Life: A Karen Pirie Novel. Atlantic Monthly. Oct. 2020. NAp. ISBN 9780802157447. $26. MYSTERY
Rankin, Ian. Untitled. Little, Brown. Oct. 2020. 336p. ISBN 9780316479257. $27. CD. MYSTERY
Spotswood, Stephen. Fortune Favors the Dead. Doubleday. Oct. 2020. 336p. ISBN 9780385546553. $26.95. Downloadable. MYSTERY
Thompson, Victoria. City of Schemes. Berkley. Oct. 2020. 336p. ISBN 9780593197509. $26. MYSTERY
The first mystery Banville has written under his own name, rather than as Benjamin Black, Snow stars a crusty Protestant detective investigating a parish priest's murder in County Wexford, where a clutched-tight community and the never-ending snowfall make the going difficult (150,000-copy first printing). Following fall 2019's Halloween-appropriate The Last Séance, Midwinter Murder presents short stories from murder mistress Christie that fit snugly into the winter season (50,000-copy first printing). Chair of the Crime Writers Association, Edwards follows up Gallows Court with the story of Jacob Flint, framed for murder yet nowhere near as safe as he thought he would be when he flees to Mortmain Hall. In The Bones Remember, following Johnson's LJ-starred debut, Molten Mud Murder, forensic investigator Alexa Glock links a hunter's murder to a shark-chomped body that washed up on the beach of New Zealand's Stewart Island. In Kellerman's The Lost Boys, the latest Decker/Lazarus mystery, Peter Decker believes that a developmentally disabled man who vanished while on an outing from his residential hom went off with someone he knew, even as the remains of other young men are unearthed in the forest (45,000-copy first printing). Next in McCall Smith's beloved series featuring the No. 1 Ladies' Detective Agency, How To Raise an Elephant puts Precious Ramotswe in charge of a needy little pachyderm. In Still Life, McDermid—who gracefully hauls about a CWA Cartier Diamond Dagger Award—brings back DCI Karen Pirie to investigate a murder that circles around a talented art forger, even as her heart bleeds over the prison release of the man responsible for her beloved's death. No details yet on the Untitled new work from Edgar and Gold Dagger winner Rankin, but it stars the redoubtable Inspector Rebus, and the first printing is 50,000 copies. A longtime journalist and award-winning playwright, Spotswood tries something new in Fortune Favors the Dead, featuring private investigator Lillian Pentecost and her circus-runaway assistant, Willowjean "Will" Parker, in 1940s New York. Finally, in Thompson's City of Schemes, former con woman Elizabeth Miles would like to marry Gideon Bates in peace, but an enemy from the past has other ideas.