Top reading for winter's darkest month.
Benjamin, Ali. The Smash-Up. Random. Feb. 2021. 352p. ISBN 9780593229651. $27. lrg. prnt. LITERARY
Filmmaker Zo and husband Ethan, cofounder of a flourishing media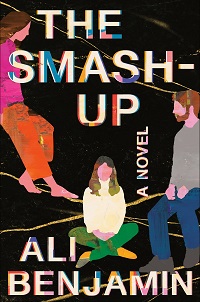 start-up, move to the country for peace they don't find. She plunges into political activism, while he's undone when #MeToo accusations undermine his firm and a feisty houseguest challenges his past. The stage is thus set for culture wars brought straight into the household. The first adult novel from Benjamin, a National Book Award finalist for her YA novel, The Thing About Jellyfish.
Broder, Melissa. Milk Fed. Scribner. Feb. 2021. 304p. ISBN 9781982142490. $26. LITERARY
In this follow-up to The Pisces, long-listed for Women's Prize and Center for Fiction First Novel honors, 24-year-old Rachel is a lapsed Jew and an obsessive calorie counter who's encouraged by her therapist to take a 90-day break from her weight-obsessive mother. Meeting Miriam, a zaftig young Orthodox Jewish woman, changes Rachel's entire worldview. With a 100,000-copy first printing.
Conley, Susan. Landslide. Knopf. Feb. 2021. 304p. ISBN 9780525657132. $26.95. Downloadable. LITERARY
Like Conley's exquisite Elsey Come Home in its acute examination of family relationships and personal identity, this new work visits Maine, where Jill is left solely in charge of her two teenage boys (known as "the Wolves") when a fishing accident leaves her husband hospitalized in Canada. As disasters thread through her days, she realizes that her marriage, her community, and her life are all verging toward collapse.
Davies, Carys. The Mission House. Scribner. Feb. 2021. 224p. ISBN 9781982144838. $24. LITERARY
In this latest from Davies (West), whose stack of honors include Wales Book of the Year, Frank O'Connor, and V.S. Pritchett nods, Hilary Byrd flees the UK's modern stresses for a quiet life at a former British hill station in southern India. But even as he's drawn to the local Padre's adoptive daughter, rising religious tensions threaten his peace. With a 40,000-copy first printing.
Duchovny, David. Truly Like Lightning. Farrar. Feb. 2021. 448p. ISBN 9780374277741. $28. CD. LITERARY
In this fourth novel from actor Duchovny, former Hollywood stuntman Bronson Powers has converted to Mormonism and lives deep in the Utah desert with his three wives and 10 children. When a hotshot young developer comes upon their land, she schemes to wrest it from them by laying a trap pitting them against a harsher, more sophisticated world. With a 75,000-copy first printing.
Johnson, Nancy. The Kindest Lie. Morrow. Feb. 2021. 336p. ISBN 9780063005631. $27.99. lrg. prnt. LITERARY
Ruth Tuttle is an Ivy League–educated black engineer whose husband is eager to start a family, but first Ruth must reconcile with having given up the baby she had as a teenager. Leaving Chicago for her Indiana hometown, she explores family secrets, befriends a white boy named Midnight, and watches racial tensions begin to tear her town apart. A debut novel with a 100,000-copy first printing.
Livings, Jack. The Blizzard Party. Farrar. Feb. 2021. 432p. ISBN 9780374280536. $28. LITERARY
In February 1978, on the night New York City was buried under the snows of a fierce nor'easter, Albert Haynes Caldwell, a partner emeritus of a fancy law firm, holds a party and plots to fake a medical emergency. Then he will throw himself into the river. From PEN/Robert W. Bingham Prize winner Livings (The Dog); with a 30,000-copy first printing.
Lunde, Maja. The End of the Ocean. HarperVia. Feb. 2021. 304p. tr. from Norwegian by Diane Oatley. ISBN 9780062951366. pap. $27.99. CD. LITERARY
In 2019, 70-year-old Signe sets off across the ocean in a sailboat with a precious cargo that might save the future. Three decades later, the boat is discovered in a desiccated garden by David and his daughter, Lou, in flight from drought- and war-ravaged Europe's southern climes. Lunde, whose The History of Bees was a number-one international best seller, again reminds us that climate change has consequences.