Mega-hit comedy duo Rhett McLaughlin and Link Neal create Southern town with dark edges, Jojo Moyes does something a little different as she visits the Depression-era Horseback Librarians of Kentucky, and librarian and Alex Award winner Racculia takes her heroine on a wild treasure hunt.
McLaughlin, Rhett & Link Neal. The Lost Causes of Bleak Creek. Crown. Oct. 2019. 336p. ISBN 9781984822130. $25; ebk. ISBN 9781984822154. HUMOR
Okay, billed as humor, but spiky humor indeed. In 1992 Bleak Creek, NC, the perfect little Southern town, teenagers live in fear of being sent to the Whitewood School, a local reformatory. It's famed for its strong corrective, and were all the mysterious deaths really accidents? A big foul-up that occurs when high school freshmen Rex McClendon and Leif Nelson are shooting their low-budget horror film PolterDog gets best friend Alicia sent to Whitehood, and the boys are determined to find out the truth about the place. From the comedy duo responsible for the most-watched daily talk show on the Internet, Good Mythical Morning, and the instant No. 1 New York Times best seller, Rhett & Link's Book of Mythicality.
Moyes, Jojo. The Giver of Stars. Pamela Dorman: Viking. Oct. 2019. 400p. ISBN 9780399562488. $27; ebk. ISBN 9780399562501. lrg. prnt.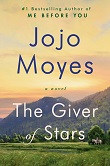 CD/downloadable. WOMEN'S/HISTORICAL
Moyes, the No. 1 New York Times best-selling author of contemporary women's fiction like Me Before You, goes historical in a Depression-set story featuring Horseback Librarians of Kentucky. Alice Wright leaves stuffy England behind to marry charming American Bennett Van Cleve but finds her life not a whole lot happier, especially owing to a domineering father-in-law. But getting involved with the Horseback Librarians, a program promoted by Eleanor Roosevelt, brings her purpose and friendship—especially with leader Margery, the fearless daughter of a local criminal. Floods, snakes, social opprobrium—the women face them all. Note the Kim Michele Richardson's The Book Woman of Troublesome Creek (Sourcebooks, May) also uses the Horseback Librarians as backdrop.
Racculia, Kate. Tuesday Mooney Talks to Ghosts. Houghton Harcourt. Oct. 2019. 368p. ISBN 9780358023937. $26; ebk. ISBN 9780358025405. WOMEN'S
Normally a loner, Tuesday Mooney gets caught up in a massive scavenger hunt when eccentric Boston billionaire Vincent Pryce dies, having scattered clues inspired by Edgar Allan Poe throughout the city that will lead to a juicy portion of his wealth. She's joined by a smart-ass friend, a worshipful teen neighbor, and a mysterious if handsome young heir, and together they puzzle over clues that compel them to face ghosts of their past—some of them real. With a 35,000-copy first printing; from the author of Bellweather Rhapsody, winner of ALA's Alex Award and currently working at the Bethlehem Area Public Library, PA.