From the Civil War to World War II to the 1983 Beirut bombing but also the Reverse Underground Railroad and kidnapping poor children for illegal adoptions.
Baier, Bret & Catherine Whitney. Three Days at the Brink: FDR's Daring Gamble to Win World War II. Morrow. Oct. 2019. 368p. ISBN 9780062905680. $28.99; ebk. ISBN 9780062905703. lrg. prnt. CD. HISTORY
From Fox news anchor Baier, the No. 1 best-selling author of Three Days in Moscow, and New York Times best-selling coauthor Whitney comes a study of the lesser-known 1943 Tehran Conference, where Franklin D. Roosevelt, Winston Churchill, and Joseph Stalin plotted to end the war, with the D-Day invasion.
Bell, Richard. Stolen: Five Free Boys Kidnapped into Slavery and Their Astonishing Odyssey Home. 37 INK: Atria. Oct. 2019. 336p. ISBN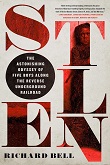 9781501169434. $27. HISTORY
By telling the story of five free black boys kidnapped from 1815 Philadelphia, Bell, an award-winning associate professor of early American history at the University of Maryland, brings to light the Reverse Underground Railroad, a black-market network of human traffickers who entrapped thousands of legally free African Americans before the Civil War. The boys were smuggled into slavery in the Deep South but escaped and managed to bring brought their captors to justice. With a 75,000-copy first printing.
Carlin, Dan. Hardcore History: History at the Extremes. Harper. Oct. 2019. 304p. ISBN 9780062868046. $29.99; ebk. ISBN 9780062868060. lrg.prnt. HISTORY
The creator of the superhit podcast Hardcore History, winner of the 2019 iHeartRadio Best History Podcast Award and downloaded over 100 million times since its inception, Carlin does long-form history fantasias topping out at six hours. Here he works in another format, reconsidering what we know about wars, empires, and leaders over millennia as he takes the perspective of ordinary people and considers what might have happened. With a 200,000-copy first printing.
Dekel, Mikhal. Tehran Children: A Holocaust Refugee Odyssey. Norton. Oct. 2019. 384p. ISBN 9781324001034. $27.95. HISTORY
One-million-plus Jews escaped German-occupied Poland for Soviet-occupied Poland and were thence herded to Siberian gulags and "Special Settlements" and eventually to the Soviet Central Asian Republics of Uzbekistan and Kazakhstan. Most remained there until the end of the war, but some, like Dekel's father, continued on to Iran, enduring terrible privation along the way and the anxiety of being Jewish refugees in a Muslim land once they arrived. From the author of The Universal Jew, an English professor of at City College of New York and the CUNY Graduate Center.
Lichtblau, Eric. Return to the Reich: A Holocaust Refugee's Secret Mission to Defeat the Nazis. Houghton Harcourt. Oct. 2019. 304p. ISBN 9781328528537. $28; ebk. ISBN 9781328529909. HISTORY
Raised in Germany as the Nazis rose to power, Freddy Mayer escaped to America with his family in 1938. He was rejected as an "enemy alien" when he tried to enlist after Pearl Harbor but was recruited by the OSS and returned to Europe, posing as a Nazi officer and a French POW while providing key information by radio dispatch. Captured and tortured by the Gestapo on the eve of Allied victory, he actually persuaded the Nazi regional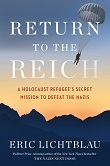 commander to surrender. His story is told by Pulitzer Prize-winning investigative reporter Lichtblau, author of the New York Times best-selling The Nazis Next Door.

Miller, Donald L. Vicksburg: Grant's Campaign That Broke the Confederacy. S. & S. Oct. 2019. 640p. ISBN 9781451641370. $35. HISTORY
The John Henry MacCracken Professor of History Emeritus at Lafayette College and a frequent historical consultant for television documentaries, Miller (Masters of Air) revisits Vicksburg, the longest and most decisive military campaign of the Civil War. With a 75,000-copy first printing.
Sloyan, Patrick J. When Reagan Sent In the Marines: The Invasion of Lebanon. Thomas Dunne: St. Martin's. Oct. 2019. 240p. ISBN 9781250113917. $29.99; ebk. ISBN 9781250113924. HISTORY
A Pulitzer Prize and George Polk Award–winning journalist who reported on the 1983 bombing of the U.S. Marine barracks in Beirut, Sloyan gives us a blow-by-blow account of events and evaluates the mistakes made by President Reagan in sending in the marines.
Wingate, Lisa. Before and After: The Incredible Real-Life Stories of Orphans Who Survived the Tennessee Children's Home Society . Ballantine. Oct. 2019. 272p. ISBN 9780593130148. $25; ebk. ISBN 9780593130155. ADOPTION
On the New York Times best sellers list for 54 weeks, Wingate's novel Before We Were Yours focused on four Memphis siblings to tell the horrific story of Georgia Tann's Tennessee Children's Home Society, which from the 1930s through 1950 kidnapped thousands of mostly poor children for sale in illegal adoptions countrywide. Here she reveals true stories of Tann's victims, some of whom learned the truth of their lives from her book and were able to reunite with long-lost birth-family members. Letters, documents, and black-and-white photos throughout.