Two dystopian titles imagine America fractured by another civil war, Carriger wraps up her "Custard Protocol" series, R.F. Kuang follows up The Poppy War, and Silvia Moreno-Garcia blends the Roaring Twenties with Mayan cosmology.
Brown, Christopher. Rule of Capture. Harper Voyager. Aug. 2019. 336p. ISBN 9780062859099. pap. $15.99; ebk. ISBN 9780062859112. DYSTOPIAN
As civil war rages in America after a bloody war with China, the rule of law has fallen by the wayside and lawyer Donny Kimoe works to defend enemies of the state. But he blows the defense of a young filmmaker, and the sand is running out fast as he tries to keep her from being sent to a concentration camp from which no one returns. Described as the start of a legal thriller series, BISACed as dystopian, published by Harper's sf/fantasy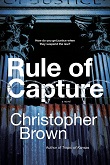 imprint, and written by a finalist for Campbell and World Fantasy honors; genre-bending for sure.
Carriger, Gail. Reticence. Orbit: Hachette. Aug. 2019. 368p. ISBN 9780316433914. $26; ebk ISBN 9780316433907. lib. ebk. ISBN 9780316433921. CD/downloadable. FANTASY
The New York Times best-selling Carriger wraps up her "Custard Protocol" series with the misfit family aboard the Spotted Custard sailing into the sunset and Primrose Tunstell's brother Percival wondering if he could ever fit in. But an entrancing doctor might convince him otherwise. With a 75,000-copy first printing.
DiLouie, Craig. Our War. Orbit: Hachette. Aug. 2019. 400p. ISBN 9780316525268. $26; ebk. ISBN 9780316525251. lib. ebk. ISBN 9780316525282. Downloadable. DYSTOPIAN
The president is impeached but refuses to leave office, and America descends into a civil war fought mostly by children. Ten-year-old Hannah joins the Free Women's militia in Indianapolis, but her brother fights on the other side. Fractured America, echoing Christopher Brown's Rule of Capture, previewed above, and Omar El Akkad's American War.
Kuang, R.F. The Dragon Republic. Harper Voyager. Aug. 2019. 560p. ISBN 9780062662637. $26.99; ebk. ISBN 9780062662613. FANTASY
Kuang continues the story she started in The Poppy War, an LJ Best Book, with shamanic warrior Rin running from the guilt she harbors after committing an atrocity to save her people in the third round of the Poppy Wars. Then there's her opium addiction, her desire to cauterize the empress who betrayed Rin's homeland, and the powerful demands of the Phoenix who gifted her (if gifted is the right word) her awesome powers. With a 75,000-copy first printing.
Martin, George R.R., ed. Knaves Over Queens: A Wild Cards Novel. Aug. 2019. 560p. ISBN 9781250168061. $29.99; ebk. ISBN 9781250168054. SF/ACTION & ADVENTURE
Developed by aliens and tested on Earth, the virus known as Xenovirus Takis-A changed history upon its release in 1946 New York. Now the virus has reached Great Britain, where Prime Minister Winston Churchill and Enigma genius Alan Turing must battle its unfortunate mutants. Edited by the durable Martin with Melinda M. Snodgrass as coeditor; a Wild Cards television series is in the works.
Modesitt, L.E., Jr. The Mage-Fire War. Tor. Aug. 2019. 544p. ISBN 9781250207821. $29.99; ebk. ISBN 9781250207814. FANTASY
Fleeing Axalt when their use of magic is challenged, Beltur and his companions are offered sanctuary in Montgren, which lacks mages of any kind. They are even appointed Councilors of the crumbling town of Haven, but general lawlessness and an invading army are definite drawbacks. Next in the long-running "Saga of Recluce" series.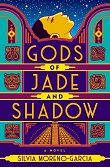 Moreno-Garcia, Silvia. Gods of Jade and Shadow. Del Rey: Ballantine. Aug. 2019. 352p. ISBN 9780525620754. $26; ebk. ISBN 9780525620761. Downloadable. FANTASY
The best-booked author of Signal to Noise and Certain Dark Things returns with the Jazz Age–set story of Casiopea Tun, who's scrubbing floors at her grandfather's house in a sun-seared southern Mexico town when she opens a wooden box and releases the Mayan God of Death. The god is eager to reclaim his throne from a perfidious brother, and If Casiopea helps him achieve his goal, her wishes will be granted—but she might die trying.