Allen, Nancy Campbell. Brass Carriages and Glass Hearts. Shadow Mountain. (Proper Romance Steampunk, Bk. 4). Oct. 2020. 320p. ISBN 9781629727370. pap. $15.99. HISTORICAL ROMANCE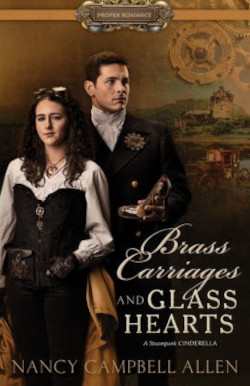 In this Victorian steampunk retelling of Cinderella, Emmeline O'Shea is more likely to be delivering passionate speeches at Shifter's Rights rallies and attacking her political foes than doing housework. When a threatening letter warns her against speaking at an important Shifter's Rights summit, Detective Inspector Oliver Reed is called on to be her bodyguard, much to Emmeline's dismay since the detective has consistently dragged her from riots and put her in jail for unruly behavior. Oliver, however, has secretly admired Emmeline's passion from afar and knows he's the only one who can safely protect her from her growing list of enemies—including a jealous stepsister.
­VERDICT With this new series, ­Allen (The Lady in the Coppergate Tower) creates an alternate 19th-century London with just enough steampunk elements (automatons, airships) to spice things up, and what could have been another stale version of a familiar fairy tale becomes a fresh retelling with plenty of danger and romance. An excellent choice for romance readers trying ­steampunk for the first time. —Kathryn Howe, Saint John Free P.L., NB, Canada
Cabot, Meg. No Offense. Morrow Paperbacks. Aug. 2020. 352p. ISBN 9780062890078. pap. $15.99. CONTEMPORARY ROMANCE
After a failed engagement, children's librarian Molly Montgomery moves from Colorado to Florida's Little Bridge Island to serve as the town librarian, taking a side gig at the Lazy Parrot Inn to make ends meet. John Hartwell has returned to his island home to fill the role of sheriff, uprooting his teenage daughter in the process. When Molly finds an abandoned baby in the library bathroom and John is called in to investigate, sparks fly as the two disagree on every conceivable point of what could have possibly happened. Discovering the child's mother in a trashed room of the new library, John believes he has the clues he needs to catch the culprit and advises Molly to let him handle the case alone. But Molly, a longtime fan of true crime podcasts, is determined to sleuth out the mystery herself. As their paths continue to cross, their differing opinions create a tense situation that also heightens the brewing chemistry between them. ­
VERDICT Cabot returns to the "Little Bridge ­Island" series with another engaging read (after No Judgment). Rom-com fans looking to extend the beach-reading season should find this their next go-to read. —Kellie Tilton, Univ. of Cincinnati, Blue Ash
Herrera, Adriana. Here To Stay. Carina Adores: Harlequin. Aug. 2020. NAp. ebk. ISBN 9780369700926. $3.99. CONTEMPORARY ROMANCE
Queens native Julia Ortiz is left stranded in Dallas after a humiliating breakup but is now back on her feet and working a dream job as the program coordinator for a nonprofit, funded by a famous department store. Her position is threatened when the company hires a firm to help them go public, led by the infuriatingly hot Rocco Quinn. Rocco needs to follow company orders, which could mean recommending Julia's organization to be axed, but he's infatuated with Julia and drawn to her warm, Puerto Rican/Dominican family. He's also becoming attached to her new circle of friends, made up of ex–New Yorkers living in Dallas. Readers will be charmed by Rocco, who rescues abandoned kittens and doesn't need to be schooled about racism or why Julia's work is important, while Julia is a mature, down-to-earth heroine whom readers will relate to.
VERDICT Herrera ("Dreamers" series) hits the mark again with a sizzling enemies-to-lovers romance that deftly charts the struggles of finding love and friendship in unexpected places. —Kathryn Howe, Saint John Free P.L.,NB, Canada
Hunting, Helena. Kiss Me Cupcake. Forever: Grand Central. Aug. 2020. 368p. ISBN 9781538734674. pap. $15.99. CONTEMPORARY ROMANCE
Blaire Calloway has worked her 1950s dress-wearing butt off for years to move her cupcake and cocktails business from food truck to full-scale storefront. She won't let a little ruckus from the ax-throwing sports bar next door ruin her dream. She's also not afraid to let the bar's incredibly sexy, plaid-clad manager Ronan Knight know how she feels. Ronan is amused by the fireball who keeps calling him to task and shows it through what he believes is lighthearted teasing. As they both compete in an online contest for best bar in the Pacific ­Northwest, their rivalry pushes them to keep one-upping the other until an even bigger rival shows up on the scene and forces Blair and Ronan to work together.
VERDICT An absolute delight from start to finish, this delicious enemies-to-lovers romance sees an independent and driven heroine and an equally ambitious hero take a journey to love that is unpredictable and filled with hilarity, a dash of sweetness, and a touch of steam. —Courtney Pentland, Omaha, NE
Igharo, Jane. Ties That Tether. Berkley. Oct. 2020. 336p. ISBN 9780593101940. pap. $16. CONTEMPORARY ROMANCE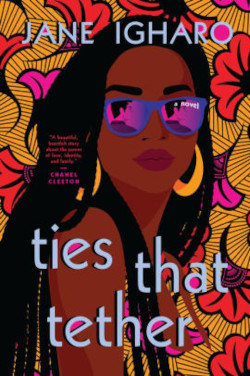 DEBUT Azere has been caught between two worlds since promising her dying father at age 12 that she would marry a Nigerian Edo man even after her family moved to Toronto, Canada. She wants to honor her culture and her family's wishes, even if it means reluctantly agreeing to go on a string of terrible dates with men her mother has carefully selected for her. After an awful evening with one of her mother's picks, Azere finds consolation in the form of a handsome stranger at the bar. Azere knows that anything other than a one-night stand with Rafael is impossible since he isn't the man her family dreams of. When an unexpected circumstance intertwines Rafael and Azere together forever, Azere faces the decision of continuing to honor her parents' wishes even if it means sacrificing her own happiness.
VERDICT Igharo's debut beautifully depicts the tension between self-determination and the desire to live up to family expectations. Favorite tropes such as a secret baby and a love triangle are reimagined through clever and heart-warming storytelling. Readers will be rooting for Azere from the very first page. [See "A Full Fall," LJ 8/20.] —
Shanel Slater, Marion P.L., IA
James, Charlee. Dangerous Water. Tule. (Cape Cod Shore, Bk. 3). Aug. 2020. 258p. ebk. ISBN 9781951786571. $3.99. ROMANTIC SUSPENSE
The devastating loss of Elle Devereaux's parents is made even more distressing by the news that their once-successful company is now bankrupt. What follows is a series of nightmares, an unusual discovery at her parents' home, and an internet search that soon has Elle traveling across the country in search of a long-lost sister she has no memory of. Or does she? Private Investigator Gabe Sandoval left the police force after a workplace tragedy and has lived a half-life at best ever since. The one bright spot is his friend group, especially bestie and coworker Alex. When yet another young woman shows up in town claiming to be Alex's once-kidnapped sister, Gabe is skeptical, determined to spare his friend any more heartbreak. But the magnetic pull he feels toward Elle is hard to resist, even as the danger that followed her to Boston swirls ever closer.
VERDICT James (Caught in the Current) explores weighty subjects in this story that could have been more fully developed—­living with survivor's guilt, discovering loved ones aren't who or what they professed to be, finding family members who were a long-held secret. The uneven writing and a mystery that seems to resolve itself behind the scenes make the appeal mainly to series completists. For collections where the author's previous books circulate well. —Rebecca Moe, Alden Ewell Free Lib., NY
Leigh, Eva. Would I Lie to the Duke. Avon. (Union of the Rakes, Bk. 2). Aug. 2020. 368p. ISBN 9780062932426. pap. $7.99. HISTORICAL ROMANCE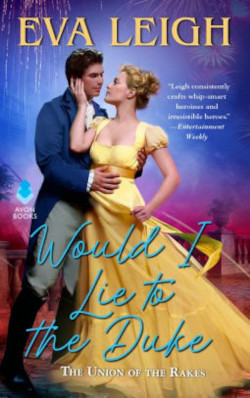 After a fire destroys the farm buildings dedicated to keeping her family's soap business afloat, Jessica McGale rallies to save the company by adopting the fake title of Lady Whitfield and traveling to London to attend a conference catering to investors. There she meets the Duke of Rotherby, Noel Edwards, a young upstart with connections to the city's elite. Noel is surrounded by those who rely on him for business favors, yet he feels no real ties to high society and has few associates outside of the Union of Rakes, his tight-knit group of friends from Eton. Lady ­Whitfield's wit, assured business acumen, and poise easily draws Noel to her side, and he soon finds himself placing his trust and vulnerability in her hands. When Jessica's desperate scheme finally comes to light, Noel vacillates between ­returning to his rakish ways or forgiving the woman who dominates his every thought. ­
VERDICT A duke who has no problem ­taking a more submissive role and an intelligent woman determined not to fail make an exquisite match in this second spicy, delectable tale in Leigh's "Union of Rakes" series (My Fake Rake). ­Regency fans will savor and want more. —Kellie Tilton, Univ. of Cincinnati, Blue Ash
McMurray, Kate. Stick the Landing. Dreamspinner. (Elite Athletes, Bk. 2). Oct. 2020. 332p. ISBN 9781641082211. pap. $9.99. lgbtq contemporary ROMANCE
Topher Caldwell may be retired from figure skating, but he's convinced his expertise would make him the perfect on-air commentator. All he needs is a foot in with the network. When they ask him to join the Summer Olympics coverage in Madrid to work on some features, he jumps at the chance. Considered the best male gymnast in the world, Jake Mirakovitch has a bad habit of choking on the international stage, and he's terrified it's about to happen again. Topher is asked to cover the men's gymnastics practice, and he meets Jake during an interview. Although they come from two different sports, they share the knowledge of what it means to bear the burden of success and that life must go on after retirement. Jake knows he should focus on work and not pursue anything with Topher, but the attraction is instant. As Jake and Topher keep bumping into each other, both by accident and, later, on purpose, Jake starts to wonder if a distraction is exactly what he needs.
VERDICT McMurray's return to the "Elite Athletes" series (after Here Comes the Flood) is a welcome one, with a sweet and sexy love story nestled among a solid sports tale. Although it would've paired perfectly with the Beijing Games, this remains a great book for summer and will have staying power in the buildup to the 2021 Olympic Games. —
Kellie Tilton, Univ. of Cincinnati, Blue Ash
Madden-Mills, Ilsa. Not My Romeo. Montlake Romance: Amazon. (Game Changers, Bk. 1). Aug. 2020. 348p. ISBN 9781542021883. pap. $9.99. CONTEMPORARY ROMANCE
Recently single Elena Riley, the sole librarian in a small town outside Nashville, reluctantly allows her roommate to set her up on a blind date. Elena is pleasantly surprised to discover that her date is not only gorgeous but in incredible shape—(she accidentally sits down with NFL star Jack Hawke instead of her date). Jack, starting quarterback for the Nashville Tigers, is struggling with losing his fourth Super Bowl in a row, and fans and the media are calling for his head. As far as he's concerned, this sexy firecracker unschooled in football is a breath of fresh air. Once the two clear up this case of mistaken identity, the challenge becomes trusting each other enough to strengthen a relationship that started with a one-night stand and a lie. Elena's somewhat stereotypical "sexy librarian" persona will delight some readers and frustrate others, while Jack's wariness and anxiety around public appearances lends invigorating humanity to a larger-than-life figure.
VERDICT The crackling chemistry between the two leads is strong, and though numerous side conflicts threaten to overwhelm the main romance and leave the plot feeling slightly overstuffed, this new series launch from Madden-Mills ( I Bet You) will be welcomed by fans of sports romances. —Jessica Moore, Milwaukee P.L.
O'Riley, Kaitlin. The Unexpected Heiress. Zebra: Kensington. (Hamilton Cousins, Bk. 3). Aug. 2020. 336p. ebk. ISBN 9781420144680. $6.99. HISTORICAL ROMANCE
Writer Meredith Rose Remington has no interest in searching for a husband, but when her father and uncle suddenly die, Meredith's own interests no longer matter. Her aunt, now also on the marriage mart, insists the pair return to England and find well-off husbands to marry before news of their destitution spreads. As Meredith is paraded past eligible men, she takes solace at Hamilton's Book Shoppe, where she reads and works on her novel. There she meets Phillip Sinclair, Earl of Waverly, and although she finds him deliciously handsome, the pompousness rolls off him. Phillip is running not only from marriage, but also from his future responsibility and pouring his efforts into gambling, drinking, and the notorious widow, Lady Katherine Vickers. With each encounter with Meredith, though, his hard exterior softens and he begins to see in Meredith the perfect companion that she is. But Meredith's aunt insists she marry another before their secret is out.
VERDICT O'Riley ( The Heiress He's Been Waiting For) brings together the Hamilton family one last time for the final book in both the "Hamilton Cousins" series and the entire Hamilton family books. This ­Victorian-era read is sure to please longtime fans and new readers alike. —Kellie Tilton, Univ. of Cincinnati, Blue Ash
Ranney, Karen. My Highland Rogue. Avon. (Highland Fling, Bk. 1). Aug. 2020. 384p. ISBN 9780063019928. pap. $7.99. HISTORICAL ROMANCE
A crumbling estate, long-lost family secrets, and forbidden love make Ranney's latest ("All for Love" series) an emotionally charged reading experience. Lady Jennifer Adaire has loved Gordon McDonnell ever since she can remember, but as the son of her family's gardener, his low birth means they could never marry. Five years earlier, Gordon abandoned Adaire Hall without a word, leaving Jennifer heartbroken. Now he's back to attend to his dying father, and their romance reignites when they discover they've never stopped loving each other. Just when it seems like everything is going to be wrapped up in a neat happily ever after, a shocking secret from the past destroys Jennifer and Gordon's chance at marriage. As the action moves from London to Edinburgh to the remote Scottish Highlands, new revelations keep readers guessing as to what will happen next, and how the characters will ever overcome the insurmountable obstacles consistently being thrown at them.
VERDICT With mountains of family drama, coupled with unexpected twists and turns, this enchanting love story will appeal to fans of Kate Morton's or Lauren ­Willig's historical romances. [Note: ­Ranney passed away this past June while writing this series. She was 70. My Highland Rogue would have been her 37th historical romance published with Avon.—Ed.] —Kathryn Howe, Saint John Free P.L., NB, Canada
Smith, Sarah. Simmer Down. Berkley. Oct. 2020. 336p. ISBN 9781984805447. pap. $16. CONTEMPORARY/MULTICULTURAL ROMANCE
Tiva's Filipina Kusina is the latest addition to Maui's fiercely competitive food truck scene. Nikki and her mom, Tiva, own and operate the truck, serving up their modern take on traditional Filipino dishes. When Nikki pulls up to her beachfront parking area one morning, she finds the Hungry Chaps food truck, and its tall, handsome British owner, Callum. Needless to say, Nikki is livid. Tempers are further inflamed as the two attempt to drive each other out of business, but the challenge isn't all food truck–related. Nikki can't help noticing her body's reaction to Callum. Callum has also been paying attention, and in fact has trouble keeping his eyes off of Nikki. As the days and weeks pass, the two gravitate toward each other, but can they overcome their professional rivalry? Nikki and Callum are believable, flawed, multifaceted characters, and the secondary characters are as well developed and unique. The enemies-to-lovers plot will pull readers in, and the descriptions of food will have them salivating.
VERDICT Smith's (Faker ) cute, breezy, multicultural romance set in paradise is a solid purchase where contemporary romances are popular. —Heather Miller Cover, Homewood P.L., AL
Ward, J.R. The Jackal. Gallery. (Black Dagger Brotherhood: Prison Camp, Bk. 1). Aug. 2020. 368p. ISBN 9781501195068. $368. | PARANORMAL ROMANCE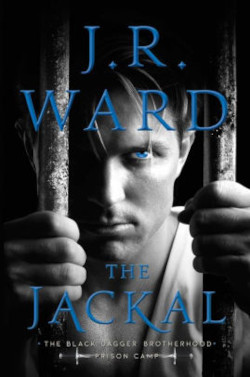 Ward's latest is both a continuation of her "Black Dagger Brotherhood" spin-off "Black Dagger Legacy" subseries (Blood Truth), and the start of a new line of stories and characters in the "Black Dagger Brotherhood Prison Camp" series. Nyx is on a rescue mission to save her sister, and to right what she believes to be a grave injustice. After decades, a random accident gives her the first clue to her sister's whereabouts. Nyx sets off on her mission and is soon in a prison camp with others of her kind. She meets the Jackal almost immediately and is drawn to his bizarre story and how he stays incarcerated seemingly by choice.
VERDICT The latest expansion of Ward's elaborate world builds on its own mythology while introducing new characters and revisiting old favorites. A must-read for fans of this long-running series, and an ­accessible jumping-on point for newcomers. —Claire Brown, Red Deer P.L., Alberta, Canada
Winters, Elia. Hairpin Curves. Carina Adores: Harlequin. Aug. 2020. 288p. ISBN 9781335146656. pap. $14.99. lgbtq coNTEMPORARY ROMANCE
Megan and Scarlett were best friends in high school until a misunderstanding turned their relationship sour. Now 25, both are stuck in dead-end jobs and struggling to figure out adulthood. When a mutual friend invites them to her wedding in Quebec, they agree to put aside their differences and carpool from Florida to save on airfare. Portrayed as polar opposites, with Megan set in her ways and Scarlett a free spirit, the two entertain childish bickering on the road that wears thin after a while. But as the miles disappear, their personalities begin to shine as they open up to each other. Scarlett, who is bi, has secretly harbored a crush on Megan for years, and is shocked to learn that Megan is attracted to women, fueling the longstanding sexual tension between them.
VERDICT RITA award–winning author Winters ( Playing Naughty) puts the focus on female friendships—and female love—in this feel-good, F/F road-trip romance that's not too heavy and just the right amount of fun to recommend for a fun holiday or beach read.—­Kathryn Howe, Saint John Free P.L., NB, Canada