As Whoopi Goldberg underscored in her book The Unqualified Hostess: I Do It My Way and You Can Too, the act of celebrating is more important than rules of embroidered linen. This holiday season, suggest to patrons these go-to guides for hosting friends and family and making merry, beauty, and memories.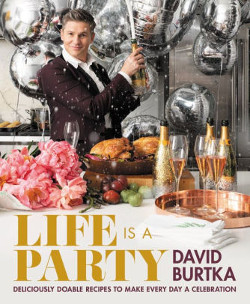 Life Is a Party: Deliciously Doable Recipes To Make Every Day a Celebration by David Burtka (Grand Central).
You might know Burtka from his Food Network show of the same title, or as the husband of Neil Patrick Harris, but foodies digging into this book will come to treasure him as a creative party planner with a host of accessible recipes and can-do strategies.
Entertaining with Disney: Exceptional Events from Mickey Mouse to Moana! by Amy Croushorn (Insight Editions).
Most all things Disney are evergreen, but the studio is getting renewed attention with the blockbuster release of Frozen 2, a new streaming service, and a handful of books addressing aspects of the company's various amusement parks, Walt Disney himself, and more. Here, Croushorn introduces themed parties of all kinds, based, of course, on favorite Disney characters, from Cinderella (a New Year's Eve countdown to midnight) to a Villains' Halloween.
The Art of the Host: Recipes And Rules For Flawless Entertaining by Alex Hitz (Rizzoli).
A big name in the party hosting world, Hitz presents insights based on years of experience. While lavish and lovely, this book is not all shining silver and expensive candles (e.g., the author's Bel-Air onion puffs start out with grocery store white bread. Also from Rizzoli is Bryan Rafanelli's lush and grand A Great Party: Designing the Perfect Celebration.
Cooking for Good Times: Super Delicious, Super Simple by Paul Kahan & others (Lorena Jones: Crown).
Going in a different direction, this work caters to those looking to host an easygoing, relaxed gathering, encouraging readers to "toss out the matched fancy forks and pull up a chair in the kitchen and let the dog in." Recipes come with variations and simple drink suggestions.
Mixtape Potluck Cookbook: A Dinner Party for Friends, Their Recipes, and the Songs They Inspire by Questlove (Abrams). Imagine the hippest gathering and, Questlove, the frontman for the Grammy-winning band The Roots, likely beats it, with this guide, complete with playlist, showing how the cool kids' party starts with arrival snacks and moves on to its own after-party. Matching its title, the book's recipes are from a potluck of authors, including Martha Stewart and actress Gabrielle Union.