Western Tales have been prevalent in film and television for as long as those media have existed. There are plenty of Western stories in the world of graphic novels as well, and many of them take full advantage of the freedom from budgetary limitations and the adventurous tastes of fans in order to experiment and to subvert the genre.
Heavily scarred bounty hunter Jonah Hex has been around since 1971, and while his early adventures mostly stick to familiar tropes, his most recent appearance in Justin Gray and Jimmy Palmiotti's All-Star Western. Vol. 1: Guns and Gotham (DC) finds him taking part in a psychological thriller, teaming with a pioneering psychologist to hunt a serial killer.
Cullen Bunn and Brian Hurtt's The Sixth Gun. Vol. 1:Deluxe Edition (Oni) and Kelly Sue DeConnick & others' Pretty Deadly. Vol. 1: The Shrike (Image) both blend in elements of dark fantasy. In The Sixth Gun, an array of cutthroats chases a set of pistols imbued with incredible power across the backdrop of the Civil War. Pretty Deadly follows the daughter of Death on a quest for vengeance, drawing inspiration from various world mythologies; it's narrated by a rabbit and butterfly.
The personification of Death is the star in the dystopian East of West: The Apocalypse Year One (Image) from Jonathan Hickman and Nick Dragotta. In a future ravaged by endless war, Death and his human lover must prevent the remaining horsemen of the apocalypse from fulfilling an ancient prophecy.
Alejandro Jodorowsky and François Boucq's Bouncer (Humanoids) is a gritty, more grounded story about a one-armed gunslinger in the Old West. And if grit is what you're after, there's nothing grittier than Jason Aaron and R.M. Guéra's Scalped, Bk. 1 (Vertigo), which tracks a vicious power struggle on a modern-day Native American reservation.—TB
---
Baudoin, Edmond. Piero. NYRC. Nov. 2018. 136p. tr. from French by Matt Madden. ISBN 9781681372969. pap. $17.95. MEMOIR
Revered French cartoonist Baudoin (Dalí) chronicles his upbringing and relationship with his beloved brother in this heartfelt, intimate memoir. As children, the author and his brother, Piero, wander the forest around their home, fantasizing about finding a crashed UFO, battling monsters, and flying through the air, all the while obsessively working on drawings. As they grow older, the two begin to drift apart, and their interests grow to include new friends, dances, and motorcycles, but their love of art keeps them connected. Baudoin is known for his brushwork, but here he uses pen and ink and employs scratchy, scribbly strokes to evoke the energy and innocence of childhood. As far as plot, the story is fairly light—aside from Piero's childhood illness and a motorcycle accident as a teenager, there isn't much drama here. Except, of course, the relatable, bittersweet angst of growing up and looking back on your life, reflecting on how you got where you are and who stuck by you along the way. VERDICT Translated into English for the first time, this volume is a worthy choice for larger collections with Baudoin's highly regarded earlier titles.—TB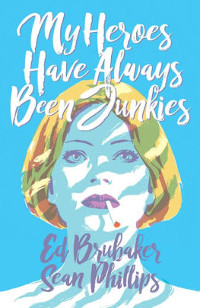 Brubaker, Ed & Sean Phillips (text & illus.) & Jacob Phillips (illus.). My Heroes Have Always Been Junkies. Image. Oct. 2018. 72p. ISBN 9781534308466. $16.99. CRIME
Brubaker and Phillips (Kill or Be Killed) are the most dependable duo in comics today, routinely producing hard-boiled, literary crime thrillers. Their latest follows the trend. As an orphaned child, Ellie develops a fascination with famously drug-addicted musicians and artists. Her hero worship follows her into adulthood and finds her placed against her will in a rehab facility where she meets a young man named Skip, who is desperate for a new lease on life. Soon the two are drawn together and propelled into real trouble by Ellie's impulsive, self-destructive behavior. Will true love save these tortured souls? Who are the mysterious men who seem to follow their every move? Close readers of the creator's oeuvre will catch connections to their earlier series, Criminal, but this one still provides plenty of truly twisted twists and wraps up with a pulpy punch of an ending that's satisfying—and heartbreaking—on its own. VERDICT While lacking the scope of Brubaker and Phillips's longer, serialized stories, this stand-alone novella is a fine addition to a staggering body of work. —TB
de Radiguès, Max. Bastard. Fantagraphics. Oct. 2018. 180p. ISBN 9781683961307. pap. $14.99. crime fiction
After taking part in an ambitious heist in which a group of the world's greatest thieves committed 52 simultaneous robberies, May and her son Eugene are on the run with a trunk full of cash. The law isn't their only problem—May's double-crossing criminal associates want her and Eugene dead. Author and artist de Radiguès (cocreator, Weegee: Serial Photographer) uses a simple and direct cartooning style that may lead readers to believe this to be lighthearted tale, when in fact, what he's produced is a winding, hard-boiled story filled with twists, betrayals, and acts of shocking violence. May and Eugene are wonderfully developed, lovable characters, making their adventures all the more harrowing. VERDICT While the pace quickens to near breakneck speed in the final pages, skimming some content that would have been nice to see fully developed, this is a crime story that ultimately delivers an emotional experience much richer than a typical bloody romp of underworld deceit.—TB
Gaiman, Neil (text) & Mark Buckingham & Chris Blythe (illus.). Likely Stories. Dark Horse. Oct. 2018. 80p. ISBN 9781506705309. $17.99; ebk. ISBN 9781506705293. FANTASY
A man who hasn't had sex in three years finds himself somehow afflicted by a horrible sexually transmitted disease. A lothario becomes enamored of his neighbor, an aging woman with a craving for raw meat. A young man coming of age in the 1970s and 1980s finds his path repeatedly crossing with a beautiful woman who never ages a day above 19. These strange, eerie stories, originally written and produced for British television and adapted to the page by illustrator Buckingham (Fables), aren't necessarily the best work Gaiman (A Study in Emerald) has produced in his long, legendary career. Some feel like sketches, while others drop off as soon as they seem to be getting to the good stuff. Luckily, Buckingham is a brilliant craftsman, capable of composing gorgeous pages that demand scrutiny and imbuing characters with life that goes deeper and further than a two-dimensional drawing should reasonably allow. VERDICT Gaiman fans looking for his usual rich worldbuilding might find this a little slight, but the artwork makes it worthwhile for urban fantasy collections.—TB
Nowak, Carolyn. Girl Town. Top Shelf: IDW. Nov. 2018. 160p. ISBN 9781603094382. pap. $19.99. F
Nowak (Lumberjanes) tosses off more wildly imaginative ideas per page than some creators have over their entire careers in this invigorating collection of short stories. In the opening piece, a woman kicked out of astronaut school for being too attractive pines for her neighbor, whose arm mysteriously vanishes overnight. The next story, which follows two friends as they shop at a market specializing in fantastic goods and bizarre attractions, is charming and funny right up until the end, when it becomes extremely poignant. The standout piece follows and stars a woman with an electric tongue (she lost the original in a motorcycle accident) who attempts to get over her ex by purchasing a robot boyfriend. That might sound like a premise straight out of Black Mirror, but Nowak makes it her own by eschewing heady speculation about artificial intelligence in favor of a probing yet tender character study. VERDICT Nowak's characters banter, bicker, and yearn for love, connection, and acceptance. Their world isn't quite ours, but their struggles are familiar and very entertaining.—TB
Roberts, Keiler. Chlorine Gardens. Koyama. Oct. 2018. 128p. ISBN 9781927668580. pap. $12. memoir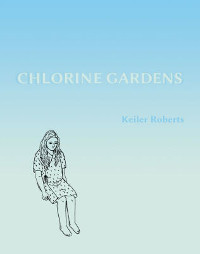 A ringleader possessed of a dry wit, Roberts (Sunburning) is surrounded by people with a similar affliction, such as husband Scott, daughter Xia, and her parents, chuckling sarcastically all the way from minor annoyance through major adversity, while occasionally revealing a deeper sadness. Even dog Crooky is a constant source of frustration, woefully indifferent to the needs of the humans around her. Keeping her sense of humor helps Roberts navigate upstream through moments including extended hospital stays, receiving a long-gestating diagnosis of multiple sclerosis, the death of a grandparent, or maintaining her sobriety, as well as more mundane mishaps such as taking an unfulfilling family trip or meeting with her quirky gynecologist. VERDICT An unusually unfolded autobiographical farce with soul, this work is quite funny, and the personal nature of the witticisms help bind the events of the quietly touching narrative together and are what will remain stuck to your funny bone like peanut butter. —Douglas Rednour, Georgia State Univ. Libs., Atlanta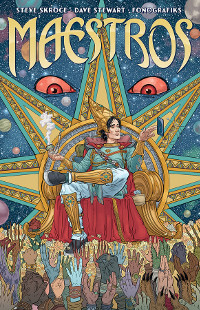 Skroce, Steve & others. Maestros. Vol. 1. Image. Nov. 2018. 192p. ISBN 9781534306738. pap. $16.99. FANTASY
Will makes a nice living selling enchantments to unscrupulous businessmen and has little ambition beyond that until his father, the most powerful wizard in existence and ruler of a vast empire, is murdered. After discovering that he's next in line to the throne, Will must contend with memories of his traumatic upbringing as an unwanted half-breed (his mother is human) and multiple monstrous enemies determined to get their hands on a dangerous spell capable of granting total omnipotence. Skroce ( We Stand on Guard) has been one of the most admired illustrators in comics for year and here proves himself a terrific writer as well, delivering a cleverly plotted story with loads of swashbuckling action, gore, pathos, and sleaze. VERDICT Skroce's dynamic style and pacing keeps the pages turning so fast that fans might want to read this one two or three times in order to catch the exquisite detail (enhanced by the work of colorist Dave Stewart) and impressive worldbuilding on display. Tons of fun, with the welcomed promise of future volumes.—TB
Typex. Andy: The Life and Times of Andy Warhol; A Factual Fairytale. SelfMadeHero: Abrams. Oct. 2018. 562p. ISBN 9781910593585. pap. $34.99. BIOG
The life of pop artist Andy Warhol (1928–87) has been explored numerous times, but never with the attention to detail and artistic audacity that Typex (Rembrandt) delivers in this gorgeously designed, fully approved new biography. Beginning with Warhol's early life as the son of working-class immigrants in Pittsburgh and continuing through his years as a commercial artist before achieving celebrity status, collaborating with pioneering rock group the Velvet Underground, and leaving an indelible mark on American culture, Typex renders each chapter in this massive volume in a distinct illustration style. Brilliant page design, striking typography, and a dizzying array of narrative techniques abound, fleshing out Warhol's evolution as an artist and a man. Featuring cameos from a who's who of 20th-century artists, musicians, and people pretty much famous owing to their proximity to Warhol, or because he decided they should be. VERDICT The meticulous level of research is almost a hindrance, as the story sometimes seems to move at the pace of real life. But as an art object, it's unlikely to be outdone by any new release any time soon.—TB
Van Sciver, Noah. A Perfect Failure: Fante Bukowski Three. Fantagraphics. Oct. 2018. 188p. ISBN 9781683961314. pap. $16.99. F
The third and concluding volume in Van Sciver's (Johnny Appleseed) brilliant parody of literary male entitlement finds protagonist Fante Bukowski attempting to make a name for himself as a writer in Columbus, OH. A lack of talent and support from his peers is no obstacle for the alternately pretentious and self-loathing Bukowski, but when his father's failing health threatens to curtail his ability to finance his son's quest for success, Bukowski is unable to avoid the reality that it may well be time to abandon his dreams and get a straight job. Luckily, he's presented with the opportunity to ghost write the autobiography of a Disney teen star…but can he bring himself to sell out? Past volumes in this series have established Bukowski as a poser for the ages, with a hilarious lack of self-awareness. Here, Van Sciver adds a fascinating new layer, as flashbacks to Bukowski's early years and upbringing actually manage to add a layer of poignancy to what is otherwise an exceptional, and at times savage, satire. VERDICT A great conclusion to a wonderful series that works fairly well as a stand-alone volume, although the entire series is well worth seeking out.—TB
Walker, David F. (text) & Damon Smyth & others (illus.). The Life of Frederick Douglass: A Graphic Narrative of a Slave's Journey from Bondage to Freedom. Ten Speed: Crown. Jan. 2019. 192p. bibliog. index. ISBN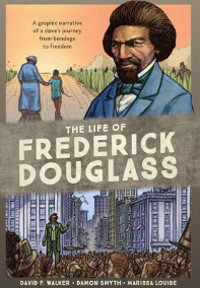 9780399581441. pap. $19.99. BIOG
The story of Frederick Douglass (d. 1895), from his birth into slavery to his celebration by dignitaries around the world, is brought to readers in this spectacular graphic novel from author Walker (Luke Cage; War for the Planet of the Apes) and illustrators Smyth and Marissa Louise. Brief chapter interludes titled "Lessons" provide context for Douglass's experiences and reference specific writings, depicting a long and often times heartrending journey in a way that is respectful and realistic. Walker states in the introduction that he aimed to have Douglass "narrate" the book himself by using his subject's published works to guide the narrative voice. A range of traditional multipaneled and fully illustrated pages rendered in vivid color reveal the depth and intricacies of each scene. A comprehensive bibliography and index assist in locating references to specific people or places discussed throughout. VERDICT This thoughtfully crafted portrait will delight and inform, regardless of readers' prior knowledge of Douglass's life and legacy. [See Prepub Alert, 7/16/18; Martha Cornog's "Diverse Voices and Viewpoints: Must-Have Graphic Novels for Black History Month and Beyond," ow.ly/RfLy30mE7Nt]—Traci Glass, Multnomah Cty. Lib., OR
---
Tom Batten is a writer and teacher whose work has appeared in The New Yorker and the Guardian. He lives in Virginia
---
This article was originally published in Library Journal's December 2018 issue.