LJ talks to Edward Fiske, author and former education editor for the New York Times, who has been producing the Fiske Guide to Colleges for more than 30 years.
Author and former education editor for the New York Times, Edward Fiske has been producing the Fiske Guide to Colleges [2019 edition. Sourcebooks, Jul. 2018] for more than 30 years.

LJ: Tell us about the origins of the Guide.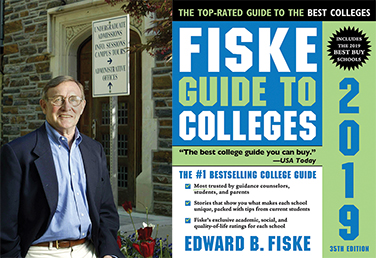 Edward Fiske: The Fiske Guide to Colleges was launched in the early 1980s, when high school graduation rates were on the decline and the last of the baby boomers were passing through college. Many colleges were nervous about filling their classes, so they became very aggressive in their marketing efforts. I was education editor at the New York Times and decided that someone had to come to the defense of students and their parents and cut through all the propaganda emanating from schools. Thus was born the Fiske Guide to Colleges, which started out as the New York Times Selective Guide to Colleges.
There is, of course, a certain irony in this history. Because of social media and the Internet, students now have access to a seemingly infinite amount of information about colleges and universities. But the problem of sorting out truth from hype is greater than ever. The Fiske Guide's role in providing authoritative information about schools has become more important than ever.
What has changed the most over the years?
The basic purpose of the guide is the same: to describe the culture and institutional personality of each college so that readers can decide what might be a good match. With very few exceptions, such as single-sex schools becoming coeducational, these institutional cultures tend to persist. We are confident that we have captured the basic personality of the schools described in the Fiske Guide. Our job then becomes to inform readers about developments such as new programs or majors, new facilities, or changes in core curriculum requirements.
In the 1990s, we began paying increased attention to the issue of campus safety. Other topics that have received more attention in recent years include socioeconomic diversity in the student body and how schools are dealing with sexual assault. In a few cases we point out the scandals that universities have had with their athletic programs.
With parents so involved in the college process, do you have to balance their needs with those of students?
The Fiske Guide focuses on the cultures and institutional personalities of the schools. This allows both parents and their collegebound children to make a judgment about whether a particular school might be a good match for the individual student. The guide includes a "Sizing Yourself Up" questionnaire that many students find quite helpful. In addition, the appendix includes two college admission "pledges," one for parents and the other for students, that address the appropriate roles of parents and students in an amusing way.
What are some of the hardest parts of distilling a school down to a readable entry?
Colleges and universities are complex institutions, so we have an abundance of material with which to work. But it turns out that schools that at first glance look quite similar are, in fact, quite distinctive. We try to structure the write-ups around the particular cultures of each college and university, including its distinctive history. This process is facilitated by quotes from current students, who inevitably will tell it like it is.
With college tuition more expensive than ever, and many wondering about the value of a college degree, what added challenges do you have?
We try to identify colleges that are working hard to keep their educational offerings affordable and explicitly praise them in the write-ups for doing so. For the last few years we have included data for every school on the proportion of Pell Grant recipients. We also compile an annual list of Best Buys.
What are some of the most unusual things you've learned about a college or university in your years of research?
After editing the Fiske Guide for more than 35 years I now have more college trivia in my head than is probably good for my mental health. I know, for example, that it was a professor at UC-Davis who invented the square tomato and that the mascot of the coed soccer team at Marlboro College in Vermont is the Fighting Dead Trees. See what I mean?
---
Mahnaz Dar is Reference and Professional Reading Editor, LJ and School Library Journal