For thousands of years, authors have explored the allure of mermaids, with Homer and Hans Christian Andersen shaping readers' impressions of the mystical sea creatures (and Disney and Splash lending a hand). Today's story­tellers are equally as captivated, which these six novels illustrate.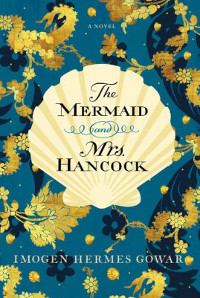 Imogen Hermes Gowar spins out a transporting mermaid yarn set in the late 1700s, when London sea merchants financed ships that crossed oceans in search of spices, fabrics, and wares to sell. In The Mermaid and Mrs. Hancock (Harper. Sept. 2018. ISBN 9780062859952. $28.99; ebk. ISBN 9780062859976), one such merchant finds himself the owner of a dead mermaid, an object that, once on display, will bring him to the attention of Angelica Neal, a courtesan with plans. Lovingly composed, detailed, and richly layered, the novel weaves a spell as myth and specimens, want and desire, and plot and strategy converge against an evocative scene that helps Gowar investigate beyond mermaid lore, being interested in deeper societal concerns, too. Her fulsomely characterized, Dickensian historical debut is witty and imaginative.
Melissa Broder's debut, The Pisces (Hogarth: Crown. May 2018. ISBN 9781524761554. $25; ebk. ISBN 9781524761578), is a trippy and sad graphic account of a lost woman. Nothing is going well for Lucy: she is mired in a dissertation that is failing, she breaks the nose of her cheating semi-ex boyfriend and is ordered into therapy, and she is far too attracted to loss in general. Accepting her sister's offer of a job dog-sitting in Venice, CA, she pulls up stakes and sets her sights on the sea. Weirdly, on an outcropping of rocks she meets a merman with his own interest in loss. Broder's sharp-sly novel questions the search for anything that feels real, no matter how fleeting. It is a raw and bitter journey, much like the sea Lucy scans so longingly.
While not a traditional mermaid legend, Nnedi Okorafor's first-contact sf novel ­Lagoon (Saga: Gallery. 2016. ISBN 9781481440882. pap. $16.99; ebk. ISBN 9781481440899) blends flashes of myth. The work begins with the perspective of a sea creature bent on demolishing the ­human-made objects destroying the sea. More menacing water animals follow as readers learn that aliens have arrived off the coast of Lagos, Nigeria, capable of transforming a swordfish into an armored monster. What comes next is a fast-­moving and detailed tale of a society struggling to accept the new. Okorafor lays out the elements of alien/human interaction, the violence it can lead to, and the ultimate resolution via an inventive structure created out of shifting perspectives and a multiplicity of voices that mimic the ultimate chaos.
Into the Drowning Deep (Orbit: ­Hachette. May 2018. ISBN 9780316379373. pap. $15.99; ebk. ISBN 9780316379380) turns the mermaid myth into a creature-­feature. Mira Grant (who also writes as Seanan McGuire) sets a research vessel in the deep and trackless sea. The crew is on a quest to prove the existence of mermaids. An earlier mission, financed by a mockumentary TV mogul, ended in flashes of film footage and splashes of blood. All hands were lost, no bodies found. This new crew, some woefully incapable of learning from history, now face the same terrors: mermaids move fast and think humans taste delicious. Grant's quickly paced, gleefully anxiety-producing horror novel evokes monster/science books such as Douglas Preston and Lincoln Child's The Relic and offers fans of Jaws and Meg a new reason to be scared of the sea.
P.T. Barnum meets a mermaid in Christina Henry's reimagined fairy tale The Mermaid (Berkley. Jun. 2018. ISBN 9780399584046. pap. $16; ebk. ISBN 9780399584053). Borrowing the outlines of Hans Christian Andersen's "The Little Mermaid," mixing historical (and fictional) reporting (including Barnum's Fiji mermaid), and crafting a new fable recalling a story told around a campfire, Henry introduces readers to Amelia. A mermaid bent on following her own will in the 1800s, when women were rarely able to do so, she faces down the money-­obsessed Barnum and somehow builds a life on sea and shore. The quickly unfolding story briefly nods to the horrors of the age and Barnum's exploitation of human beings in his carnival, but it is most interested in Amelia's self-­determination and self-invention.
The Book of Speculation (St. Martin's. 2015. ISBN 9781250054807. $26; ebk. ISBN 9781466857797) by Erika Swyler is also connected to carnivals. It is an absorbing narrative of a family curse and a mysterious book. Librarian Simon Watson is out of work, his home is about to fall into the sea, and his sister has joined a traveling show. She is the only family he has left—his mother committed suicide by drowning and his ­father died soon after. As the atmospheric tale unfolds, readers learn that Simon's mother's death was not a singular event; he is from a long line of carnival women who have drowned. Piecing his family's past together as quickly as he can, he is determined to change the legacy, even as his sister decides to come home to the sea.
---
This article was originally published in Library Journal's November 1, 2018, issue.