An expert offers tips on learning the "language of entomology"
Entomologist Stephen A. Marshall's Beetles: The Natural History and Diversity of Coleoptera (Firefly, Oct.) helps readers distinguish their scarabs from their weevils.
LJ: Why beetles?
Stephen A. Marshall: Most animal species are classified into three large groups, or orders: flies (Diptera), wasps and relatives (­Hymenoptera), and beetles (Coleoptera). Beetles are the most popular and broadly studied of these groups, attractive to a wide spectrum of naturalists and others because of their robust and often brightly colored or otherwise conspicuous exoskeletons. Like many entomologists, I have always admired beetles, so it was fun to overview the group from a naturalist's perspective.
What are some of the biggest misconceptions about insects?
I think many people underestimate the diversity of insects and overestimate their negative impact. Only a tiny minority of the millions of insect species can be considered pests, although some of them are, of course, very important.
What are some of the most unusual species of beetles you've encountered? Do you have a favorite?
I'm especially fond of species with interesting defensive strategies such as explosive weapons, conspicuously advertised chemical defenses, or elaborate body armature, but aquatic insects are also remarkable for their adaptations to various underwater environments. Beetles that live with social insects such as ants and termites have some of the most extraordinary behaviors and often show correspondingly surprising morphologies. Even the most common beetles often exhibit courtship and mating displays that are extra­ordinary when watched closely.
How did you decide which beetles to include and how to classify them?
The book is divided into two parts: Part 1 is peppered with beetles chosen to illustrate interesting aspects of morphology and natural history, and Part 2 provides a family-by-family overview.
I am a dipterist (fly specialist) by profession, so I relied on recent literature and sought advice from my many friends and collaborators in the coleopterist community to ensure that the beetles are appropriately classified. There is a discussion of the perils and pitfalls of changing classifications in the first part; comments on classification issues appear in almost every chapter.
What are some of the challenges of photographing your subjects in the field?
Beetles are a bit easier to shoot because most are tougher and less mobile than flies and wasps, but shiny beetles can be more difficult to light, and beetles are more likely to be concealed or nocturnal than flies or wasps. But for all groups of insects, the key is to spend time in the field getting to know your subjects.
It has been suggested that I am somewhat obsessive about getting my own photographs of every possible family and subfamily, and there is some truth to that. I want to see my subjects alive before writing about them, and there is great pleasure in finally getting that missing shot. Many photographs reflect long hours kneeling in the mud, combing areas that my "targets" are known to [inhabit], or trudging through deserts, jungles, and swamps. Many more are just lucky shots taken while I am doing fieldwork for my taxonomic research, and others are thanks to the sharp eyes of students, family, and colleagues.
What advice do you have for readers interested in learning to identify insects?
Learn to identify the common families, as family-level identification is like a basic vocabulary. From there, it is easy and fun to learn the whole language of entomology.
There is a widespread misconception that the diversity of beetle families is too complicated for anyone but professional taxonomists to appreciate, but, in fact, most Coleoptera can be organized into only a dozen families, and more than half of the world's more than 400,000 named beetle species belong to only five families. Weevils (Curculionidae), ground beetles (Carabidae), rove beetles (Staphylinidae), leaf beetles (Chrysomelidae), and scarabs (Scarabaeidae) together make up most of the order; if you recognize those families, plus the long-horned beetles (Cerambycidae), you have mastered family-level identification of more than 60 percent of all Coleoptera. From there [one can] learn to recognize the smaller families, the common genera, and even the common species of your region. But expect to routinely find things that you do not recognize—there is always something new (new to you, or even new to science) awaiting discovery, and that is one of the best things about studying insects.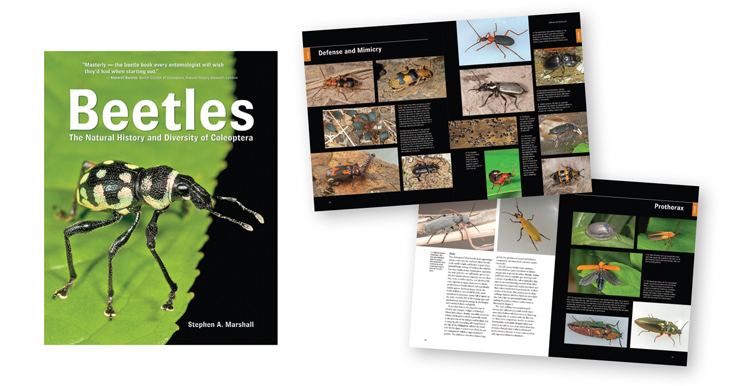 ---
Mahnaz Dar is Reference and Professional Reading Editor, LJ and School Library Journal.