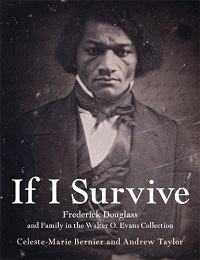 Bernier, Celeste-Marie & Andrew Taylor. If I Survive: Frederick Douglass and Family in the Walter O. Evans Collection. Edinburgh Univ. Sept. 2018. 860p. illus. index. ISBN 9781474429283. pap. $19.95. HIST
In a work of groundbreaking scholarship, Bernier (Professor of Black Studies, Personal Chair in English Litera-ture, Univ. of Edinburgh) and Taylor (English literature, Univ. of Edinburgh) provide a sensitive analysis of in-timate primary sources relating to abolitionist Frederick Douglass (1818–95) and his family. Through the in-troduction of 60 previously unpublished speeches, letters, and autobiographies, in addition to more than 20 photographs and prints, the authors offer an extensive study of Douglass's more than a half-century of activism and public service. This pièce de résistance presents scholarly annotated transcriptions of these previously unpublished source materials, while letters document local and national events within the antislavery movement as well as the Civil War and Reconstruction eras to represent a complicated pathos of emotions and experiences that give additional insight into the Douglass family.
VERDICT Taylor and Bernier have done Douglass and those who have studied or taught his life an immeasurable service. This well-documented history establishes a new standard, introducing the next generation to the social reformer; it will find a welcome home among general history and reference collections in public libraries.—John Muller, Dist. of Columbia P.L.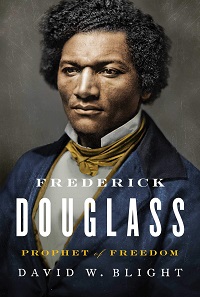 Blight, David W. Frederick Douglass: Prophet of Freedom. S. & S. Oct. 2018. 912p. illus. notes. index. ISBN 9781416590316. $37.50; ebk. ISBN 9781416593881. BIOG
Blight (Class of 1954 Professor of American History and Director, Gilder Lehrman Ctr., Yale Univ.; Race and Reunion) has produced a comprehensive chronicle of Frederick Douglass (1818–95), abolitionist, orator, writer, and diplomat, using an exhaustive survey of existing research, including newspaper articles and family letters. Offering original insights into a man born on a plantation into the slave society of Maryland's Eastern Shore, the author presents Douglass as the oratorical and written voice of a generation who carried the fury and faith of African Americans to three continents throughout his varied public life. Blight also shares how Douglass went on to counsel U.S. presidents such as Ulysses S. Grant.
VERDICT This magnum opus surpasses previous singular biographies in heft and depth, establishing an essential text for students and educators seeking to understand Douglass's complex and expansive narrative. It will appeal to general audiences and specialists alike.—John Muller, Dist. of Columbia P.L.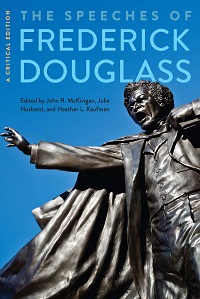 Douglass, Frederick. The Speeches of Frederick Douglass: A Critical Edition. Yale Univ. Oct. 2018. 688p. ed. by John R. McKivigan & others. illus. bibliog. ISBN 9780300192179. pap. $20. HIST
To celebrate the bicentennial of Frederick Douglass's 1818 birth, a number of new works are being published. McKivigan, general editor of Yale's "Frederick Douglass Papers" series, serves as lead editor alongside Julie Husband (English, Northern Iowa Univ.) and Heather L. Kaufman (research associate, Frederick Douglass Papers) of this crisp volume of 20 historically significant speeches by the orator and abolitionist. The pieces date from 1841 to 1894 and are complemented by Douglass's own comments on public oratory along with listings of writings that influenced him. The editors also document observations from Douglass's contemporaries and scholarly assessments of his prolific career on the public stage. Although the annotated transcripts of the reformer's speeches are readily available, the selections skillfully curated here demonstrate a strong survey of their subject's range and depth, providing an honest and forceful look at his activism and growth from being a fugitive-slave to a leading voice for abolitionism as well as an accomplished writer and international diplomat.
VERDICT Accessible equally for students from high school to doctoral programs, this concise volume is a necessary addition to general collections and reference shelves.—John Muller, Dist. of Columbia P.L.