Halloween is almost here! Add some scares to the shelves with these horror debuts.
In The Honey Farm, by Harriet Alida Lye (Liveright: Norton. Jun. 2018. ISBN 9781631494345. $25.95; ebk. ISBN 9781743773208), Sylvia, an aspiring poet from an oppressive evangelical family, and Ibrahim, a talented painter who needs more room for his art, meet on an isolated bee farm run by the enigmatic Cynthia, who is trying to keep her operation going through a crippling drought by offering artists all-inclusive retreats in exchange for free labor. Through Sylvia's skewed eyes, readers watch as she matures and falls in love but also describes escalating, unsettling occurrences reminiscent of biblical plagues. The unease and anxiety build relentlessly as artists leave and Cynthia's hold on those who remain tightens.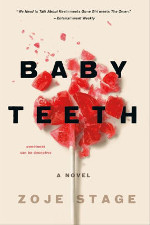 Mother-daughter relationships are always complicated. Into this well-mined territory bursts the disturbingly original Baby Teeth by Zoje Stage (St. Martin's. Jul. 2018. ISBN 9781250170750. $26.99; ebk. ISBN 9781250170774). There is no sugarcoating how seven-year-old Hanna feels about Mommy. She doesn't just dislike Suzette, Hanna wants to kill her and does everything she can to make Suzette's already difficult life harder. Intimately narrated in alternating chapters by mother and daughter, this is a shocking, no-holds-barred look into how much terror underlies the concept of unconditional love. Incident after incident build throughout the brutal story, constantly intensifying the anxiety, unease, and disgust past the point of discomfort and into the realm of absolute terror.
Family ties also frame the first novel by audiobook narrator Chris Sorensen, The Nightmare Room (Harmful Monkey. Jan. 2018. ISBN 9780998342412. pap. $10.99). It is a book that mines Sorensen's professional experience. Audiobook narrator Peter and his wife need to escape a personal tragedy, so they head back to Peter's hometown to care for his ailing father and move into an old farmhouse. When Peter heads to the basement to set up his studio, he awakens a malevolent force. What follows is a perfectly paced, well-plotted, and compelling haunted house tale filled with oppressive atmosphere, sympathetic and detailed characters, and only a touch of gore. Readers will compulsively turn the pages as Peter confronts demons both supernatural and real in order to save his family.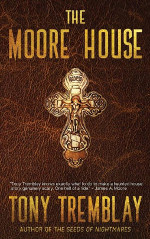 The Moore House (Twisted. Jul. 2018. ISBN 9781949140996. $26.99) by Tony Tremblay is another promising haunted house debut. More violent and intense than Sorensen's, it features seriously flawed protagonists and a healthy infusion of terrifying demons. After something gruesome happens in a New Hampshire home, a priest and three excommunicated nuns are asked to cleanse the building. It is only after they give it the all clear that the demons truly begin to unleash their wrath and power. Tremblay deftly works his realistic characters; a well-framed New England setting; and an alarmingly compelling backstory to keep readers up all night, both to find out what happens and because they are too frightened to turn out the lights.
The Rust Maidens (Trepidatio. Nov. 2018. ISBN 9781947654440. pap. $20.95), by Bram Stoker Award–nominated short story writer Gwendolyn Kiste, features an entire haunted town. It is a tale dripping with dread and atmosphere, told with an unsettling beauty. Cleveland in 1980 is a city in serious decline; plants and mills are closing and jobs are disappearing. In one neighborhood, young girls start transforming into grotesque creatures. Their metamorphosis becomes a tourist draw as people flock to see "The Rust Maidens," but why are they changing and what horror does it portend? The story is told in two time lines (1980 and the present) and through the eyes of Phoebe, who escapes the change and tries to understand the mystery and come to terms with her own part in the frightening events.
In A People's History of the Vampire Uprising (Mulholland: Little, Brown. Jun. 2018. ISBN 9780316561686. $27; ebk. ISBN 9780316561655), Raymond A. Villareal lays out a tale that is reminiscent of Max Brooks's World War Z, except with vampires instead of zombies. Told from multiple points of view and using a variety of primary documents including first-person recollections, transcripts, and official reports, the book allows readers to witness the CDC identifying a strange blood virus that infects the world. But not everyone thinks the vampire virus is a curse; in fact, many see it as an advantage and thousands beg to be "re-created." As these "gloamings" gain in number, the political and social stakes rise for everyone. A fast-paced supernatural thriller that entertains and prompts thinking about the current state of world politics.
---
This column was contributed by Becky Spratford, author of The Readers' Advisory Guide to Horror (2d ed. ALA Editions, 2012) and a proud member of the Horror Writers Association. Learn more about her at raforall.blogspot.com