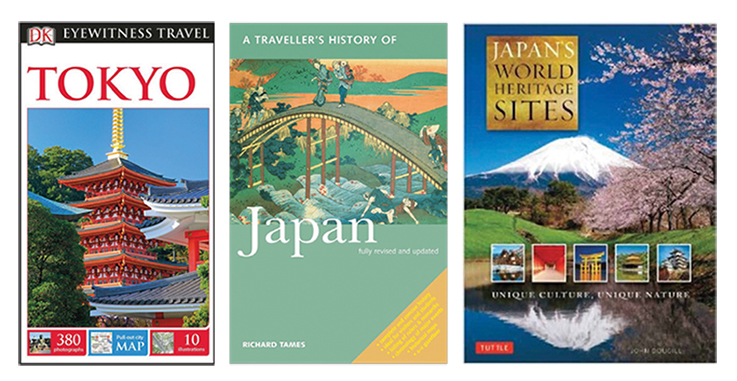 In 2020, for the second time in its history, the Summer Olympics will be hosted by Tokyo, having entertained the world previously in 1964. This is a time for that city to showcase its fine qualities on the global stage, and it presents an excellent opportunity to visit this impressive city and the fascinating country of Japan. In addition to the upcoming Games, there are many reasons for travelers to choose Japan as a destination, including the country's efficient and comprehensive mass transportation system coupled with its low crime rate. Japan is home to ancient temples, cutting-edge fashion, delicious food, exciting nightlife, imperial palaces, relaxing hot springs, romantic castles, technological marvels, and a variety of landscapes for nature lovers. It is no surprise that international tourism to the country has increased dramatically of late—from a little over eight million visitors in 2012 to more than 28 million in 2017.
Japan has an old and unique culture that is sometimes perplexing to foreigners, and the Japanese language can be problematic for native English speakers to learn. These realities present potential impediments for American tourists in Japan and can lead to misunderstandings. However, adequate preparation and resources, such as the titles listed below, can assist potential visitors. In addition, much of Japanese traditional and popular culture is well known internationally. It would be difficult to find someone who has never heard of anime, manga, ninjas, samurai, Nintendo, Godzilla, or sumo wrestlers. Also, dishes such as miso, ramen, sushi, tempura, yakitori, and countless other dishes can draw in visitors looking for a tasty treat.
THE LOGISTICS
A possible obstacle for travelers to Tokyo is the enormous size of the city, which contains over 13 million people spread across 845 square miles. The greater Tokyo area is the most populated metropolitan area in the world, with a population of approximately 38 million. The city does not have one central downtown; rather, it has multiple densely inhabited centers, such as Akihabara, Ginza, Roppongi, Shibuya, and Shinjuku, among others, each with its own unique character. Shinjuku Station is the busiest train station in the world—its nine rail lines and three subway lines serve about four million passengers daily. Even with English-language signs and friendly locals, navigating the crowded and labyrinthine passageways of the city can be challenging. A handy travel guide and reliable maps are indispensable for successfully traversing the city.
When developing a collection of Japanese travel resources, the goal should be to have the most recent travel guides as well as a number of works that provide helpful introductions to Japanese culture. The books, DVDs, websites, and apps included here will allow potential travelers to learn about Japan's history, etiquette, language, cuisine, popular culture, and attractions while offering practical advice on where to stay and how to get around. Japan can be a formidable destination for people with disabilities—some train stations do not have elevators—as well as for the budget-conscious. Several resources listed below address these concerns.
Starred titles (
) are essential purchases for most library collections.
---
Josh Wallace is an Instruction Librarian and Adjunct History Instructor at Tarleton State University, Stephenville, TX. A longtime reviewer for LJ, he was a Reviewer of the Year in 2016
Culture
Davies, Roger J. & Osamu Ikeno. The Japanese Mind: Understanding Contemporary Japanese Culture. Tuttle. 2002. 280p. bibliog. ISBN 9780804832953. pap. $16.95; ebk. ISBN 9781462900510.
Although it can also be used as a textbook, this collection of essays about a wide variety of Japanese cultural concepts, such as Bushido and Wabi-Sabi, also contains useful information for those wanting a better understanding of Japanese society.
De Mente, Boyé Lafayette & Geoff Botting. Etiquette Guide to Japan: Know the Rules That Make the Difference! Tuttle. 2015. 192p. illus. index. ISBN 9784805313619. pap. $10.95.
Etiquette in Japan is very important. When should you bow and how deep should it be? This guide will help avoid social blunders, providing helpful advice on proper behavior in a variety of situations, such as on public transportation and in restaurants, temples, and more.
García, Héctor. A Geek in Japan: Discovering the Land of Manga, Anime, Zen, and the Tea Ceremony. 2d ed. Tuttle. Sept. 2018. 192p. illus. index. ISBN 9784805313916. pap. $18.99; ebk. ISBN 9781462906291.
García has written a fun introduction to Japanese culture for beginners, including history, religion, art, manners, business, pop culture, and more. Also featured are beautiful artwork and useful recommendations for visiting Tokyo.
Goulding, Matt. Rice, Noodle, Fish: Deep Travels Through Japan's Food
Culture. Anthony Bourdain: Harper Wave. 2015. 352p. illus. maps. ISBN 9780062394033. $37.50; ebk. ISBN 9780062394040.
With this work of essential reading for foodies, Goulding describes where to go for the best sushi, coffee, yakitori, and cocktails in Tokyo. Subsequent chapters cover different cities and regions of Japan. (LJ 8/15)
Lonely Planet Japanese Phrasebook & Dictionary. 9th ed. Lonely Planet. Sept. 2018. 272p. illus. maps. index. ISBN 9781787014664. pap. $9.99.
This handy pocket-size guide, updated annually, features a list of helpful phrases relating to transportation, shopping, dining, and more. The book includes English-Japanese and Japanese-English dictionaries as well as a lengthy glossary of menu terms.
Sakamoto, Yukari. Food Sake Tokyo. Little Bookroom. 2010. 320p. illus. maps. index. ISBN 9781892145741. pap. $29.95.
Sakamoto's excellent guide for food lovers recommends restaurants across the city and includes their Japanese names, locations, and hours of operation. The book also features etiquette tips, maps, sample itineraries, and a glossary of Japanese food terms.
Tames, Richard. A Traveller's History of Japan. 4th ed. Interlink. (Traveller's History). 2017. 288p. illus. maps. index. ISBN 9781566564045. pap. $14.95.
Part of the "Traveller's History" series, this concise overview of Japanese history is enjoyable and accessible. This updated edition presents historical context on several sights and towns throughout the country.
Travel Guides
Baxter, Matthew. Super Cheap Japan: Budget Travel in Tokyo, Kyoto, Osaka, Nara, Hiroshima and Surrounding Areas. Super Cheap Japan. 2017. 180p. illus. maps. index. ISBN 9781999810009. pap. $12.99.
Japan has a reputation for being expensive, and it can be. This helpful book shows where to eat and stay—and how to get around—while on a budget. Baxter also explains how to get free guided tours of Tokyo and other locations.
Denson, Abby. Cool Tokyo Guide: Adventures in the City of Kawaii Fashion, Train Sushi and Godzilla. Tuttle. Mar. 2018. 128p. illus. ISBN 9784805314418. pap. $14.99; ebk. ISBN 9781462919970.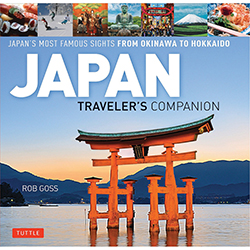 This nonfiction graphic novel is an inviting introduction to Tokyo. Potential visitors will find useful and practical data, such as tips for traveling with kids and suggested day trips to other locales. (LJ 2/15/18)
DK Eyewitness Travel Guide: Tokyo. DK. (Eyewitness Travel). 2017. 208p. illus. maps. index. ISBN 9781465457318. pap. $20.
This practical guide details the history of the city and offers comprehensive descriptions of various neighborhoods, with practical advice on places to stay and useful phrases. Also included are recommended spots to visit outside of the city that are easily ­accessible.
Dougill, John. Japan's World Heritage Sites: Unique Culture, Unique Nature. Tuttle. 2014. 192p. illus. maps. index. ISBN 9784805312858. $34.95; ebk. ISBN 9781462914081.
Dougill shares historical background and breathtaking photos of Japan's 17 world heritage sites, for instance, Mount Fuji and Himeji Castle, which are conveniently reachable from Tokyo. The author includes facts on accessing the sites, hours of operation, and more.
Fodor's Tokyo. 6th ed. Fodor's Travel. 2017. 400p. illus. maps. index. ISBN 9780147546548. pap. $19.99; ebk. ISBN 9780147546555.
A travel staple, Fodor's series entry on Tokyo offers an excellent introduction to Japanese culture, while it lists gardens, shops, and museums citywide.
Goss, Rob. Japan Traveler's Companion: Japan's Most Famous Sights from Okinawa to Hokkaido. Tuttle. 2017. 144p. illus. maps. ISBN 9784805313886. $16.95; ebk. ISBN 9781462919635.
Both tourists and armchair travelers will enjoy this heavily illustrated volume containing details about and beautiful pictures of attractions throughout the country.
Goss, Robb & Akihiko Seki. Japanese Inns and Hot Springs: A Guide to Japan's Best Ryokan & Onsen. Tuttle. 2017. 240p. illus. maps. ISBN 9784805313923. pap. $16.95; ebk. ISBN 9781462919383.
One of the special experiences when traveling to Japan is staying at a traditional inn (ryokan). This guide provides specifics on 40 ryokan around the country. Each one is different, but typically they feature rooms with communal hot spring baths (onsen) and kaiseki meals that highlight regional ingredients.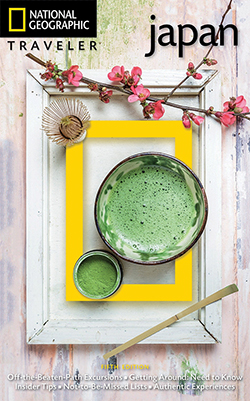 Lindelauf, Perrin. National Geographic Traveler: Japan. 5th Ed. National Geographic. Jan. 2018. 400p. ISBN 9781426218293. $27.99.
Lindelauf offers an excellent overview of the country, ranging from Japanese history, culture, and geography to specifics on Tokyo and other popular locations nationwide.
Lonely Planet & others. Lonely Planet Tokyo. 11th ed. Lonely Planet. 2017. 288p. illus. maps. index. ISBN 9781786570338. pap. $21.99; ebk. ISBN 9781787010109.
This regularly updated guide informs travelers of what they need to know before arrival, gives particular data on various sections of the city, and presents historical and cultural context. The final section contains handy survival guidance on language and transportation.
Mansfield, Stephen. Top 10 Tokyo. DK. (Eyewitness Travel). 2017. 144p. ISBN 9781465459985. pap. $14; ebk. ISBN 9781465467270.
Mansfield's resource is handy for those on a tight schedule. His guide lists the top ten must-see places in the city as a whole, in each section of the city, and by attraction type: museums, restaurants, historic buildings, etc.
Rough Guides. The Rough Guide to Tokyo. 7th ed. Rough Guides. 2017. 304p. illus. maps. index. ISBN 9780241279120. pap. $21.99; ebk. ISBN 9780241319079.
This volume in the "Rough Guide" series provides practical information on every neighborhood in the city; a glossary of common Japanese terms is included.
Zarifeh, Ramsey & Anna Udagawa. Japan by Rail: Includes Rail Route Guide and 30 City Guides. 4th ed. Trailblazer. 2016. 528p. ISBN 9781905864751. pap. $24.95.
Japan has a comprehensive, efficient, and convenient rail system that connects all of the country's cities and almost every tourist spot. This book will help travelers successfully navigate the rail system while offering suggested itineraries for various locations.
Apps
Japan Official Travel App. Japan National Tourism Organization. iOS and Android. Free.
Excellent resource for traveling throughout the country. There is a Route Search tool for finding public transportation options to various destinations that includes estimated price and length of the trip. The Spot Search allows travelers to discover nearby resources: free Wi-Fi, ATMs, hospitals, and more. Also contains embassy information and notices on current emergency situations: weather, etc.
Learn Japanese Phrases/Japanese Translator. Bravolol. iOS and Android. Free.
This app has many useful Japanese phrases for travelers. One can learn Japanese, as well as play phrases to people encountered. Contains easily findable emergency phrases, such as, "I've lost my passport." Free version contains frequent ads. An upgrade to premium for $4.99 includes more features and no advertising.
Map of Tokyo Offline. SmartMapsOffline.iOS and Android. Free.
This resource provides a very comprehensive and easy-to-use map of Tokyo. Its ability to work offline makes it exceedingly convenient. Includes locations of subway stops, tourist attractions, public restrooms, and much more. Contains ads.
DVDs
Globe Trekker: Tokyo. 60 min. Ian Cross, dist. by Pilot Prods. 2005. DVD UPC 637101131021. $11.99.
Although this video is more than a decade old, it is still relevant. Filmed during the month of August, when the Olympic Games will take place, it will illustrate for viewers how to cope with the humid weather and enjoy fun visits to festivals in towns within reach of Tokyo.
Rudy Maxa's World: Japan. 75 min. Questar Inc. 2017. DVD UPC 033937038662. $19.99.
This series contains three episodes of Rudy Maxa's World set in Japan, where host Maxa explores the country's southern island of Kyushu and Hokkaido in the north. Also available streaming via Amazon.
Travelscope: Tokyo, Japan; Celebrating the Past and Present. 27 min. Travelscope. 2013. DVD $17.99.
With this brief Emmy Award–winning episode of Joseph Resendo's Travelscope series, those who are unfamiliar with Tokyo can take note of everything from serene temples to kitschy cafés.
Websites
accessible-japan.com
A wealth of information for those with disabilities, this has a searchable database of accessible hotels, plus helpful information on restrooms, trains, attractions, and more.
japan-guide.com
First created in 1996 and continually updated since, this site provides essential information on traveling throughout the country, such as the Japan Rail Pass Calculator.
jnto.go.jp
Created by the Japan National Tourism Organization, this multilingual website contains tips for traveling throughout Japan, including advice on currency, language, visa information, and electricity.
tokyo2020.org
The official site of the Olympic and Paralympic Games is available in English, French, and Japanese. It includes an interactive map showing the venues for all of the sporting events.
trulytokyo.com
This comprehensive website features in-depth figures on every section of the city: where to stay, where to eat, how to get around, etc. There are great sample itineraries for various lengths of time.
The Developing Schedule
FEB 2019 AFROFUTURISM
MAR 2019 SPACE EXPLORATION
APR 2019 LGBTQ HISTORY
MAY 2019 THE OPIOID CRISIS
JUN 2019 CLIMATE CHANGE IN FICTION
To submit titles (new and/or backlist), contact Barbara Genco four to six months before issue dates listed above (email: bgenco@mediasourceinc.com).