Sandi Hilal brings a powerful and radically inclusive perspective to the definition of public space. A researcher and architect, Hilal is also an artist and with her husband, Alessandro Petti, has been exploring what it means to be a refugee, most recently via an installation project at a Syrian refugee camp in Boden, Sweden. Along the way, she has questioned the limits of existing public space. Her closing keynote was among the many inspiring elements of the Next Library Conference, held in Berlin, Germany, September 12–15.
"Permanent Temporariness"—a recent exhibit by Hilal and Petti at New York University Abu Dhabi Art Gallery—includes a piece called Living Room, which revolves around enabling the unique exchanges that occur in the open intimacy of such shared spaces.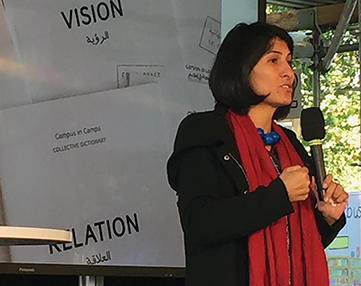 Hilal asks a fundamentally important question: "Who is 'the public'?" She notes that many people who are not versed in a particular culture may not recognize an "abstract public" because they lack the language or "enough codes" to interpret it, or simply don't feel welcome because the space doesn't feel like it is for them. Hence, an open space such as a central square can still be, in practice, inaccessible. "We think we can live with the notion of public and private," she notes, "while others live beyond or without this notion."
This is especially poignant for those living in refugee camps or who are otherwise displaced for extended periods and especially need the community connections we intend public spaces to provide. But it is also important to consider whether the same problem impacts those who are supposedly at home, when public spaces are created by a dominant culture without consideration of the other diverse societies that make up the community to be served by the space—such as a park or a library.
Among the insights Hilal shared is a reconsideration of the value of experience that can occur between what she refers to as "superprivate" and "superpublic" spaces. For her, "the living room is that place, between the public and the private." In such a space, she notes, hosts are able to offer something unique shaped by their own culture and create an important intimacy and shared culture. Although guests are welcomed into a living room, hosts take responsibility for and, in a sense, own the space. Refugees, Hilal says, "lose the right to be hosts" since "they are required to be guests." When one is a perpetual guest and closed off from the possibility of hosting, Hilal says, not only the individuals suffer but the community as a whole loses.
In response, Hilal looks to identify or create what she refers to as "thresholds" to invite use of public spaces. She asks, "Are we able to open the public for different types of guests and hosts?... Or is there only one public" to which we should all conform?
This thinking has implications for libraries as we address past exclusionary practices and work toward building more inclusive environments and services. It is especially resonant in light of the evolving concept of library as community living room. Libraries, Hilal states, already provide one "threshold" for refugees, whether in the tiny libraries around a camp or via a branch in a new city. "While the public space and notion of public are completely stuck," she adds, "libraries are maybe the first place we can get unstuck."
While recognizing the existing efforts by libraries to design a welcoming space for new arrivals, Hilal believes we should engage in further self-examination. She argues that librarians should ask, "Am I always hosting or am I sometimes a guest in my own library?" If a guest, she says, they "are on the right track."