Memoirs are a great way to experience the lives of others. Some are relatable, recounting places and events that seem familiar, while others allow the reader to encounter something completely foreign. Here are a few real-life stories to enjoy this fall.
Bill Bryson's The Life and Times of the Thunderbolt Kid (Broadway. 2007. ISBN 9780767919371. pap. $15.99; ebk. ISBN 9780767926317) is the story of not just a life but of a specific time and place; a funny and affectionate look back in time that moves gently from Bryson's elementary school days in Des Moines through his years as a teenage troublemaker, all set during the 1950s and 1960s. He recounts his experiences through the imperfect lens of childhood memory leading to droll, somewhat cartoonish descriptions of neighbors, teachers, and friends. He chronicles identifiable stories of childhood injuries, annoying adults, disappointing birthday gifts, and family road trips—all with his characteristic verbal flair and well-crafted descriptions. Insightful and often hilarious, Bryson's nostalgia is for not just his lost youth but for a life and time that are gone.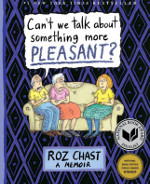 New Yorker cartoonist Roz Chast creates both prosaic and pictorial descriptions of her parents' decline into old age in her award-winning graphic memoir Can't We Talk About Something More Pleasant? (Bloomsbury. 2016. ISBN 9781632861016. pap. $19; ebk. ISBN 9781620406380). Drawn in her trademark sketch style with vibrant colors and dynamic text, the book focuses on just Chast and her parents. The characters are fleshed out in all their complexity and the author, in particular, is candidly portrayed harboring the conflicting feelings of an adult child caring for elderly parents, which include guilt, frustration, sadness, and nostalgia. This moving visual journal is both humorous and melancholic as Chast watches her parents' progression from the home they shared for 45 years to assisted living and, finally, to the grave.
Susannah Cahalan was a promising young journalist enjoying a secure and loving relationship when she suddenly began to suffer memory loss, paranoia, and psychosis. Her gripping Brain on Fire: My Month of Madness (S. & S. 2013. ISBN 9781451621389. pap. $16; ebk. ISBN 9781451621396) recounts her harrowing medical nightmare. Over the course of one month, Cahalan's condition spiraled downward and she was close to death before an insightful doctor performed one simple test that unlocked the mystery of her illness. The pace of the story quickens as Cahalan's family and doctors desperately seek answers to save her life. Remarkably, Cahalan has no memory of the events she details. Rather, she relies on her skills as an investigative reporter to relate the terrifying episode by viewing videos of herself, reading medical records, and interviewing family, friends, coworkers, and medical personnel.
Librarian Josh Hanagarne has struggled with Tourette's syndrome all his life, often enduring painful treatment and therapy. Via clear, inspiring, uncomplicated prose, The World's Strongest Librarian: A Memoir of Tourette's, Faith, Strength, and the Power of Family (Avery. 2014. ISBN 9781592408771. pap. $17; ebk. ISBN 9781101621776) explores the effect his tics and vocalizations have had on his career, relationships, and faith in God. Hanagarne's disability derailed many of his life plans and goals, but sustained by the support of his loving family, he persevered, ultimately discovering the best management tool for him was physical fitness.
In The Witness Wore Red: The 19th Wife Who Brought Polygamous Cult Leaders to Justice (Grand Central. 2014. ISBN 9781455527830. pap. $17; ebk. ISBN 9781455527847), Rebecca Musser provides readers with a rich view of life as a Fundamentalist Latter-day Saint (FLDS)—both as a child and as a plural wife to a powerful man. Terrified at the prospect of being forced into another marriage when her elderly husband dies, Musser escapes. The FLDS community is complex, with many entwined relationships, but Musser describes each individual and situation distinctly. It was this ability to communicate the intricacies of the church that enabled law enforcement to untangle records and put the group's president, Warren Jeffs, in prison for life plus 20 years. Her appearance on the witness stand, wearing Jeffs's least favorite color, was pivotal.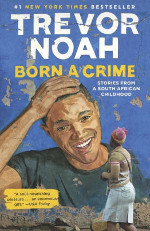 South Africa–born Daily Show host Trevor Noah's black mother broke the law when she chose to have a baby with a white man during apartheid. Born a Crime: Stories from a South African Childhood (Spiegel & Grau. 2016. ISBN 9780399588174. $28; ebk. ISBN 9780399588181) relays matter-of-fact episodes about life as a mixed-race child in this environment, exploring love, danger, and domestic abuse. While the book isn't as funny as one might expect from a comedian, Noah nevertheless handles the weighty topics with a light touch and motivates readers to think about race and politics in new ways.
---
This column was contributed by Nancy Bialek, Librarian at the Illinois Service Resource Center, Northbrook