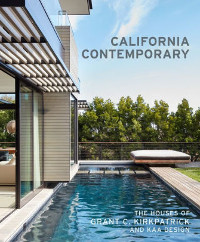 Kirkpatrick, Grant. California Contemporary: The Houses of Grant C. Kirkpatrick and KAA Design. Princeton Architectural. May 2018. 256p. illus. ISBN 9781616896584. $55; ebk. ISBN 9781616897383. ARCH
Kirkpatrick has been designing contemporary homes in Southern California for more than 30 years. This lifestyles monograph outlines his philosophy for design while sharing 160 exquisite photographs featuring 24 custom homes constructed by him and his firm KAA Design. Kirkpatrick believes in a relationship between nature and living spaces; all his designs weave elements of the outdoors with the indoors. To him, the land dictates the house design; he's spent his life "looking at property, thinking about how the people who live there will use it and about how to connect them to their land." His design principles include seamless outdoor-indoor living, form, scale and proportion, whimsy and imperfection and gravity-defying proportions. Among the featured residences are a nautically inspired home on the edge of the Pacific, a soaring, cantilevered hillside home with a spectacular view of the city of Los Angeles, and a house set on a plateau conceived as a series of linked pavilions interspersed with gardens and outdoor entertainment space.
VERDICT A beautiful coffee-table book for anyone who loves contemporary design and architectural masterpieces.—Sandra Knowles, South Carolina State Lib., Columbia
Rand, Marvin & others. California Captured: Mid-Century Modern Architecture, Marvin Rand. Phaidon. Apr. 2018. 240p. photos. bibliog. index. ISBN 9780714876115. $59.95. ARCH
In a shift from more ornate architecture, the style now known as midcentury modern emerged in postwar Southern California across all building types—from austere cantilevered beach houses in Malibu, CA, to corporate jet hangars and rectilinear post offices—like a diffuse Brasilia rained down everywhere regardless of class, place, or purpose. Driven by hangovers of wartime austerity and the need for housing after World War II, modernist architecture became broadly fashionable. Sadly, many once-immaculate edifices aged poorly: beams sag; seeps and smog blemish walls; big windows beget overheated interiors. Rand, whose vast archive languished unstudied until now, quietly documented new construction during the decades when midcentury modern was the aspirational architectural style. This stand-alone study gives a privileged view of the variety of buildings newly completed. These structures never looked so good, and delightful surprises abound: a shot of IBM's outdoor terrace is populated by Eisenhower-era suits straight out of Organization Man; sleek stuccoed houses look like Mondrians in relief; the Mark Taper Auditorium glistens under raking light.
VERDICT A nexus of solid photography and exciting architecture reveals a popular avant-garde in its shining youth, this would be a great tool for a self-guided tour.—Douglas F. Smith, Oakland P.L.