Armstrong, Kelley. Watcher in the Woods. Minotaur: St. Martin's. Feb. 2019. 368p. ISBN 9781250159915. $26.99; ebk. ISBN 9781250159922. CD. MYSTERY
In this next in the Casey Duncan series (after This Fallen Prey), set in an off-the-grid town in the Canadian wilderness where a mix of criminals and victims are hiding from their past, a U.S. Marshal who's charged into town demands to make off with one of the residents. Casey and her boyfriend, Sheriff Dalton, are wondering what's up—and then the marshal is murdered.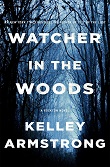 Crider, Bill. That Old Scoundrel Death: A Dan Rhodes Mystery. Minotaur: St. Martin's. Feb. 2019. 288p. ISBN 9781250165626. $27.99; ebk. ISBN 9781250165633. MYSTERY
Riding high in his final murder case, Texas Sheriff Dan Rhodes helps a man run off the road who says his name is Cal Stinson, then finds his body in the condemned schoolhouse Cal said he was going to visit. Only he told the caretaker that his name was Bruce Wayne, and it looks as if a bunch of dim-bulb criminals and powerful local families are set to make the sheriff's life hell. From the Anthony Award winner; following Dead, To Begin With.
Deveraux, Jude. A Justified Murder. Mira. Feb. 2019. 384p. ISBN 9780778308294. $26.99; ebk. ISBN 9781488085789. MYSTERY
In A Willing Murder, hot-as-they-come romancer Deveraux's debut mystery, romance writer Sara Medlar joined with niece Kate and love-of-her-life's grandson Jack to figure out why two bodies were buried under a Poinciana tree. The trio quickly returns to investigate the gruesome murder—by knife, gun, and poison—of kindly old Janet Beeson. Only the evidence shows that she's not as kindly as everyone thought. With a 150,000-copy first printing.
Evanovich, Janet & Raymond Benson. The Mark. Putnam. Feb. 2019. 320p. ISBN 9780525536642. $28; ebk. ISBN 9780525536659. CD/downloadable. MYSTERY
Straight-shooter FBI agent Kate O'Hare and con man charmer Nicolas Fox are back, facing a mutual enemy and further compromised because Kate's father, always their backup, is on the most wanted list after being betrayed by a friend. Not back: Lee Goldberg, who has been coauthoring this New York Times best-selling series with blockbuster author Evanovich; Benson, the official author of the James Bond novels from 1997 to 2003, steps into the breach. Originally previewed 2/19/18; the series is back after an 18-month hiatus, with another titles scheduled for spring 2019.
Finch, Charles. The Vanishing Man: A Prequel to the Charles Lenox Series. Minotaur: St. Martin's. Feb. 2019. 320p. ISBN 9781250311382. $26.99; ebk. ISBN 9781250311382. CD. MYSTERY
In this second in a prequel trilogy explaining how Victorian gentleman Charles Lenox became an amateur sleuth, the Duke of Dorset asks the young Charles to look into the theft of a small painting from his study. That the painting is of no earthshaking importance suggests that something more sinister is afoot, which is confirmed when the duke gets viciously clobbered.
Khan, Ausma Zehanat. A Deadly Divide: A Mystery. Minotaur: St. Martin's. Feb. 2019. 368p. ISBN 9781250298287. $26.99; ebk. ISBN 9781250298300. MYSTERY
A British-born Canadian now living in Colorado, trained in international human rights law and formerly editor in chief of Muslim Girl magazine, Khan returns with her timely series starring Muslim detective Esa Khattak and her colleague Rachel Getty. A mass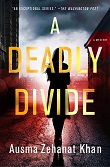 shooting has devastated a Quebec mosque, and the police have arrested a young Muslim man assisting the wounded while overlooking a priest holding a weapon. Khattak and Getty know that there's a lot more to this story.
Robb. J.D. Connections in Death: An Eve Dallas Novel. St. Martin's. Feb. 2019. 384p. ISBN 9781250201577. $28.99; ebk. ISBN 9781250201584. CD. MYSTERY
In this next in the futuristic series, New York homicide detective Eve Dallas and ultra-wealthy husband Roarke are building a school and youth shelter along with child psychologist Dr. Rochelle Pickering, who's helped her brother overcome addiction. Then he's found dead, with a syringe emptied of poison on his lap and a pink-haired girl dashing from the scene. With a one-day laydown on February 5.
Sigurdardottir, Yrsa. The Reckoning: A Thriller. Minotaur: St. Martin's. Feb. 2019. 384p. ISBN 9781250136282. $26.99; ebk. ISBN 9781250136299. MYSTERY
In this second in a new series from the 2015 Petrona Award for best Scandinavian Crime Novel, Vaka's father has failed to pick her up at school and her mother has failed to give her spending money, so the chilly young girl heads home with a classmate and is never seen again. Freyja and the police officer Huldar contend with thorny case leading in an ever darker direction.
Swinson, David. Trigger. Mulholland. Feb. 2019. 352p. ISBN 9780316264259. $27; ebk. ISBN 9780316264242. lib. ebk. 9780316419215. Downloadable. MYSTERY
In this wrap-up to a trilogy begun with The Second Girl, which the New York Times named among the Best Crime Novels of the Year, ex-cop Frank Marr tries to stay alcohol- and drug-free while working (barely) as a private investigator and dumping down the toilet drugs robbed from local dealers. Then he intervenes to help a former police buddy accused of shooting an unarmed civilian, linking up with a repentant young criminal from his past as the Washington, DC, drug wars rage.
Todd, Charles. The Black Ascot. Morrow. Feb. 2019. 304p. ISBN 9780062678744. $26.99; ebk. ISBN 9780062678775. lrg. prnt. MYSTERY
Embarrassed by its failure to capture Alan Barrington, who in 1910 committed a terrible crime at the royal horserace known as the Black Ascot, Scotland Yard seizes on a tip that he's back in the country and tasks Inspector Ian Rutledge with finding him. Then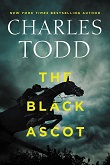 the inspector is accused of being mentally unbalanced, with shell shock from the war nastily referenced, and he must redeem himself by being sure to get his man. Next in a New York Times best-selling series; with a 100,000-copy first printing.