Buttigieg, Pete. Shortest Way Home: One Mayor's Challenge and a Model for America's Future. Liveright: Norton. Feb. 2019. 352p. ISBN 9781631494369. $27.95; ebk. ISBN 9781631494376. POLITICAL SCIENCE
A Harvard-educated Rhodes scholar and U.S. Navy veteran, Indiana-born Buttigieg abandoned a successful career to return to his home state and was elected mayor of South Bend in 2011. Now he's helping the city reclaim abandoned houses, counter gun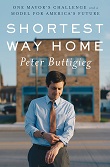 violence, and pull in high-tech industry and has found a warm welcome for himself and his husband. Check out his TEDx talks; Buttigieg is among small-city mayors leading the way to revitalization (see, e.g., Mick Cornett & Jayson White's The Next American City: The Big Promise of Our Midsize Metros) and seems poised for a national career. With a ten-city tour to South Bend, Chicago, Detroit, Indianapolis, Minneapolis, Washington, DC, New York, Austin, San Francisco, and Dallas.
Carney, Timothy. Alienated America: Why Some Places Thrive While Others Collapse. Harper. Feb. 2018. 384p. 9780062797100. $26.99. SOCIAL SCIENCE
Commentary editor for the Washington Examiner and well known to viewers of Fox, CNN, PBS, and more, conservative journalist Carney sees the dimming of the American Dream as a result not of economic factors but of a decline in institutions like church and civic life that once held communities together. Working-class communities are particularly affected, he argues, as the educated well-to-do have their own ties that bind. Billed as a follow-up to Hillbilly Elegy; looks as if it could launch the same kind of dust-up conversations.
Davies, William. Nervous States: Democracy and the Decline of Reason. Norton. Feb. 2019. 256p. ISBN 9780393635386. $27.95; ebk. ISBN 9780393635393. POLITICAL SCIENCE
A political economist at Goldsmiths, University of London, Davies addresses the rising temperature in political discourse today, assaying 400 years of political and scientific thought to demonstrate how the very idea of emotion has shaped that discourse over time. Once regarded as dangerously befuddling, emotions like fear and resentment are now seen as more immediately valid than truths that need to be tested. Still, Davies thinks our current investment in emotion could have some big payoffs, so let's talk further.
Harris, Kamala. The Truths We Hold: An American Journey. Penguin Pr. Feb. 2019. 336p. ISBN 9780525560715. $30; ebk. ISBN 9780525560722. CD/downloadable. MEMOIR/POLITICAL SCIENCE
Daughter of an economist from Jamaica and a cancer researcher from India who met as civil rights activists at Berkeley, the U.S. senator from California comes by her social justice concerns naturally. Here, she uses her life story to argue for a new way of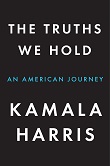 treating our problems, describing the data-driven, community-based approach she took as district attorney of San Francisco and subsequently chief law enforcement officer of the state, as she challenged banks during the foreclosure crisis and battled crime in a way, she said, that was not tough but smart. From a rising political star who is the second black woman ever to be elected to the U.S. Senate.
Lipstadt, Deborah E. Antisemitism: Here and Now. Schocken. Feb. 2019. 288p. ISBN 9780805243376. $25; ebk. ISBN 9780805243383. Downloadable. POLITICAL SCIENCE/HUMAN RIGHTS
Lately, the shocking lessons of the Holocaust seem to have been unlearned, with Jewish students attacked, white nationalists slinging Nazi slogans, and antisemitic incidents escalating in Europe. Award winner Lipstadt (History on Trial) formats her book as correspondence between an imagined college student and colleague to investigate why this is happening, whether left-wing and right-wing antisemitism are different, and what can be done.
McNamee, Bruce. Untitled. Penguin Pr. Feb. 2019. 352p. ISBN 9780525561354. $28; ebk. ISBN 9780525561361. POLITICAL SCIENCE/MEDIA
A Silicon Valley investor for over three decades who once proudly mentored Mark Zuckerberg, McNamee now sees Facebook as a looming threat to society, easily manipulated to bad ends—as today's headlines suggest. Here McNamee chronicles his about-face and relates his concerns regarding Zuckerberg's empire to the business world at large.
Mehra, Nishta. Brown, White, Black: An American Family at the Intersection of Race, Gender, Sexuality, and Religion. Picador. Feb. 2018. 224p. ISBN 9781250133557. $25; ebk. ISBN 9781250133564. CD. MEMOIR/FAMILY
Middle-school English teacher Mehra, who writes the popular food blog Blue Jean Gourmet, is the daughter of Indian immigrants, wife of a white Christian woman, and mother of an adopted black son named Shiv. Hence, she can tell us about crossing the jagged boundaries of race, gender, sexuality, and religion in this country and how she still keeps herself and her family whole. She's especially concerned about preparing her son for being a black man in America. Actually, there are lessons for us all.
Tsai, Robert. Practical Equality: Forging Justice in a Divided Nation. Norton. Feb. 2019. 288p. ISBN 9780393652024. $27.95; ebk. ISBN 9780393652031. LAW/CIVIL RIGHTS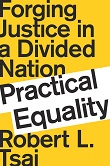 From reaction to newly emancipated slaves to the World War II internment of Japanese Americans to the current treatment of Muslims, America has always struggled with the issue of equality. A law professor at American University, Tsai argues that in the past we have worked toward equality with laws, e.g., assuring free speech and fair play, that don't necessarily address that issue directly. And we can do it again.