Debut of the Month
Johnson, Sara E. Molten Mud Murder. Poisoned Pen: Sourcebooks. (Alexa Glock, Bk. 1). Sept. 2019. 320p. ISBN 9781464211232. pap. $15.99; ebk. ISBN 9781464211249. M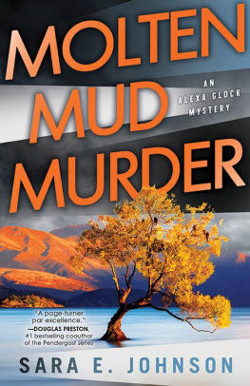 American Alexa Glock is a forensics expert who finished a job in Auckland, New Zealand, and hopes to find a temporary job to extend her work permit. When she learns about an unidentified man whose body was found in the mud pits in Rotorua, she offers to help the local police force. Alexa is trained in odontology, the study of teeth, which might help since the man's head was boiled in the mud. As the police investigate the victim, it's clear he violated the sacred lands of the Maori, a large population on the island. Many think he deserved to die for stepping on a sacred island without permission. Forewarned, Alexa is sent to the island to investigate. When her lab assistant is attacked and a Maori man is murdered, she and the investigating team try to determine whether the Maori are responsible or someone is trying to frame them. VERDICT There's a strong sense of place, history, and Maori culture in this compelling debut novel. The mystery combines forensic investigation with the rich details of a fascinating culture. Fans of Kathy Reichs's mysteries will appreciate the forensics, while Jane Harper's readers will enjoy the rich culture.—Lesa Holstine, Evansville Vanderburgh P.L., IN
Pick of the Month
Steiner, Peter. The Good Cop. Severn House. Sept. 2019. 188p. ISBN 9780727889430. $28.99; ebk. ISBN 9781448302321. M
At the end of the war in 1918, Maximilian Wolf returns to Munich. His sketches of soldiers and people in the street capture life in the battle-scarred postwar city. He gets a job at a newspaper, working beside journalist Sophie Auerbach. Together they chronicle the rise of Adolf Hitler and the Nazis until the newspaper offices are bombed, which brings police detective Willi Geismeier to their doors. Although Max's sketches help identify the bombers, Willi is taken off the case because he is a good detective who opposes criminals and Nazis. Throughout the 1920s, these three people chronicle the abuses and horror of Hitler and his supporters, until Hitler is named chancellor in 1933. All three abruptly disappear when a second newspaper, The Munich Post, is destroyed and the staff sent to Dachau concentration camp. The unconventional story resumes when the Americans arrive in Munich in 1945. In a disturbing, menacing novel featuring courageous, believable characters, former New Yorker cartoonist and author ("Louis Morgon" spy novels) Steiner tells a thought-provoking story of the importance of a free press when a country and its justice system are in upheaval. VERDICT Strongly recommended for all readers interested in this era or in a free press. Fans of Rebecca Cantrell's "Hannah Vogel" series will recognize the bleak atmosphere.—Lesa Holstine, Evansville Vanderburgh P.L., IN
Archer, Jeffrey. Nothing Ventured. St. Martin's. (Det. William Warwick, Bk. 1). Sept. 2019. 336p. ISBN 9781250200761. $28.99; ebk. ISBN 9781250200778. M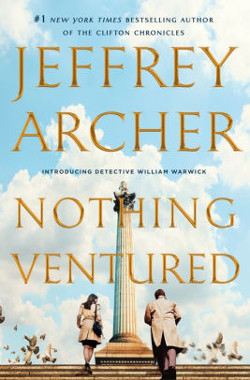 From age eight, William Warwick knew he wanted to be a police detective. His father, a criminal barrister, wished William would have followed in his footsteps. But with the assistance of his mother, William went to university, studied art, and became a police officer. He starts at the bottom, walking a beat as a police constable, although he could have been fast-tracked as a college graduate. When he passes the detective's exam, William is assigned to the Metropolitan Police Force, attached to Art and Antiques. While he works several cases, because of his knowledge of art, his major assignment involves the theft of valuable paintings, forgeries, and a finder's fee when the paintings are "recovered" on behalf of the insurance companies. While investigating, he meets Beth Rainsford, a beautiful gallery research assistant, who has family secrets. The case, and Beth's secret, result in riveting simultaneous court trials, in a story that builds in intensity. ­
VERDICT Following the success of the historical "Clifton Chronicles," Archer launches a series set in the 1980s. As he says, it's the story of a detective, not a detective story. Archer's numerous fans will appreciate another dramatic, character-driven mystery set in the world of art, police work, and court trials. [See Prepub Alert, 3/17/19.] —Lesa Holstine, Evansville Vanderburgh P.L., IN
Barclay, Linwood. Elevator Pitch. Morrow. Sept. 2019. 464p. ISBN 9780062678287. $26.99; ebk. ISBN 9780062678300. THRILLER
On Monday, an elevator erases all the floor numbers selected by its passengers, rises rapidly to the top of a 40-story New York City building, and then plummets unimpeded to the basement, killing its four passengers, one of whom is a former intern to journalist Barbara Matheson, a critic of New York mayor Richard Headley. Later the same day, an elevator technician is found dead on the High Line, murdered the previous night. On Tuesday, another elevator "accident" decapitates a famous Russian scientist, and the tabloids and TV talking heads begin to scream. By this time, NYPD detectives Jerry Bournique and Lois Delgado have learned that these fatal events are connected, and the city is in a full-scale panic. Who is responsible? Terrorists? HAL-like computers that have taken control of the many banks of elevators? Attention first turns to the Flyovers, a radical group out for revenge on coastal cities, and then upon the mayor's son. Barclay's latest (A Noise Downstairs) combines an engrossing, fast-moving, well-twisted modern-day plot with ­believable characters.
VERDICT Fans of psychological thrillers and the author's previous books will love this. Warning: it might leave some readers a bit uncomfortable next time they enter an elevator. [See Prepub Alert, 3/11/19.] —Vicki Gregory, Sch. of ­Information, Univ. of South Florida, Tampa
Berry, Connie. A Legacy of Murder. Crooked Lane. (Kate Hamilton, Bk. 2). Oct. 2019. 336p. ISBN 9781643851549. $26.99; ebk. ISBN 9781643851556. M
American antiques dealer Kate Hamilton anticipates the holiday vibe in the village of Long Barston in Suffolk, England. She might miss Christmas itself, but she'll have time with her daughter, Christine, who's interning at a historic residence called Finchley Hall, on whose property Kate is staying. She also looks forward to reuniting with Tom Mallory, the detective inspector she met on vacation in Scotland a month earlier. But then a young boy finds a body in the lake, recalling a murder 23 years earlier. Both victims were interns working on an exhibit of the Finchley Hoard, a collection of treasures buried during a peasants' revolt in 1546 and unearthed in 1818. Knowing Tom will be tied up with the investigation, Kate agrees to finish the plans for the exhibit. But a killer isn't finished with Finchley Hall.
VERDICT The serious tone of the mystery is alleviated by the humor of an ongoing feud among local pubs in this second "Kate Hamilton" mystery (A Dream of Death). Readers will appreciate Kate's growth as a character in this atmospheric story. Fans of Jane K. Cleland's books featuring another antiques dealer involved with a police officer will want to try this series.—Lesa Holstine, ­Evansville Vanderburgh P.L., IN
Clark, Cassandra. Murder at Whitby Abbey. Severn House. (Hildegard of Meaux Medieval Mystery, Bk. 10). Oct. 2019. 240p. ISBN 9780727889539. $28.99 ;ebk. ISBN 9781448302369. M
In 1389, nun Hildegard of Meaux is sent to Whitby Abbey in northern England. As penance for her sins, she must barter with the Benedictine monks for a relic, a 700-year-old lock of hair of Abbess Hild of Whitby. Her companions on the winter journey are two monks and a young priest. When they arrive at Whitby, Hildegard discovers they are not the only ones interested in the relic. While waiting to view it and offer a price, the four travelers are caught up in the murder of a young monk. Their investigation uncovers secrets of the abbey, its tensions with the town, and the issues of taxes and land, and then another man is murdered. Before she and her companions return home, Hildegard will uncover the truth behind the killings and the connection to the abbey.
VERDICT Although set centuries apart, Clark's tenth medieval mystery (following Murder at Meaux) and Cora Harrison's 1920s-set "Reverend Mother" series share similarly rich details of religious and political life. Readers who favor the political tensions and historical aspects of Ellis Peters's "Brother Cadfael" mysteries will further appreciate this leisurely paced story.—Lesa Holstine, Evansville ­Vanderburgh P.L., IN
Crombie, Deborah. A Bitter Feast. Morrow. (Duncan Kincaid & Gemma James, Bk. 18). Oct. 2019. 384p. ISBN 9780062271662. $25.99; ebk. ISBN 9780062271686. M
The chance to spend a quiet weekend at Beck House, a country estate in the Cotswolds, soon turns into a "working" holiday for Scotland Yard detectives (and husband and wife) Duncan Kincaid and Gemma James when a fatal car accident is quickly followed by several other fatalities. The deaths all seem to link to local chef Viv Holland. Viv, who's returned to her hometown after years in London, has been hired to cater a charity luncheon being sponsored by Duncan and Gemma's weekend hosts. In the 18th elegantly written installment in her long-running series featuring Kincaid and James (after Garden of Lamentations), Crombie gracefully puts a modern spin on the quintessential British Golden Age village mystery.
VERDICT This superbly entertaining crime novel will delight mystery fans who crave character-rich, classically composed mysteries in the style and manner of those written by the late, great P.D. James. [See Prepub Alert, 3/25/19.] —John Charles, formerly of Scottsdale P.L., AZ
Ellett, Heather Harper. Ain't Nobody Nobody. Polis. Sept. 2019. 336p. ISBN 9781947993709. $26; ebk. ISBN 9781947993839. M
DEBUT In 1996, disgraced former sheriff Randy Mayhill passes the time drinking Dr Pepper, reading his favorite books, and tending to his dogs. When a man is found shot dead and perched on a fence, Mayhill launches an entirely unofficial investigation into the crime. The unidentified body is on land owned by the late Van Woods, who was Randy's best friend and the reason he lost his badge. Still, Randy feels bound by a personal sense of duty to solve the crime and protect Birdie Woods, Van's teenage daughter. Birdie is consumed by grief and anger toward her father for committing suicide. She also vaguely recognizes the dead man but doesn't trust Randy to handle things. Meanwhile, Bradley Polk, a decent yet impoverished young man who occasionally works for Birdie, has become involved in a shady but potentially lucrative operation that may be connected to the murder. The mystery unfolds at a meandering pace, but the various threads eventually come together in surprising and satisfying ways. VERDICT This debut novel is most notable for Ellett's supremely witty prose and the oddball but deeply relatable characters. Readers looking for a fresh, offbeat voice in the mystery genre will find it here.—Andy Northrup, Eugene P.L., OR
Hirahara, Naomi. Iced in Paradise. Prospect Park. (Leilani Santiago Hawai'i, Bk. 1). Sept. 2019. 216p. ISBN 9781945551635. $25.95; pap. ISBN 9781945551598. $16.00. M
After five years in Seattle, Leilani Santiago returns home to the island of Kaua'i in Hawai'i. Her mother has multiple sclerosis, and Leilani wants to help her family with their business, Santiago Shave Ice. When her estranged father, Tommy, returns with his surfing protégé, Luke Hightower, she's a little resentful—with four daughters, Tommy always wanted a son. Then Luke's body is found in the shave ice shack, and Tommy becomes the prime suspect in his murder. Leilani can't believe her father killed Luke, so she juggles a long-distance relationship, the family business, and a budding friendship with a local shop owner to search for the killer. In her first book set in Hawai'i, the Edgar Award–winning Hirahara emphasizes Hawaiian culture while shedding light on native Hawaiian issues with land. It takes time to adjust to the pidgin, Hawaiian, and Japanese words, but, fortunately, the author of the "Mas Arai" mysteries provides a glossary.
VERDICT Featuring family loyalties, surfing, and a distinct lifestyle, this character-driven, atmospheric mystery may appeal to new adults and those readers interested in Hawaiian culture.—Lesa Holstine, Evansville Vanderburgh P.L., IN
LaManna, Gina. Pretty Guilty Women. Sourcebooks Landmark. Sept. 2019. 336p. ISBN 9781492694069. $25.99; ebk. ISBN 9781492694083. M
Nearly 16 years after graduation, three friends from college attend the wedding of their fourth roommate at a California luxury resort. Emily, Kate, and Ginger haven't been in close contact with one another or with bride-to-be Whitney. The first night, they each separately bond with the groom's stylish aunt Lulu and eventually a young mother named Sydney and her baby, Lydia. Old tensions among the friends surface, and there's something odd about Sydney's story, but when a man threatening baby Lydia is murdered, they close ranks. A detective called to the scene gets four confessions, with Lulu, Emily, Kate, and Ginger all claiming sole responsibility. Murder is a crime with serious jail time, so why are they determined to prove themselves guilty? This smart, layered story built around relationships and public perceptions slowly reveals past and present conflicts from fertility to financial struggles to domestic abuse. More than one twist will shroud the truth of the man's death in mystery until almost the very end; the actual end offers another jolt.
VERDICT Readers searching for their next binge read or book club ­selection will want to seek out this title from "Hex Files" series author LaManna.—Stacey Hayman, Rocky River P.L., OH
Lotz, Sarah. Missing Person. Mulholland: Little, Brown. Sept. 2019. 480p. ISBN 9780316396646. $27; ebk. ISBN 9780316396639. THRILLER
Shaun Ryan leads a quiet, nondescript life in Wicklow, Ireland, but wishes he could gather the courage (and the funds) to leave for somewhere more exciting. A man named Johnny disrupts his placid existence by claiming that his long-dead uncle Teddy has really been in the United States, which throws Shaun into a search for kin that might accept and claim him. His remaining family refuse to do more than admit that they have lied about Teddy's supposed death for more than 20 years and intimidate Shaun into dropping his search. After linking Teddy to an unidentified body found in the States, Shaun joins an online community of amateur sleuths to track down the truth of what happened to his uncle.
VERDICT Lotz's (The White Road) clever novel includes a judicious use of formats such as messaging transcripts and web comments to move along the plot while providing insights into the Missing-Linc.com crew. Suggested for fans of authors such as Ruth Ware, Jennifer McMahon, Gillian Flynn, and Nic Joseph.—Jennifer Funk, McKendree Univ. Lib., Lebanon, IL
Meyer, Nicholas. The Adventure of the Peculiar Protocols: Adapted from the Journals of John H. Watson, M.D. Minotaur: St. Martin's. Oct. 2019. 256p. ISBN 9781250228956. $25.99; ebk. ISBN 9781250237118. M
Rejoice, Sherlock fans! Meyer returns with another thrilling adventure for Sherlock Holmes and Dr. Watson (after 1993's The Canary Trainer and 1976's The West End Horror). In 1905, Holmes and Watson begin a secret investigation at the request of Mycroft Holmes. A British agent has been murdered while smuggling The Protocols of the Elders of Zion, a manuscript that endangers the entire Jewish population, The quest leads Holmes and Watson, accompanied by a gorgeous Russian translator, on a perilous journey from Paris to Russia aboard the Orient Express. The intrepid trio seek the manuscript's creator in a desperate attempt to stop the insidious spread of the anti-Semitic document. A fabulous Sherlockian tale ensues, complete with unexpected twists, disguises, abduction, and Russian roulette.
VERDICT Director and author Meyer puts his own stamp on the Holmes and Watson tradition, basing his story on historic events with contemporary relevance, as lies become accepted as truth by means of willful ignorance. Holmes ­enthusiasts will relish this well-crafted novel.—Barbara Clark-Greene, Westerly, RI
Perry, Anne. Death in Focus: An Elena Standish Novel. Ballantine. (Elena Standish, Bk. 1). Sept. 2019. 320p. ISBN 9780525620983. $28; ebk. ISBN 9780525620990. M
It's 1933, and photographer Elena Standish is happily flirting with an attractive man while vacationing on the Amalfi coast. She doesn't expect to have her holiday sidetracked by an urgent mission to Berlin, to warn authorities about plans for an assassination with the potential to shatter Europe. Elena is in over her head, unsure whom to trust, but determined to complete the mission. In addition, she's been taking photos of shocking political events that should be shared with the world. Back at home, Elena's grandfather, the retired head of MI6, finds evidence of a traitor on the British side, which could throw everything into chaos. Perry ("Charlotte & Thomas Pitt" and "William Monk" series) has found the perfect time period to showcase a family's impassioned defense of democracy and social justice in the face of rising totalitarianism.
VERDICT Obvious comparisons to Charles Todd's Bess Crawford and Jacqueline Winspear's Maisie Dobbs are warranted, but this novel also hearkens back to Helen MacInnes's classic spy thrillers and Mary Stewart's romantic suspense novels. At turns heartbreaking and action-packed, this gripping and superbly written story proves Perry still has what it takes. [See Prepub Alert, 2/25/19.] —Laurel Bliss, San Diego State Univ. Lib .
Sveistrup, Søren. The Chestnut Man. Harper. Sept. 2019. 528p. tr. from Danish by Caroline Waight. ISBN 9780062895363. $28.99; ebk. ISBN 9780062895387. THRILLER
DEBUT In Copenhagen, a woman is found murdered with a small token made of chestnuts next to her containing the fingerprint of a missing girl presumed dead. Detectives Naia Thulin and Marl Hess are thrown into a mystery that will make them question everything they know. As the two newly paired partners try to decipher the link between this new case and that of the missing girl, more women are targeted by the killer dubbed as the Chestnut Man by the media. Danish TV scriptwriter ( The Killing) Sveistrup's debut is filled with imagery of Copenhagen, terrifying scenes, and strong characterization. The writing is superb; the author takes readers through a classic detective story of a closed case coming back to light. The switching of perspectives among the short chapters is a bit jarring at first, but readers will soon learn to appreciate entering the minds of both the detectives and the potential victims. Readers of Jo Nesbø's The Snowman and other noir fiction will want to read this one. ­ VERDICT Sveistrup creates a plot so intricately woven that even a seasoned crime reader won't guess the ending. This book is the best kind of terrifying. —Natalie Browning, Longwood Univ. Lib., Farmville, VA
Tracy, P.J. Ice Cold Heart. Crooked Lane. (Monkeewrench, Bk. 10). Sept. 2019. 320p. ISBN 9781643851327. $26.99 ;
ebk. ISBN 9781643851334. M
Winter is so cold in Minneapolis that the homicide detectives have had a reprieve for a month. But when Detectives Leo Magozzi and Gino Rolseth are called to a scene, it makes up for the recent quiet. Kelly Romage is found brutally slain in a friend's house. It doesn't appear to be a random killing because the married woman was secretly experimenting with bondage. As the men investigate, Kelly's story reveals that a self-proclaimed psychic who predicted her death might have been right. Then the psychic is found dead. The two women are linked through a third, a neighbor of Monkeewrench computer team member Roadrunner. Kelly is also connected to opening night of an explicit, graphic art exhibit. When Magozzi and Rolseth consult Monkeewrench, they find a tangled web that joins the worlds and leads back to Minneapolis and a savage killer.
VERDICT The tenth Monkeewrench novel is as intense and fast paced as its predecessor, The Guilty Dead, and includes the best elements for crime fiction readers: an intricate plot weaving multiple story lines. Though the backstory is disturbing, fans of the compelling series will appreciate the focus on Roadrunner and a glimpse of his past. —Lesa Holstine, Evansville Vanderburgh P.L., IN
Truss, Lynne. The Man That Got Away. Bloomsbury USA. (Constable Twitten, Bk. 2). Oct. 2019. 304p. ISBN 9781635570731. $27; pap. ISBN 9781635574234. $17. M
Grammarian Truss (Eats, Shoots & Leaves) continues her foray into crime fiction with the follow-up to A Shot in the Dark. Last year's title introduced Constable Twitten of the Brighton police force, his Inspector, Steine, and their charwoman, Mrs. Groyne, who is always ready to listen and bring tea and cake. This second book has a cast of Brighton denizens—tourists, citizens, law enforcement officers, and all manner of class types who go about their summertime activities in 1957—until a body is found. Great attention to details of the period and the various conflicts between the social classes is lavished on the setting and characters, citing the real article "U and Non-U" published by a linguist about this time, which distinguishes vocabulary between the upper and middle classes. This plays into the plot. The author's flair for language adds to the book, as do the colorful "extras," including the Brighton Belles (pretty young women who act as goodwill ambassadors), the musicians who perform at a local venue, a humbug seller, and horrendously fake waxwork parlor shopkeepers.
VERDICT The precise wordplay and convoluted crime plot of this 1950s British blackish comedy will please fans and attract more readers to the series. —Mary K. Bird-Guilliams, Chicago
Cozy Corner
Duncan, Elizabeth J. Remembering the Dead. Crooked Lane. (Penny Brannigan, Bk. 10). Sept. 2019. 304p. ISBN 9781643851136. $26.99; ebk. ISBN 9781643851143. M
For the 100th anniversary of the Armistice that ended World War I, Emyr Gruffydd, owner of Ty Brith Hall in Llanelen, Wales, is planning a dinner party with an exhibit from the war years. The highlight of the evening will be the unveiling of the Black Chair, a chair presented posthumously to the winning poet, Hedd Wyn, at a national competition in 1917, when the young man had just died on a battlefield in Belgium. Emyr asks Penny Brannigan, owner of the local spa, to plan the event. Everything goes smoothly until the Black Chair is discovered to have been stolen. While the guests wait for the local police detective, Penny comes upon a young waiter who was struck down outside the hall. As she asks questions of a former thief, an art expert, and community members, Penny connects the dots in a complicated plan to steal from the Welsh heritage.
VERDICT With a ­mystery involving a poet's chair and Irish Travelers, the award-winning author of Murder on the Hour focuses on the culture of Wales in her latest cozy. The charming characters will appeal to Jane K. Cleland's readers.—Lesa Holstine, Evansville Vanderburgh P.L., IN
Levine, Laura. Death of a Gigolo. Kensington. (Jaine Austen, Bk. 17). Sept. 2019. 240p. ISBN 9781496708526. $26; ebk. ISBN 9781496708540. M
Everything's going right for freelance writer Jaine Austen, for a change. She's dating her ex-husband, Dickie, although her cat, Prozac, and her neighbor hate him. She's hired as cowriter by 60-something heiress Daisy Kincaid, who wants to write a romance. After Daisy's picture appears in the newspaper, a young man, Tommy LaSalle, shows up, claiming to be the nephew of Daisy's old companion. Within a day, he has moved into the mansion and taken over everything in Daisy's life, from her meals to her finances. All of Daisy's employees and friends detest the man, so it isn't a surprise when he's murdered after Daisy announces their engagement. When a coworker tops the suspect list, Jaine turns amateur sleuth. Between dates with her health-conscious ex, outrageous emails from her retired parents in Florida, and attacks by Prozac, Jaine still has time to uncover secrets—and a killer. ­
VERDICT There's a solid mystery buried in the over-the-top humor in this sequel to Death of a Neighborhood Scrooge. Fans of Mary ­Daheim and Tamar Myers will appreciate the ­comedy. —Lesa Holstine, Evansville ­Vanderburgh P.L., IN