Will appeal to readers interested in World War II and fans of military history; this riveting account of a little-known historical personality will appeal to World War II and general history fans alike; for fans of espionage tales, World War II history, biographies, as well as young adult audiences; a new perspective on a figure whose actions continue to have a profound impact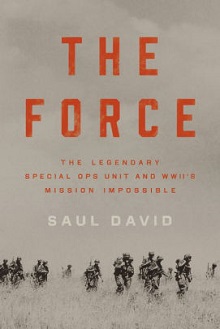 David, Saul. The Force: The Legendary Special Ops Unit and WWII's Mission Impossible. Hachette. Sept. 2019. 368p. maps. notes. bibliog. index. ISBN 9780316414531. $28; ebk. ISBN 9780316414517. HIST
Early in World War II, Canada and the United States agreed to form a small combined unit, consisting of 2,200 soldiers, for mountain and snow assaults, what we would now call special ops. They gathered and trained near Helena, MT, for two years, focusing on physical fitness and specialized tactics. In December 1943, the unit, now named the First Special Service Force, entered combat in Italy, with the mission of climbing a sheer cliff at night and surprising a superior German redoubt, part of the German Winter Line. Half of this latest book from military historian and broadcaster David (The Indian Mutiny) is an extremely detailed narrative of the group's training in Montana, followed by an equally detailed telling of the climactic assault. The unit fought at two other places in Europe, which are only mentioned in passing. The author uses soldiers' voices to good effect, but more detail about the other combat sites would have been welcome. VERDICT While the story has been related before, this well-told account of a little-known special operations unit will appeal to readers interested in World War II and fans of military history.—Edwin Burgess, Kansas City, KS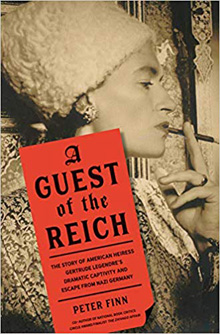 Finn, Peter. A Guest of the Reich: The Story of American Heiress Gertrude Legendre's Dramatic Captivity and Escape from Nazi Germany. Pantheon. Sept. 2019. 256p. notes. index. ISBN 9781524747336. $28.95; ebk. ISBN 9781524747343. HIST
Toward the end of 1944, heiress Gertrude Legendre and her naval officer colleague Bob Jennings were stationed in liberated France and wished to see the action on the front lines. Crossing paths with a counterintelligence friend of Jennings and another officer with clearance of the area, the four headed out. Unbeknown to the group, the area had reverted to German occupation. The party was quickly pinned down by German snipers, and Legendre became a "guest" of the Reich. Finn (coauthor, The Zhivago Affair) shows that Legendre was anything but the average rich society hostess; she possessed an unquenchable desire for adventure, preferring long hunting expeditions to society gatherings. Her unshakable persona convinced the Nazis that she was a fluffy American heiress who bought her way into a useless military position. In reality, Legendre was a employee of the OSS entrusted with top-secret information, routing cables for the Allies. Yet she managed to reveal nothing, to maintain her social status facade, and eventually pull off a breathtaking escape.
VERDICT This riveting account of a little-known historical personality will appeal to World War II and general history fans alike. [See Prepub Alert, 3/11/19.]—Stacy Shaw, Denver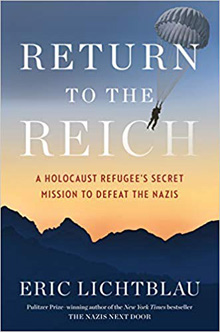 Lichtblau, Eric. Return to the Reich: A Holocaust Refugee's Secret Mission To Defeat the Nazis. Houghton Harcourt. Oct. 2019. 304p. notes. index. ISBN 9781328528537. $28; ebk. ISBN 9781328529909. HIST
Ostracized from his country for being a Jew, young Frederick Mayer wants only one thing when war is declared on Germany: retribution. Following the life of the American refugee today known as Freddy, this piece of investigative journalism from Lichtblau (The Nazis Next Door) brings the story of Freddy's pursuits with the American OSS to light, and shows how one man's determination and bravado brought a swift end to the war in the Nazi stronghold of Tyrol, where the Allies were sure they would encounter Hitler's last stand in the rumored Alpine fortress. From parachuting onto an Austrian glacier to impersonating a Nazi officer after the OSS shot down the idea, the complete history of the mission reads like an Ian Fleming novel. The larger-than-life antics of the Gulliver unit of Hans, Franz, and Freddy in finding Austrian resisters in a bastion of Nazi support are chronicled through interviews, archives, military documents, and personal correspondence across Europe and America. VERDICT An extremely accessible read, this well-researched book will appeal to fans of espionage tales, World War II history, biographies, as well as young adult audiences.—Elan Marae Birkeland, Arizona Western Coll., Yuma
Longerich, Peter. Hitler: A Biography. Oxford Univ. Oct. 2019. 1344p. illus. notes. bibliog. index. ISBN 9780190056735. $39.95. BIOG
With this latest work, Longerich (modern German history, Royal Holloway Univ. of London; Holocaust: The Nazi Murder and Persecution of the Jews) suggests that while Adolf Hitler's specific personality traits, such as a stunted emotional development that prevented him from feeling empathy, were present before World War I, his virulent anti-Semitism and grandiose sense of destiny resulted from the circumstances of post-1918 Germany. Previous studies of the Nazi state have focused on administrative chaos and an increasingly radicalized base that wished to satisfy the leader. While Longerich agrees that Hitler was an inept administrator, he convincingly argues that the administrative upheaval was a function, not a glitch, of the system, enabling Hitler to act as arbiter of policy conflicts and to insert himself forcefully into policy decisions. Thus, in the final analysis, Nazi Germany and all its policies were Hitler's alone. VERDICT Although the work is occasionally dense owing to the minutiae of German politics, such details are integral to Longerich's assertion of Hitler's centrality to all decisions, such as the Holocaust. While some may question the need for another Hitler biography, readers and scholars of 20th-century history will welcome this one.—Frederic Krome, Univ. of Cincinnati Clermont Coll.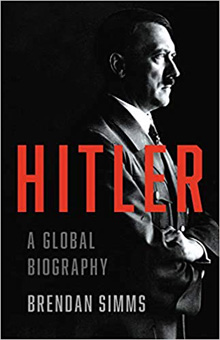 Simms, Brendan. Hitler: A Global Biography. Basic. Oct. 2019. 704p. notes. index. ISBN 9780465022373. $40; ebk. ISBN 9781541618206. BIOG
Adolf Hitler's motivation in declaring war on the United States on December 11, 1942, might seem incomprehensible, as his attitude toward America is not always discussed in World War II scholarship. Simms (history, Peterhouse Coll., Cambridge), however, argues that Hitler's obsession with America as a major threat to Germany was one of the most consistent parts of his ideology. Indeed, Simms asserts that Hitler's negative attitude toward the West and capitalism, rather than his fear of the Judeo-Bolshevik "threat," are critical to understanding the policy goals of the Third Reich. Hitler routinely decried the migration of "Germanic blood" to the States and what he felt was the weakening of the Reich's demographic base. This obsession was tied to his understanding of the control of international capitalism (centered in New York), making his decision to declare war on America as part of a discernible pattern. The argument feels forced at times, yet Simms points to some important correctives in our study of Hitler's ideology. For example, prior to 1933, the führer feared the threat of regionalism, especially the potential breakaway of Bavaria from the German state, as much as he was concerned with communism. VERDICT A new perspective on a figure whose actions continue to have a profound and lasting impact on world history.—­Frederic Krome, Univ. of Cincinnati Clermont Coll.