Highly recommended, especially for school and academic libraries; this masterful collection is perhaps one of the most exhaustive looks at the events surrounding Stonewall from the LGBTQ perspective and provides a wonderfully diverse cast of voices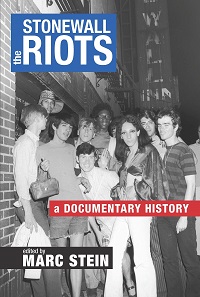 Stein, Marc. The Stonewall Riots: A Documentary History. New York Univ. May 2019. 352p. illus. maps. notes. index. ISBN 9781479816859. pap. $35; ebk. ISBN 9781479895717. SOC SCI
Stein (Jamie and Phyllis Pasker Professor of History, San Francisco State Univ.; Rethinking the Gay and Lesbian Movement) isn't interested in interpreting what happened in 1969. Rather, the author presents primary documents from that time. In his brief introduction, Stein acknowledges that we can never re-create or revisit the past, but we can analyze it through a panoramic collection of narratives and perspectives. The rest of the book is broken into three sections of primary documents: before Stonewall, Stonewall, and after Stonewall. These materials are key to this documentary history, as Stein pulls from numerous sources reflecting the time; specifically, from sources that aren't mainstream but almost entirely LGBT publications, including newsletters and pamphlets. These articles and writings provide an essential window into the culture, society, politics, and mind-sets of the era and during the riots. With the climate toward LGBT issues radically different 50 years later, it is important to understand these events in the context of their time.
VERDICT Highly recommended, especially for school and academic libraries.—Laurel Tacoma, Fairfax Cty. P.L., VA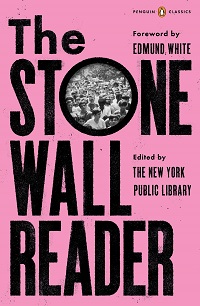 The Stonewall Reader. Penguin. Apr. 2019. 336p. ed. by New York Public Library. bibliog. ISBN 9780143133513. pap. $18. SOC SCI
The New York Public Library (NYPL), with a foreword by Edmund White ( A Boy's Own Story), compiles experiences of LGBTQ Americans. Divided into three sections, this curated collection brings the Stonewall uprising to life. White sets the stage, noting the cultural context for the narratives which follow, while NYPL's Jason Baumann contributes an introduction further explaining historical, geographical, and scholarly context. Beginning with "Before Stonewall," readers are treated to excerpts from movement organizers such as Audre Lorde, Christine Jorgensen, and Ernestine Eckstein. These pieces expand on what life was like for the LGBTQ community prior to the Stonewall rebellion. The collection then moves to "During Stonewall," in which selections describe the event from various perspectives, including that of journalist Dick Leitsch, activist Marsha P. Johnson, and journalist Howard Smith. Finally, "After Stonewall" provides a look at how things changed or did not change post-riots, with words from Rev. Troy D. Perry, author Kiyoshi Kuromiya, and New York's first lady Chirlane McCray.
VERDICT As a whole, this masterful collection is perhaps one of the most exhaustive looks at the events surrounding Stonewall from the LGBTQ perspective and provides a wonderfully diverse cast of voices. Scholars will find plenty of quotable material.—Abby Hargreaves, Dist. of Columbia P.L.
---
These reviews were originally published in Library Journal's May 2019 issue