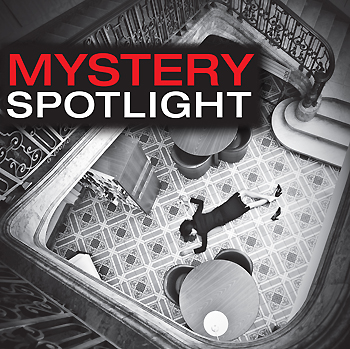 As temperatures rise, so do most libraries' circulation numbers. The time of year when many people are at the park, by the pool, or on vacation is also when they are at their libraries. According to our most recent materials survey ("Circ Shift, LJ 2/19, p. 42–44), overall circulation at public libraries might have edged slightly downward in 2018, but two of the top five fiction genres in demand are mysteries and thrillers. As the library world opens its doors to new formats and new avenues of delivering materials, the kinds of stories that patrons want haven't changed.
If traditional mysteries appeal to the brain—the audience follows characters along an investigation, collects clues, sorts through a list of suspects, and arrives at the final conclusion—thrillers appeal to the gut, relying on devious twists, unexpected turns, and lurking threats to get their hooks into readers. And no matter whether our crime-loving patrons love mysteries, thrillers, hard-boiled noir, suspense, or ­cozies, as many as we recommend to them, they are hungry for more.
Librarians can feed that seemingly insatiable hunger by keeping abreast of new releases. Publishers keep coming out with a torrent of titles through which we, somehow, must sort. Here, LJ looks at some of the new releases that will be hitting the shelves—and patrons' holds lists—and talks with publishers to see what they think readers need and where the future of these genres is headed.
Subverting Suburbia
Readers certainly aren't tired of girls on trains and women in windows, as the domestic psychological thriller remains dominant on best sellers lists. But that genre, popular as it is, might be in danger of peaking, as more books hit the shelves filled with seemingly perfect suburban characters with long-buried secrets that threaten to destroy their families, careers, and relationships. The protagonists, often women, can be passive, portrayed as victims of circumstance.
However, the trend this year leans toward a newer breed of psychological fiction protagonist, women who use their traditionally accepted roles in society to subvert their antagonists and drive the action rather than flowing along with—and being overwhelmed by—events.
St. Martin's Press associate editor Alexandra Sehulster says, "We are starting to see thrillers and psychological suspense move away from the toxic marriage, or the woman sheltered alone in her house and unreliable, and toward plotlines and characters with more agency, more complex stories of female friendships, mother/adult daughter, and sister relationships."
For example, in Wendy Walker's The Night Before (St. Martin's, May), two sisters who have always been there for each other clash when Laura comes to live with the married and stable Sadie during the fallout of a disastrous breakup but ends up bringing with her quite a bit more than relationship drama. Secrets, lies, and time jumps will keep readers on their toes.
Sandie Jones, who wrote the Reese Witherspoon book club favorite The Other Woman, returns with The First Mistake (Minotaur: St. Martin's, Jun.), a domestic noir about Alice, who runs her own successful business and is on her second marriage. When her husband starts acting oddly, Alice turns to her friend for support. She soon realizes that she has to choose to trust either her husband or her best friend.
M.T. Edvardsson's A Nearly Normal Family (Celadon, Jun.) starts with the arrest of a teenage girl accused of murdering an older man. The novel looks at the events leading to the killing through the eyes of the father, the mother, and the daughter as they each present their own version of the truth. In a genre full of unreliable narrators, the most unreliable might be everyday parents who think only the best of their children.
Following up Louise Candlish's master class of suspense, Our House , is another novel set in a seemingly perfect suburb. In Those People (Berkley, Jun.), Sissy Watkins owns a successful B&B, but the idyllic neighborhood is disrupted by new neighbors who are messy, loud, and pretty much the nightmare of every homeowner's association. Sissy loses business, and annoyance turns to something much darker.
Suburban arrangements also dominate Jane Shemilt's The Playground (Morrow, Oct.), featuring a group of three couples who live in the same neighborhood. Their lives intertwine, attending backyard barbecues and weekend parties; they even go on vacations together. But caught up in the churn of adult life, they neglect their children, who are creating their own games right under their parents' noses, until tragedy strikes and lives are shattered.

Author R.H. Herron worked for 17 years as a 911 operator; in her crime fiction debut, Stolen Things (Dutton, Aug.), Laurie, a police dispatcher in a quiet Northern California town, gets a panicked call from her daughter Jojo, who's drugged and disoriented in the home of a pro football player. And JoJo's friend Harper is missing. As more secrets surface, Laurie and Jojo have only each other to rely on to find the missing teen.
Jo Baker, the acclaimed author of Longbourn, is back with The Body Lies (Knopf, Jun.), about a new writing professor at a small English university who discovers her class ablaze over issues of misogyny and soon notices that the writing assignments of a student are shockingly violent and might have a bit too much to do with reality. Readers will have much to chew on in this taut literary thriller.
Going Global
International mysteries, dealing with issues of police, law, and crime, take a peek at the boundaries of different cultures, forcing us to examine how we draw lines in our own backyards.
The latest in Martin Walker's "Bruno, Chief of Police" series, set in a small hamlet in the south of France, is The Body in the Castle Well (Knopf, Jun.). Bruno investigates the death of an American student that is at first assumed to be opioid-related, but suspicion soon falls on her politically connected professor, who has a very suspicious source of wealth.
The Long Call by Ann Cleeves (Minotaur: St. Martin's, Sept.) is the first in a new series. Detective Matthew Venn returns to his hometown in North Devon to attend the funeral of his father. He thought he left the insular evangelical community behind long ago, but he's quickly drawn back in after a body with a strange tattoo is found on a nearby beach.
Ruvanee Pietersz Vilhauer's The Mask Collectors (Little A: Amazon, Jun.) is a smart, visceral debut thriller, featuring a murder among an alumni gathering of international students that plunges anthropologist Duncan McCloud and wife Grace into an investigation involving a shadowy pharmaceutical conglomerate and Sri Lankan exorcism rites. Vilhauer balances the thrills with character work and a super­natural edge to create a globe-trotting story. [See a Q&A with the author, LJ 5/19, p. 17.]
In debut author Daniel Nieh's Beijing Payback (Ecco: HarperCollins, Jul.), California college basketball player Victor Li discovers that his murdered restaurant owner ­father was secretly in deep with an international crime syndicate. Stunned, he goes back to his father's old haunts in China to settle accounts. Quick-witted and razor-sharp, Nieh is one to watch.
A prickly former detective comes out of retirement to help the local Melbourne police solve cold cases and is put to the test when a skeleton is found under a concrete slab. In Garry Disher's Under the Cold Bright Lights (Soho Crime, Jul.), Alan Auhl may be nicknamed "Retread" by the younger cops, but his stubborn dedication to the dead and the missing create a riveting story and a sleuth for whom to root.
A best-selling author in France, Guillaume Musso introduces himself to U.S. audiences with The Reunion (Little, Brown, Jul.), about Vinca, a young student who ran away with her professor years ago, never to be heard from again. Vinca's classmates gather for their school's 25th reunion and a building demolition. But the demo might surface secrets nobody wants to come to light.
In Chris Pavone's The Paris Diversion (Crown, May; LJ 3/19), a follow-up to 2013's The Expats, CIA operative and harried wife and mother Kate Moore witnesses a possible suicide bombing next to the Louvre. She quickly discovers that the attack is related to the kidnapping of a globally known CEO about to announce a major deal—and that her husband is keeping secrets from her. Pavone brings the goods in a taut, thoughtful, well-paced thriller.
Shamini Flint, known for her "Inspector Singh" novels, switches gears with The Beijing Conspiracy (Severn House, Sept.), featuring former U.S. Marine Jack Ford. Jack returns to Beijing when he learns about a daughter he fathered when he was a U.S. spy during the 1989 Tiananmen Square Massacre. He must choose between saving his daughter and preventing a global crisis when a sensitive piece of information falls into his hands.
Northern Lights Still Shine
Scandinavian mysteries still populate a significant chunk of the international mystery landscape and add some literary gravitas to tightly plotted thrillers and procedurals, even if the genre isn't as dominant as it was in years past. Keith Kahla, executive editor at St. Martin's Press, says, "The great wave of Scandinavian crime fiction is definitely receding, with only a few writers maintaining a significant readership." But if you like your crime dark and brooding, there are still plenty of new books to check out.
The Chestnut Man by Søren Sveistrup (Harper, Sept.) opens with a murder and a very enticing clue left behind for police: hanging near the body is a tiny figure made of chestnuts. Detectives Thulin and Hess pursue a possible serial killer as other bodies appear with the chestnut figures. Sveistrup created the hit Danish TV series The Killing, and he keeps the tension sharp and the atmosphere moody around a police investigation.

More on the psychological side is Alex Dahl's Norway-set The Heart Keeper (Berkley, Jul.). A young woman in need of a heart transplant gets her chance at life when another woman drowns in a tragic accident. But the dead woman's mother wants to connect with what's left of her child, and the heartbreak turns a mother's love into something ­possessive.
Malin Persson Giolito's Beyond All Reasonable Doubt (Other Pr., Jun.) follows Stockholm lawyer Sophia Weber's moral and ethical struggles while working to free a convicted murderer. Is Dr. Stig Ahlin innocent of the crime of murdering a 13-year-old child long ago, or is he a monster who is manipulating Sophia into a shot at freedom?
Cops and Private Investigators
"Flawed narrators continue to be a strong trend," says Lulu Martinez, senior communications manager at Kensington Books. "Readers want to be able to identify with these characters, who are struggling in their own lives, maybe with addiction or broken relationships or mental health." This is on display in Charlie Donlea's Some Choose Darkness (Kensington, May), about Rory Moore, a crime scene reconstructionist who makes a career out of spotting clues that others miss but who also struggles to relate to those around her owing to her living with autism and OCD. Rory investigates a criminal who's up for parole after 40 years behind bars with scant evidence. After a lost file provides new clues, she makes connections.
L.A.-based detective Harry Bosch has been a library favorite since his debut in 1992's The Black Echo. Michael Connelly reunites the dedicated and curmudgeonly Harry with LAPD detective and surfing enthusiast Renee Ballard for the second time in The Night Fire (Little, Brown, Oct.). Harry has always had to fight his internal demons and has channeled that effort into finding justice for those who are forgotten and left behind. Here, Harry and Renee team up to solve a cold case that plagued one of his mentors.
Best known for his "Lew Griffin" series and Drive, which was adapted into a Ryan Gosling vehicle, James Sallis introduces us to the titular Sarah Jane (Soho Crime, Oct.), a former cop whose complicated past leads her into a job as a small-town sheriff. Her first case is uncovering what happened to her ­predecessor.
A killer who uses snake venom is on the loose in Fatal Strike (Tyndale House, Aug.) by Christian fiction author DiAnn Mills. Set in Galveston, TX, this atmospheric page-turner has FBI agents Leah Riesel and Jon Colbert uncovering gang activity and a deeper conspiracy.
In Jamie Mason's The Hidden Things (Gallery: S. & S., Aug.), 14-year-old Carly heroically fends off attackers during a home invasion. The footage is caught on a security camera and quickly goes viral, but some people notice a valuable painting by a Dutch master that was thought lost long ago. Carly's family must answer some serious questions about the artwork in their foyer as folks with financial stakes and bad intentions get involved.
The Bird Boys (Cinco Puntos, Jul.) is Lisa Sandlin's follow-up to The Do-Right, featuring PI Tom Phelan and hard-nosed secretary and ex-con Delpha Wade. The pair are hired by a man who's looking for his long-lost brother. They soon find out that one of the brothers is a murderer, but they're not quite sure which one. Sandlin laces warmth, noir, and humor into her story.
Bart Paul's See That My Grave Is Kept Clean (Arcade, Sept.) is a Western thriller featuring Iraqi War vet and trail packer Tommy Smith. When a child goes missing in the canyons of the Eastern Sierras, Smith begins a search, but instead he finds a corpse that may figure in an unsolved local bank heist.
Droll Minnesota private eye Nils Shapiro returns in Matt Goldman's The Shallows (Forge, Jun.; LJ 5/19). With his characteristic eye for detail, dry wit, and strong sense of the upper Midwest, Nils investigates the murder of a high-priced lawyer with deep ties to local politics.
In Robert Pobi's City of Windows (Minotaur: St. Martin's, Aug.), retired FBI agent Lucas Page gets pulled back into the action after a sniper starts taking down law enforcement targets in New York City during one of the worst blizzards on record. Lucas, now a college professor and still bearing scars from his previous job, has an uncanny ability to visualize angles, trace bullet trajectories, and track nearly invisible enemies, even those lurking within his own department. Pobi's rocket-fueled plot and strong voice make this a can't-miss hit.
Back in the Day
"There is a hunger for stories that illuminate parts of history that many of us never lived through, while wrapping them in first-rate dramatic storytelling," says indie publisher Jason Pinter of Polis Books. Historical mysteries are a priority on most publishers' lists, with the highest interest those set during the world wars. Larissa Ackerman, ­Kensington communications manager, notes that "the Gilded Age, which took place after the Civil War and at the close of the 19th century, is a fascinating period in American history—it was all glitter on the surface but corrupt beneath, and the juxtaposition of the two makes for a time that is steadily becoming a more popular setting in historical mysteries."
In Martine Bailey's The Almanack (Severn House, May), a London woman in 1752 travels to a small English village to investigate after her mother is murdered. When Tabitha Hart finds clues scribbled in the margins of her mother's almanac, she teams up with a local writer and tries to decipher the clues and avenge her mother's death.

Sara Collins's debut novel, The Confessions of Frannie Langton (Harper, May; LJ 5/19), charts the journey of a servant and former slave beginning in the sugar plantations of Jamaica and ending in London, where Frannie is on trial for the murder of her employer and his wife. The trial is the talk of the town in 1880, and Frannie has no recollection of what happened.
In Ghost of the Bamboo Road (Seventh Street, Jul.), the latest entry in Susan Spann's "Shinobi" mystery series set in medieval Japan, a ninja and a Jesuit priest investigate a vengeful spirit that terrorizes a remote mountain village.
Brontë sisters Charlotte, Anne, and Emily become detectives before earning renown as novelists in Bella Ellis's The Vanished Bride (Berkley, Sept.). In 1845 Yorkshire, a young wife and mother disappears, leaving only a pool of blood, and the sisters face danger as they set aside society's expectations to work on the case.
Owen Matthews's Black Sun (Doubleday, Jul.) is set in Russia in 1961, at the height of the Cold War. KGB officer Alexander Vasin investigates the murder of a nuclear scientist and journeys to a secret city, not on any map, where Stalin has put his best scientists to work on a massive bomb.
Still Cozy
The enduring popularity of cozy mysteries will likely continue, as patrons clamor for the latest releases in the series-heavy field. These novels, which lack explicit sex, language, and violence, appeal to those who want an escape from a complicated world, and the relationships inherent in each cozy buoy readers. Cozies continue to be a balm to the reading public as amateur sleuths with a can-do spirit and a network of friends and family solve mysteries.
Kensington's Ackerman notes that even cozies can change to offer something new. "[The] authors are...becoming more conscious of the fact that they can share an entertaining story while raising awareness on social and humane issues—without hitting readers over the head. These topics are also still very on-theme for the cozy mystery genre."
In Left Fur Dead (Kensington, Jun.) by J.M. Griffin, the first in a new series, protagonist Jules owns a rabbit rescue farm and sanctuary for injured or abused rabbits. After she discovers a very strange connection with one of her charges, and they discover a dead body nearby, they hop to investigate.
Husband dead? Police looking at her as a possible suspect? Chef Tessa Esposito does what she does best: cook Italian food and get to the bottom of things in Penne Dreadful (­Poisoned Pen: Sourcebooks, Jul.), the first in a new series from Catherine Bruns.
Nothing warms a librarian's heart like murder, magic, and cats (maybe not in that order). In Sofie Kelly's 11th installment in the "Magical Cats" series, A Night's Tail (Berkley, Sept.), librarian Kathleen Paulson's brother Ethan, a musician, comes to town and danger follows. It's up to Kathleen and her cats Owen and Hercules to solve the crime when one of Ethan's bandmates is accused of murder.
In Death in a Budapest Butterfly (Berkley, Jul.) by Julia Buckley, Hana Keller runs a popular tea house, but when a patron is poisoned and a valuable teacup is involved, it doesn't take her Hungarian grandmother's fortune-telling abilities to sense danger; the first in a new series.
In Mrs. Jeffries and the Alms of the Angel (Berkley, Sept.), the latest in Emily Brightwell's long-running Victorian series featuring a Scotland Yard inspector and his capable housekeeper, the leading member of the London Angel Alms society has been murdered. Mrs. Jeffries and Inspector Witherspoon soon find out that Margaret Starling had more enemies than they originally thought.
Changing the Game
Expanding the cultural reach of mysteries and thrillers is a movement that is poised to become a bigger piece of the market in 2019 and beyond. Chantelle Aimée Osman, editor at Agora, an imprint of Polis Books focusing on crime novels that explore diversity, believes "our genre, which by definition deals with moral, legal, and societal issues, is the perfect forum for this conversation. It has been too long that crime fiction has favored the homogeneous and ignored the relevant voices in the cultural discussion." Since the concept of justice is woven into the very fabric of crime titles, it is a perfect canvas on which to explore issues of inequity.
Readers everywhere are starting to look for more diversity in their crime novels, says Michelle Addo, one of Kensington's communications managers. "While Dafina [Kensington's African American fiction imprint] has always had a strong following within the community, there's been a significant uptick of interest from a broader range of readers, reviewers, and media in general. Readers are identifying with the narratives in each novel and no longer separate them as 'African American books' just because they primarily feature African American characters or are carried by certain retailers in the African American fiction section. In response, we're making concerted efforts to promote titles in outlets that reach a wider audience that enjoys comparable titles."
Finding diverse read-alikes for standard thriller and mystery titles is still challenging, but as more library staff see the value in reading widely and diversely, these titles will be easier to locate.
Chanelle Benz sets her debut The Gone Dead (Ecco: HarperCollins, Jun.) deep in Mississippi. Billie James hasn't returned to her childhood home since her father died under mysterious circumstances when she was a toddler. Uncovering the details surrounding her father's death reveals dark secrets about the community—and possibly places ­Billie in danger. Exploring race, class, and justice, Benz is an electrifying new voice in the field.

In Three-Fifths by John Vercher (Agora: Polis, Sept.), Bobby Saraceno, a biracial man who's passing as white, confronts his past when a friend, just released from prison, commits a hate crime. At the same time, Bobby's long-absent father comes back into his life. Bobby has to make choices when his two worlds collide.
Set in Minnesota, Marcie Rendon's Girl Gone Missing (Cinco Puntos, May; LJ 4/19) features Cash Blackbear, a 19-year-old Chippewa woman who has escaped the maze of foster homes and now attends college but is haunted by nightmares of missing local girls. Cash deals with the appearance of her long-lost brother, trauma from years in foster care, and the institutional racism of her college ­surroundings.
Making Connections
Publishers of mysteries and thrillers are constantly trying to connect with librarians. While some of the major houses have staff dedicated to serving the library market, not all have that luxury in their budget. That can make it difficult to get books in front of library staff who need not only to be aware of them but to know enough about the titles to target patrons who will enjoy them. What strategies are publishers using to get their messages out? Talia Sherer, senior director of library marketing at Macmillan, takes a multifaceted approach, including a mix of social media, in-person presentations at library conferences, advance reading copies to those on her mailing lists, and promotion on websites such as NetGalley and Edelweiss, on which library staff can access digital copies of ARCs months before their release. She also encourages librarians to nominate those books for monthly LibraryReads lists. "LibraryReads is incredibly supportive of the mystery genre and often selects debuts and/or midlist mysteries for its monthly lists that might have otherwise been skipped," Sherer says.
Some publishers believe that actively promoting book clubs is another way that the industry can partner with libraries, drawing library staff into the marketing process and making them part of their customer outreach efforts rather than just passive consumers. "Book clubs are an increasing focus for us, not just in library marketing but for the company as a whole," says Lynette Kim, library marketing manager at Harlequin. "We're finding that author Skype visits and book club kits are a great way to engage libraries and patrons and to connect readers directly to books in ways that better serve them than we as middlemen ever can."
Nicole Kimberling from Blind Eye Books says publishers target librarians as well as patrons. "We use social media campaigns to specifically encourage readers to request our titles at their local libraries. We've found that many readers aren't aware that they are allowed to ask for a title or that librarians do consider these requests, even if they can't always act on them. So readers feel empowered, and we get one of our titles in front of the eyes of a person who might not have heard of us. Win-win."
The ever-changing and ever-increasing publishing landscape can be an intimidating one to navigate for even the most seasoned library professionals. With some help, publishers and libraries can find ways of working together to increase circulation numbers and deliver the investigations, and the thrills, that your patrons crave. About that, there is little mystery.
---
Mystery Lineup: Below are the forthcoming titles mentioned in this article. *=DEBUT
---
Gregg Winsor is Reader's Advisory Librarian, Literary Concierge, Book Sherpa, and Word Nerd, Johnson County Library, Overland Park, KS
---
This article was originally published in Library Journal's May 2019 issue.