If Legacy leaves readers wanting more, then Complete Paintings will supply it. Both will help students of studio art, art history, sociology, political science, and STEM, as well as professors and interested readers who wish to learn more about the Renaissance.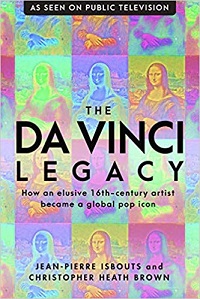 Isbouts, Jean-Pierre & Christopher Heath Brown. The da Vinci Legacy: How an Elusive 16th-Century Artist Became a Global Pop Icon. Apollo. Apr. 2019. 320p. illus. notes. bibliog. ISBN 9781948062343. $26.99; ebk. ISBN 9781948062350. Vezzosi, Alessandro. Leonardo da Vinci: The Complete Paintings in Detail. Prestel. Apr. 2019. 288p. illus. notes. bibliog. index. ISBN 9783791384979. $85. FINE ARTS
On the surface, pairing these two books may seem oxymoronic, with art historian Isbouts and da Vinci scholar Brown's Legacy a smaller-format public television publication featuring 130 illustrations (not seen), and Complete Paintings an oversized, lavishly illustrated catalog raisonné. However, both are equally well researched, enjoyable, and informative. Legacy offers an introduction to da Vinci by answering the question: With only 18 reliably attributed extant paintings, how are we still talking about the painter today? Complete Paintings presents an in-depth catalog of those 18 works, plus a stylistic and historical reevaluation, including new theories based on current technology and recently discovered historical documents. Legacy discusses the technologies and people who kept Leonardo's name and works alive, including engraving and the printing press. For instance, the French Revolution brought the Mona Lisa into public view; Jacqueline Kennedy Onassis saw its voyage to the United States; and Onassis, Andy Warhol, and a recent $400 million auction price helped maintain its celebrity. Complete Paintings starts with Leonardo's early days, apprentice-ships, and teachers' styles.
Vezzosi reviews Leonardo's innovations in technique and media, and problems the new media caused. Also nodding at the moderns, Complete Paintings juxtaposes ­Duchamp's L.H.O.O.Q. Using cutting-edge technologies, this work examines fingerprints and the potential for DNA left in paint, which could provide information on the painters' identities. Both offer endnotes and a bibliography. Complete Paintings also offers a chronology, list of works, and photo credits. Catalog entries include full-page, detailed images, comparisons against related works by other artists, title, dates of execution, medium, and place where exhibited.
VERDICT If Legacy leaves readers wanting more, then Complete Paintings will supply it. Both will help students of studio art, art history, sociology, political science, and STEM, as well as professors and interested readers who wish to learn more about the Renaissance.—Nancy J. Mactague, formerly Aurora Univ. Lib., IL
---
These reviews were originally published in Library Journal's May 2019 issue