This month's selections explore the messy, complicated, and deeply rewarding world of trust. BDSM novice Olivia Watts puts her faith into sexy senator Noah Grant, but it's up to him to lower his emotional walls and let the beautiful submissive change his life. Two exciting new Cleis anthologies see women trusting their instincts and embracing their wild sides in order to find lasting love, or sate momentary lust, while in Serena Bell's Sleepover, widowed father Sawyer Paulson navigates a burgeoning relationship with neighbor Elle alongside the insurmountable grief of losing his wife. Lastly, in the newest addition to the "Misadventures" series, country boy Cole and singer undercover Brooke are both on the open road fleeing hardship but find it easier to escape when they're on the run together.
---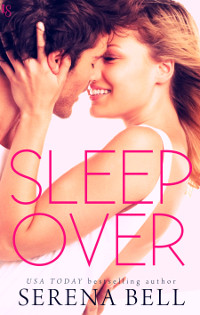 Bell, Serena. Sleepover. Loveswept: Random. Nov. 2018. 211p. ebk. ISBN 9780425284308. $4.99. EROTICA
Elle Dunning, aspiring writer and mother of Madden, is recently divorced and gobsmacked by the audacity of her ex-husband to invite her to his wedding eight weeks after their split. She's been trying to process her feelings and get over her ex in myriad ways, one of which included an incredibly hot one-night stand with a broody stranger at a bar. She is shocked to discover that this stranger is not only her new next-door neighbor but the father of her son's new best friend Jonah. Sawyer Paulson hadn't forgotten Elle or the incredible night they'd shared, but he hasn't been able to let any woman in emotionally since the death of his wife two years ago. Still, their proximity ramps up the undeniable attraction between them, complicating their intentions to remain wholesome, platonic neighbors. Bell (Hold on Tight) deftly crafts a lust-to-love tale with unconventional elements; Elle and Sawyer's trysts take place as they navigate single parenthood and incredible sorrow. Readers will be rooting for the pair as they find deliciously naughty ways of reclaiming their desire.
VERDICT An enjoyable hybrid of sugar and spice for those seeking erotica with substance. Recommended.
Best Lesbian Erotica of the Year. Vol. 3. Cleis. Dec. 2018. 216p. ed. by Sacchi Green. ISBN 9781627782869. pap. $16.95. EROTICA
Readers are taken to the highest of heights and a bevy of locales in this newest collection of steamy f/f shorts. Characters and scenarios are delightfully varied. Valerie Alexander's dark, heady "Ninjutsu" serves as a phenomenal introduction, as an unnamed narrator with aerial fantasies searches hungrily for a mile-high club companion on her flight to Hawaii. Scout Rhodes's "Morning Fog" explores a very different narrative terrain with aplomb as two older women self-described as "gold star survivors" of storied pasts share a languid, sensual morning in San Francisco. An introverted barista meets her perfect match in ­Sommer Marsden's plucky entry, "Husher." Xan West's "Trying Submission" examines the first taste of submission for Liliana, who has autism, to gentle power­house Roz and offers a lovely depiction of power play that might be an introduction for some to service-oriented submission. Other highlights include M. Birds's "Where There's Smoke," a quietly appealing tale of small-town weed dealer June, who never followed her dreams of leaving home, but all is not lost when she meets a reserved English professor in need herself of a little escape. In Mags Hayward's lyrical "Yin and Yang," a young dancer and her lighting technician show their deep appreciation for each other's complementary skills with a thrilling post-rehearsal lovemaking session.
VERDICT Recommended for stalwart erotic anthology fans as well as those seeking a wonderfully naughty inauguration to the genre.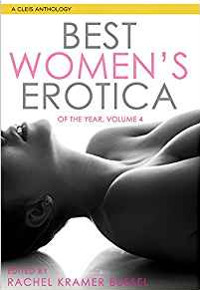 Best Women's Erotica of the Year. Vol. 4. Cleis. Dec. 2018. 256p. ed. by Rachel Kramer Bussel. ISBN 9781627782487. pap. $16.95; ebk. ISBN 9781627782494. EROTICA
This fourth volume of a solid classic series develops the theme of outsiders and risk. Excellent opener "Take the Shot" by Mica Kennedy sees wry yet reserved professor Nina stepping way outside her comfort zone by posing for an erotic calendar—with Josh, the gorgeous teaching assistant she's been crushing on, no less. In Calliope Bloom's seasonal "O Captain! My Captain!," a bisexual unicorn gets the chance to fulfill her friend-crush fantasies with Sophia (aka Maid Marian) in what evolves into a delightfully dirty yacht sexcapade. In Tamara Lush's "Words with Benefits," a 52-year-old professor reluctantly downloads a flirty game app and ends up exploring nautical bondage aboard charming Gabriel's houseboat. Meanwhile, a sneaky shopper succumbs to her untapped voyeuristic streak when she overhears a dressing room quickie in Alessandra Torre's scintillating "The Dressing Room." The entries range from tenderly seductive—Alyssa Cole's sf human/android tale "Essential Qualities" proves a true standout in this regard—to playfully raunchy, with everything in between. This anthology's ­inclusion of diverse characters in terms of age, race, kinks, and ability is refreshing and much-needed in erotica; each writer finds a way to adhere to the collection's theme while blissfully breaking the mold.
VERDICT An exceptional volume of quality quickies; highly ­recommended.
Hayley, Elizabeth. Misadventures with a Country Boy. Waterhouse. (Misadventures, Bk. 18). Dec. 2018. 216p. ISBN 9781642630060. pap. $12.99. EROTIC ROMANCE
Cole Timmons, an army veteran on the road, helps an attractive stranger out of a sticky situation at a gas station during a long ride to Oregon. Brooke Alba's sarcastic yet wounded demeanor leaves Cole intrigued, and he becomes invested despite all logic telling him to cut ties. Brooke is a rising music star fleeing her suffocating life, and her parents, by striking out on her own; she finds unexpected safety in this burly cowboy with a silly side and a delicious Southern drawl. Cole knows he shouldn't get wrapped up in this high-maintenance stranger he nicknamed Princess, but his gut tells him there's something more to her story and to his feelings—and Cole's gut is always right. Slightly heavier on the romance than other "Misadventures" installments, Hayley's (I Hate You, I Love You) newest is a satisfying slow burn that ambitiously tackles characters reclaiming spontaneity and love while dealing with severe trauma. Readers will root for a happy ending and appreciate Brooke and Cole's ecstatic escapades on the road and in the bedroom. Those sensitive to depictions of violence and abuse should be aware that one scene involves Brooke being sexually harassed by a stranger and another describes past child abuse.
VERDICT Part road trip adventure and part love story, this gentle novel takes a minute to heat up but is eminently worth the wait.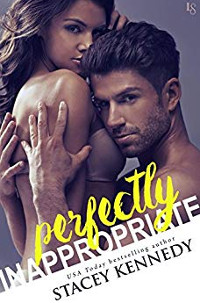 Kennedy, Stacey. Perfectly Inappropriate. Loveswept: Random. Nov. 2018. 163p. ebk. ISBN 9781101969571. $4.99. EROTIC ROMANCE
When Olivia Watts finds her love of ten years in bed with her best friend/soon-to-be maid of honor, she dusts herself off and joins friend Paige on the prowl. Recently swept up in the rise of BDSM thanks to a popular book series, Olivia is instantly intrigued by the thought of submitting to an exciting, experienced Dominant. She hesitantly joins SiR, the hottest new app that connects Doms and subs with plenty of safety, confidentiality, and potential. She expects something new but does not expect Noah Grant, a gorgeous young senator who sets her alight. Noah is unseated by Olivia's under­stated beauty and quiet depth—as well as her squeaky clean past and eager­ness to catch up on all the kinky fun she's missed. As their weeklong arrangement draws to a close, both parties discover that the conditions of their agreement might be shifting into something more like love. Kennedy (Bought by the Boss) crafts a layered erotic romance that seamlessly blends subplots with scorching scenes of Dom/sub play. As Olivia and Noah explore their budding chemistry, each is dealing with separate issues that complicate their relationship. Olivia has a relatable need to break from the stagnation of playing it safe, while Noah has constructed walls and contracts to keep scandal, but also intimacy, at bay.
VERDICT Highly recommended for fans of sexy and sweet BDSM novels with refreshing depictions of consent, negotiation, and sizzling sex.
---
Ashleigh Williams is Editorial Assistant, School Library Journal