Firth, Rebecca. The Cookie Book: Decadent Bites for Every Occasion. Page Street. Sept. 2018. 192p. photos. index. ISBN 9781624146374. pap. $21.99; ebk. ISBN 9781624146381. COOKING
Food writer and photographer Firth (displacedhousewife.com), whose recipes have appeared in Bake from Scratch magazine, delivers a debut of extravagant cookie recipes, many among her family favorites. Some of those featured include tantalizing combinations (chocolate with pumpkin, hazelnut with mint, lemon with chamomile); Firth strives to create pairings with ingredients that are readily available. While some recipes can be found on her popular blog, others such as red velvet madelines and blood orange Jammy Sammies™ contribute original content to a book aimed at those with a practiced hand at baking. Yet Firth's easygoing style encourages fellow bakers as she leads them through each step of a recipe, including many tips that enhance the baking process. Another helpful feature is that before each recipe, Firth shares her wisdom and experience for success in creating these sweet treats.
VERDICT Firth's first cookbook will be popular among bakers interested in perfecting gourmet cookies.—Ginny Wolter, Toledo Lucas Cty. P.L.
Heiskell, Elizabeth. The Southern Living Party Cookbook: A Modern Guide to Gathering. Oxmoor House. Oct. 2018. 368p. photos. index. ISBN 9780848756659. $35; ebk. ISBN 9780848759100. COOKING
The Southern Living Party Cookbook was originally published in 1972. This update mixes some recipes from that first book and etiquette tips with more modern entertaining ideas and menus. Heiskell ( What Can I Bring?) provides party planning suggestions and organizes the contents around menus crafted for occasions such as "Sip and See," "Gospel Brunch," and "The Tailgate." The book begins with basic party planning and etiquette, providing suggestions for both hosts and guests. While menu-based organization makes it difficult to browse by dish type, it does provide a way of seeing how to pair more retrostyle dishes, such as Hot Cheese Squares or Peach Melba, with more modern Southern dishes, such as wonder wings with cider vinegar-brown butter-honey drizzle. Recipes from the original are indicated at the bottom of the recipe. Those looking for staples such as hoppin' John and pimiento cheese will not be disappointed, but there are plenty of new ideas to try as well.
VERDICT While certainly not a cookbook for the calorie-conscious, this entertaining guide will appeal to those looking to update their Southern-style cooking without completely jettisoning tradition.—Rebecca Brody, Westfield State Univ., MA
Kehdy, Bethany. The Jewelled Table: Cooking, Eating & Entertaining the Middle Eastern Way. Hardie Grant. Sept. 2018. 272p. photos by Nassima Rothacker. index. ISBN 9781784881672. $35. COOKING
Kehdy (The Jewelled Kitchen) has written a follow-up cookbook with not only recipes but entertaining ideas for Middle Eastern cuisine. The book is full of unique recipes for popular dishes such as tabbouleh and hummus but also includes common Middle Eastern staples such as labneh. An introduction provides an overview of Middle Eastern cooking and entertainment, especially customs, and how many nationalities come together to form a fusion of culture and food. Kehdy offers a section on ingredients necessary to make many of these recipes, and where you might be able to find them or even make them yourself. Besides featuring chapters on beverages, appetizers, smaller meals, larger entrees, and desserts, there are sample menus based on an occasion or a theme. While intermediate home cooks will gain the most from this resource, some dishes will be welcomed by beginners; the beautifully illustrated photographs are a bonus.
VERDICT Kehdy presents a great collection of Middle Eastern recipes, with a gentle guiding hand.—Holly Skir, Broward Cty. Lib., FL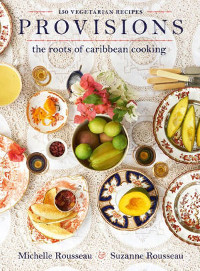 Rousseau, Michelle Suzanne Rousseau. Provisions: The Roots of Caribbean Cooking—150 Vegetarian Recipes. Da Capo: Perseus. Oct. 2018. 320p. photos. index. ISBN 9780738234670. $30; ebk. ISBN 9780738234663. COOKING
Jamaica-based sisters, chefs, and restaurateurs Suzanne and Michelle Rousseau introduced their accessible, modern spin on Caribbean flavors in Caribbean Potluck. While that title featured several vegetarian recipes, the sisters have forged ahead with a meatless theme in their follow-up cookbook focusing on vegetables derived from the Caribbean West Indies. Their recipes pair well with animal protein for those who prefer it; indeed, the entire cookbook features a flexible approach to preparation. Recipes are grouped by main ingredient, including savory fruits and vegetables, greens and leaves, and grains. Designed to highlight the fresh produce of the West Indies, most recipes use fairly straightforward techniques that will be familiar to home cooks. An indispensable guide to sourcing, preparing, and substituting ingredients accompanies extensive historical background that places recipes in the context of slavery's legacy in the region. Vibrant photography perfectly accentuates the bright flavors of the food, creating a sublime mix of inspiration and practical knowledge that will appeal to all creative home cooks.
VERDICT Not to be missed; an essential purchase for library cookery collections.—Kelsy Peterson, Forest Hill Coll., Melbourne, Australia