Abbott, Jeff. An Ambush of Widows. Grand Central. Jul. 2021. 352p. ISBN 9781538719145. $28. Downloadable. THRILLER
Washed-up cybersecurity expert Henry North and supremely successful venture capitalist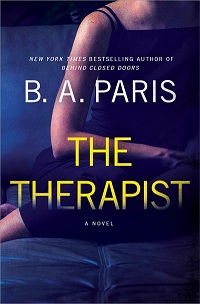 Wei "Adam" Zhang met only in death, their bodies puzzlingly found together in an abandoned warehouse in Austin, TX. Now their widows have joined forces to ferret out their husbands' secrets—while keeping their own under wraps. A stand-alone from three-time Edgar nominee Abbott; with a 40,000-copy first printing.
Bartz, Andrea. We Were Never Here. Ballantine. Jul. 2021. 304p. ISBN 9781984820464. $27. Downloadable. SUSPENSE
Backpacking through the Chilean mountains with best friend Kristen on their annual get-together, Emily is shocked to find their hotel room drenched in blood as Kristen explains that she killed a fellow backpacker in self-defense. Another backpacker died on their last hike, and Kristen is abruptly clingy when they return home, all of which has Emily wondering what's happening. From the author of the multi-best-booked The Lost Night.
Beverly-Whittemore, Miranda. Fierce Little Thing. Flatiron: Macmillan. Jul. 2021. 464p. ISBN 9781250779427. $27.99. SUSPENSE
Two decades after her residence as a troubled teen at a Maine commune led by the fiery and persuasive Abraham, Saskia and her four now-estranged friends there receive anonymous letters warning that something horrendous they did while trying to save the commune will become common knowledge unless they return to the place where the commune once stood. With a 75,000-copy first printing.
Constantine, Liv. The Stranger in the Mirror. Harper. Jul. 2021. 336p. ISBN 9780062967329. $26.99. SUSPENSE
Found stumbling along the roadside with no memory of her past, not even of her name, Addison is rescued by a kindly couple and begins putting together a new life for herself. But as she's about to marry, a man claiming to be her husband disrupts everything. More high-profile suspense from the sister team that gave us The Last Mrs. Parrish; with a 75,000-copy first printing.
Crouch, Katie. Embassy Wife. Farrar. Jul. 2021. 368p. ISBN 9780374280345. $27. THRILLER/POLITICAL
Having arrived in Namibia with her Fulbright scholar husband, Amanda Evans soon realizes that his reason for returning to a country where he once lived is vastly different from what he suggested. As Amanda's troubles escalate into international crisis, embassy wife Penelope Wilder (and Amanda's guide through Namibia) must decide how much diplomatic ugliness she can tolerate. From the author of the New York Times best-selling novel Girls in Trucks.
de Mariaffi, Elisabeth. The Retreat. Mulholland: Little, Brown. Jul. 2021. 288p. ISBN 9780316706308. $28. Downloadable. SUSPENSE
Dancer Maeve Martin has come to High Water Center for the Arts after the collapse of a violent marriage with hopes of creating her own dance company, and things are looking good until an avalanche traps the center's guests, who begin succumbing to strange deaths. From the Scotiabank Giller long-listed de Mariaffi; billed as a literary thriller.
Fesperman, Dan. The Cover Wife. Knopf. Jul. 2021. 336p. ISBN 9780525657835. $26.95. THRILLER/ESPIONAGE
Last seen in Safe Houses, CIA agent Claire Saylor here takes center stage while posing as the wife of an academic with an unsettling new interpretation of the Quran's promise to martyrs. Soon, she's crossed paths in Hamburg with young Moroccan émigré Mahmoud, who's drawn both to radicals at his local mosque and to a Westernized Muslin woman. Can they keep their world from exploding? From Hammett winner Fesperman, also claimant to CWA John Creasey and Ian Fleming Steel daggers.
Goodman, Carol. The Stranger Behind You. Morrow. Jul. 2021. 336p. ISBN 9780063082342. $27.99; pap. Morrow Paperbacks. Jul. 2021. 336p. ISBN 9780063020665. $16.99. THRILLER/PSYCHOLOGICAL
Attacked after a party celebrating the publication of her exposé about a predatory newspaper tycoon, Joan Lurie retreats to a high-security apartment building in upper Manhattan that was once the Magdalen Laundry and Refuge for Fallen Women. Nonagenarian Lillian has hidden out there since the 1940s, having inadvertently witnessed some mob action, and Joan starts seeing parallels to the story she's been covering. From Mary Higgins Clark Award winner Goodman; with a 75,000-copy paperback and 30,000-copy hardcover first printing.
Graham, Heather. The Forbidden. MIRA: Harlequin. Jul. 2021. 368p. ISBN 9780778311508. $28.99; pap. 400p. ISBN 9780778332053. $9.99. THRILLER/SUPERNATURAL
This 34th entry in the "Krewe of Hunters" series follows swiftly on the heels of The Unforgiven, the Krewe's 33rd outing, publishing in May. With a 10,000-copy hardcover and 400,000-copy paperback first printing.
Hamilton, Glen Erik. Island of Thieves. Morrow. Jul. 2021. 368p. ISBN 9780062978547. $27.99. SUSPENSE
Continuing the series whose starter, Past Crimes, won Anthony, Macavity, and Strand Critics honors, Hamilton sends practiced thief Van Shaw to the home of business tycoon Sebastian Rohner to test the security of his art collection. A dead body on the estate's rocky beach then sends Van after a killer. With a 75,000-copy first printing.
Läckberg, Camilla. Silver Tears. Knopf. Jul. 2021. 288p. ISBN 9780525657996. $26.95. Downloadable. SUSPENSE
A global brand, a groaning-full bank account, the occasional joyous fling in Rome—Faye would seem to have it all. But she also must hide her family away from dangerous ex-husband Jack, now behind bars. Then she learns of Jack's release, even as several investors she trusted start selling off their shares and a dark secret from her past threatens to pop to the surface. Faye's second showing after mega-best-selling Swedish author Läckberg's The Golden Cage, and this might turn into a series.
Lange, Richard. Rovers. Mulholland: Little, Brown. Jul. 2021. 304p. ISBN 9780316541961. $28. Downloadable. THRILLER/PSYCHOLOGICAL
Brothers Jesse and Edgar are rovers, near-immortal creatures who have circled the globe for seven decades in search of derelicts on society's edge on whose blood they can feed. Their encounter with a young woman forces Jesse to reconsider his life even as he rushes to protect her. With a 30,000-copy first printing; Lange is a Hammett Prize and CWA Short Story Dagger winner.
Lapena, Shari. Not a Happy Family. Pamela Dorman: Viking. Jul. 2021. 352p. ISBN 9781984880550. $27. CD/Downloadable. THRILLER/PSYCHOLOGICAL
After an Easter dinner with their three adult children, filthy-rich Fred and Sheila Mercer are murdered at their fancy Brecken Hill sprawl in upstate New York. The children stand to inherit millions; was one of them responsible? From the multi-million-copy best-selling Lapena; with a 100,000-copy first printing.
Miranda, Megan. Such a Quiet Place. S. & S. Jul. 2021. 352p. ISBN 9781982147280. $26.99. SUSPENSE
Once peaceful Hollow's Edge is definitely on edge after the murder of Brandon and Fiona Truett, especially when Ruby Fletcher's conviction for their killing is overturned and she moves back into the house she shared with Harper Nash. Understandably anxious Harper gets to work when threatening notes suggest that someone in town is lying about what really happened that night. With a 200,000-copy first printing.
North, Claire. Notes from the Burning Age. Orbit: Hachette. Jul. 2021. 464p. ISBN 9780316498838. pap. $16.99. Downloadable. THRILLERS/SUPERNATURAL
A breakout author with The First Fifteen Lives of Harry August and World Fantasy Award winner for The Sudden Appearance of Hope, North returns with the story of a world burning to a crisp and asks whether humanity can be saved. A surprisingly small print run, but readers wanting a darkly fantastical novel of ideas will embrace.
Paris, B.A. The Therapist. St. Martin's. Jul. 2021. 368p. ISBN 9781250274120. $27.99. CD. THRILLER/DOMESTIC
During a party she and Leo throw to meet their neighbors after moving into a gated residence in London, Alice shows friendly Tim around their new house, then learns a few days later that he's not from the residence—and no one knows who he is. Tim soon shows up to explain that a murder took place in the house 18 months previously, and Alice begins to investigate. From the multi-million-copy best-selling Paris; with a 350,000-copy first printing.
Reichs, Kathy. The Bone Code: A Temperance Brennan Novel. Scribner. Jul. 2021. 368p. ISBN 9781982139964. $27. SUSPENSE
Two plastic- and wire-wrapped bodies are discovered in a medical waste container on a South Carolina beach, recalling a case forensic anthropologist Temperance Brennan dealt with 15 years ago in Quebec. What's more, the bodies also seem linked to a contagion involving flesh-eating bacteria that's devastating Charleston. The perennial New York Times best-selling Reichs scores a 125,000-copy first printing and (pandemic willing) a six-city tour.
Richmond, Michelle. The Wonder Test. Atlantic Monthly. Jul. 2021. 448p. ISBN 9780802158505. $26. THRILLER
On leave from her New York–based job to clean out her father's house in Northern California and still mourning her husband's death in a freak accident, FBI Agent Lina Connerly is further disturbed by her teenage son's reports about the high school's upcoming Wonder Test. The seemingly silly general aptitude test seems destined to assure the ongoing wealth and privilege of Silicon Valley parents at the expense of their children, who soon start disappearing. A new protagonist from the New York Times best-selling Richmond.
Sedira, Samira. People Like Them. Penguin. Jul. 2021. 192p. tr. from French by Lara Vergnaud. ISBN 9780143136279. pap. $15. Downloadable. THRILLER/DOMESTIC
When the wealthy and unduly showy Bakary and Sylvia Langlois move with their children to the quiet French town of Carmac, only Anna and Constant Guillot manage to befriend them. Then both families face financial crisis, and their class and ethnic differences lead to tragedy. French Algerian actress/novelist Sedira's fourth novel is her first to be translated into English; billed as Penguin's hot new suspense novel and boasting a 30,000-copy first printing.
Silva, Daniel. Untitled. Harper. Jul. 2021. 496p. ISBN 9780062834867. $28.99. CD. THRILLER/ESPIONAGE
Silva returns with the next in his long-standing series starring spy and art restorer Gabriel Allon, and a usual there are no plot details. But there's a 500,000-copy first printing.
Sullivan, Connor. Sleeping Bear: A Thriller. Emily Bestler: Atria. Jul. 2021. 400p. ISBN 9781982166397. $27. THRILLER/ESPIONAGE.
After her young husband's sudden death, army veteran Cassie Gale seeks solitude on a camping trip in the Alaskan wilderness. When she fails to return home and her dog is found injured at her smashed-up campsite, her desperate father knows that her disappearance can't be attributed to bears or blizzard. A debut with a 75,000-copy first printing.