Click here for additional new Prepub Alert columns
LITERATURE
Auster, Paul. Burning Boy: The Life and Work of Stephen Crane. Holt. Oct. 2021. 800p. ISBN 9781250235831. $35. LITERARY BIOGRAPHY
The life of distinguished American author Stephen Crane embraced political controversy,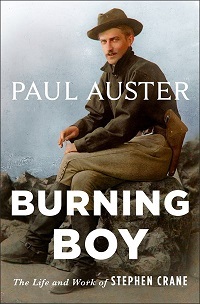 an ill-fated affair with a married woman, common-law marriage to the proprietress of a bawdy house, near-drowning after a shipwreck, reportage from the front lines of the Spanish-American War, relocation to England and friendship with the likes of Joseph Conrad, and a veritable tsunami of short fiction, long fiction, and poetry—all by age 28, when he died of tuberculosis. Booker Prize short-listed and New York Times best-selling Auster should have the brio to report this remarkable story; with a 75,000-copy first printing.
Cohen, Josh. How To Live. What To Do: In Search of Ourselves in Life and Literature. Pantheon. Oct. 2021. 384p. ISBN 9780593316207. $28. Downloadable. LITERATURE
A psychoanalyst and professor of Modern Literary Theory at Goldsmiths, University of London, Cohen uses literary characters to clarify human experience throughout life. The figures he explores range from Alice and Scout Finch in childhood and Jane Eyre as a student; through John Baldwin's John Grimes, Goethe's Young Werther, and Sally Rooney's Frances; to Gatsby's frustrated ambition and Dorothea Brookes's frustrated marriage; and finally to late-life disappointments in Marilynn Robinson's Gilead and Giuseppe di Lampedusa's The Leopard.
Massini, Stefano. The Book of Nonexistent Words. HarperVia. Oct. 2021. 272p. tr. from Italian by Richard Dixon. ISBN 9780063004771. $28.99. LITERATURE
As an award-winning novelist, essayist, and playwright (e.g., the hit Broadway play The Lehman Trilogy), Massini apparently often felt the frisson of not having exactly the right word to express that particular feeling (don't I know it). He finally concluded that w ords are meant to be invented, and here he relies on his distinguished storytelling ability to create a catalog of new words inspired by stories of real people, from French kings to American gangsters. With visual input from illustrator/filmmaker Magda Wel; a 25,000-copy first printing.
Prendergast, Catherine. The Gilded Edge: Two Audacious Women and the Cyanide Love Triangle That Shook America. Dutton. Oct. 2021. 352p. ISBN 9780593182925. $28. Downloadable. LITERARY BIOGRAPHY
In early 20th-century Carmel-by-the-Sea, CA, explosive and highly regarded poet Nora May French meets the Sterlings: newbie poet George and his put-upon wife, Carrie. Soon they form an unstable love triangle that ends in Nora May's suicide and the deaths of both Sterlings. Prendergast (English, Univ. of Illinois) tells a dramatic story, in particular investigating why French—so prominent at the time that her death inspired numerous copycat scenarios across the nation—is so little known today.
Solnit, Rebecca. Orwell's Roses. Viking. Oct. 2021. 320p. ISBN 9780593083369. $28. Downloadable. LITERATURE
Can talking about George Orwell's passion for gardening yield a greater understanding of his literature and politics? If the author is blazingly brilliant author Solnit (Recollections of My Nonexistence), the answer is yes. Inspired by roses Orwell planted in 1936, Solnit draws on photographer Tina Modotti's roses, Stalin's obsession with growing lemons in frigid Russia, Orwell's slave-owning ancestors in Jamaica (with acid commentary from Jamaica Kincaid), and Colombia's brutal rose industry for a one-of-a-kind book.
Tomalin, Claire. H.G. Wells: Changing the World. Penguin Pr. Oct. 2021. 304p. ISBN 9781984879028. $28. LITERARY BIOGRAPHY
The consummate biographer of Thomas Hardy, Samuel Pepys, and Charles Dickens, with too many awards to list, Tomalin tackles H.G. Wells, revealing both a painfully cramped childhood and how his early, profoundly influential accomplishments resonate more than his later works. Yet as she shows, those early works shaped his reputation and ongoing work through the decades—and he's not just a star of the sf realm.
Wolk, Douglas. All of the Marvels: A Journey to the Ends of the Biggest Story Ever Told. Penguin Pr. Oct. 2021. 384p. ISBN 9780735222168. $28. Downloadable. LITERATURE/GRAPHIC NOVELS
The superhero comic books released by Marvel Comics since 1961 constitute over a half million pages and have inspired 18 of the 100 highest-grossing movies of all time. How to assess their impact on popular culture and provide an overview? Read all 27,000+ Marvel superhero comics, which is exactly what Eisner Award–winning Wolk (Reading Comics) did.
PERFORMING ARTS
Baumgartner, Brian & Ben Silverman. Welcome to Dunder Mifflin: The Ultimate Oral History of The Office. Custom House: Morrow. Oct. 2021. 352p. ISBN 9780063082199. $29.99. TELEVISION
To provide a behind-the-scenes oral history of the ragingly popular The Office, actor/director Baumgartner (who played Kevin Malone in the show) and Silverman (its Emmy and Golden Globe Award–winning producer) conduced exclusive interviews with actors, writers, producers, executives, and fans. With a 150,000-copy first printing and lots of photos.
Copperfield, David. David Copperfield's History of Magic. S. & S. Oct. 2021. 288p. ISBN 9781982112912. $35. CD. ENTERTAINMENT
One of the greatest illusionists of all time, with 21 Emmy Awards he'll never let vanish, Copperfield here chronicles 28 magicians who greatly influenced the art. He starts with a 16th-century magistrate who wrote the first book on the subject, moves up to a trickster to tricked Houdini, and ends with a woman who caught bullets in her teeth. With a 150,000-copy first printing and more than 100 never-before-seen photographs.
Haygood, Wil. Colorization: One Hundred Years of Black Films in a White World. Knopf. Oct. 2021. 464p. ISBN 9780525656876. $30. FILM
From D.W. Griffith's infamous The Birth of a Nation through significant figures like Hattie McDaniel, Sidney Poitier, Alex Haley, Spike Lee, Richard Pryor, Halle Berry, Ava DuVernay, and Jordan Peele, Haygood—a Pulitzer finalist as a journalist whose The Butler was the basis of the Lee Daniels film—chronicles a century of filmmaking to explore Black history and the struggle for civil rights in America.
Krieger, Robby. Set the Night on Fire. Little, Brown. Oct. 2021. 320p. ISBN 9780316243346. $29. Downloadable. MEMOIR/MUSIC
Doors guitarist Krieger reflects on his life, his career, and his memories of the great Jim Morrison, whose story still captures the imagination of music lovers everywhere; the band's official website receives over 37 million impressions monthly. With a 60,000-copy first printing.
Milano, Alyssa. Sorry Not Sorry: Stories I Have Lived. Dutton. Oct. 2021. 272p. ISBN 9780593183298. $28. Downloadable. FILM
Actress/activist Milano here offers a series of essays that revisit her life and career, ranging from family to friendship to celebrity. Actively involved in the #MeToo movement, she has a lot to say about politics, too.
Sachs, Harvey. Ten Masterpieces of Music. Liveright: Norton. Oct. 2021. 336p. ISBN 9781631495182. $29.95. MUSIC
High-profile music historian Sachs (Toscanini) discusses what he considers the ten most enduring works of classical music, composed in the years between 1784 and 1966 by greats ranging from Beethoven to Berlioz to Stravinsky. It will be interesting to see why he chose these pieces; music fans, get ready to argue.
Sanneh, Kelefa. Major Labels: A History of Popular Music in Seven Genres. Penguin Pr. Oct. 2021. 400p. ISBN 9780525559597. $28. MUSIC
Former pop music critic for the New York Times and currently a New Yorker staffer, Sanneh sums up 50 years' worth of popular music with a drilled-down study of its major genres, from rock to punk to hip-hop. We get lots of subgenres as well, an understanding of how those genres have morphed over the decades, and how this music can both unite and divide us.
Seal, Mark. Leave the Gun, Take the Cannoli: The Epic Story of the Making of The Godfather. Gallery: S. & S. Oct. 2021. 352p. ISBN 9781982158590. $28. CD. FILM
In 2009, Vanity Fair writer Seal drew attention with a big retrospective chronicling the making of the 1972 classic The Godfather, a work he expands on here for the film's 50th anniversary. Freshly minted interviews with the cast and crew; a 100,000-copy first printing.
Stevens, Dana. Camera Man: Buster Keaton, the Dawn of Cinema, and the Invention of the Twentieth Century. Atria. Oct. 2021.288p. ISBN 9781501134197. $28. FILM
More than a biography of famously sober-faced actor/comedian/director Buster Keaton, this study by the chief film critic of Slate tracks the growth and development of film from the silent era to the early 1940s. With a 40,000-copy first printing.
Tucci, Stanley. Taste: My Life Through Food. S. & S. Oct. 2021. 304p. ISBN 9781982168018. $28. CD. MEMOIR
Since he's the winner of two Golden Globes and two Emmys, plus claimant to Academy Award and Tony nominations, you would think Tucci would tell his life through film. But no, he's chosen food—not so surprising as he's the author of two cookbooks and learned his love of eating early from his Italian American family. With a 150,000-copy first printing.
White, Richard Antoine. I'm Possible: A Story of Survival, a Tuba, and the Small Miracle of a Big Dream. Flatiron: Macmillan. Oct. 2021. 320p. ISBN 9781250269645. $27.99. MUSIC
Growing up with an alcoholic mother on the streets of West Baltimore, White was taken in young by his grandparents, joined the school band, and exhibited a talent for tuba playing that got him accepted at the prestigious Baltimore School for the Arts. Now he's principal tubist of the Santa Fe Symphony and the New Mexico Philharmonic and the first Black musician to earn a doctorate in music for tuba performance. Bravissimo! With a 40,000-copy first printing.