A long list of fan favorites will compete for readers' attention as the holly is hung, with key reissues from Robyn Carr and Nora Roberts included in the mix.
Click here for additional new Prepub Alert columns
Carr, Robyn. A Virgin River Christmas. Mira: Harlequin. Oct. 2021. 320p. ISBN 9780778312178. $28.99. CD. ROMANCE
Given the crowds swarming to watch the Netflix Original Virgin River, the publisher is reissuing the series on which it is based, and here's a Christmas-set entry appearing just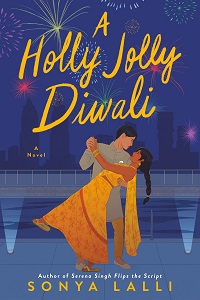 in time for Season Three. During the holidays, a year after losing her husband, Marcie Sullivan comes to Virgin River to find the man who saved his life four years previously in Fallujah. But Ian Buchanan was left emotionally scarred by his war experiences, and getting him to reach out to others isn't easy. With a 400,000-copy paperback and 10,000-copy hardcover first printing.
Colgan, Jenny. The Christmas Bookshop. Morrow. Oct. 2021. 288p. ISBN 9780063143258. $27.99; pap. Morrow Paperbacks. ISBN 9780063141674. $16.99. WOMEN'S FICTION
Colgan, who's had Christmas hits for four years running, introduces us to Carmen, just out of a job and not exactly thrilled to be moving in with has-it-all sister Sofia in Edinburgh. Sofia isn't thrilled either, but with another baby on the way, she could use the help, and she's got a client who needs a retail assistant for his backwater bookstore. Can Carmen bring sparkle to the store in time for the Christmas sales rush, and what about that classic good boy–bad boy decision she must make regarding romance? With a 100,000-copy paperback and 30,000-copy hardcover first printing.
Gray, Shelley Shepard. A Christmas Courtship. Gallery: S. & S. Oct. 2021. 320p. ISBN 9781982183776. $28; pap. ISBN 9781982148492. $16. CD. AMISH
During the holidays, 42-year-old Amish bachelor Atle Petersheim turns to bookmobile librarian Sarah Anne Miller for courting advice when widowed Sadie Mast, whom he's been crushing on for years, asks him to help build a room in her barn for grown son Cale. What better way to learn about love than through romance novels, and Sadie—struggling with memories of an abusive first husband—is bemused and finally impressed by Atle's approach. With a 50,000-copy paperback and 7,500-copy hardcover first printing.
Jackson, Brenda. One Christmas Wish. HQN. Oct. 2021. 320p. ISBN 9781335529084. $28.99. CD. ROMANCE/AFRICAN AMERICAN
Christmas is a time for healing—and romance—for two people who have just returned to Catalina Cove with burdened hearts. Vaughn Miller's Wall Street career was wrecked by a wrongful conviction and two years in prison, while Sierra Crane is escaping a painful marriage with her five-year-old daughter in tow and is looking to start over, opening a soup café. Let the sparks fly! With a 150,000-copy paperback and a 10,000-copy hardcover first printing.
Lalli, Sonya. A Holly Jolly Diwali. Berkley. Oct. 2021. 352p. ISBN 9780593100950. pap. $17. Downloadable. ROMANCE
Laid off from the analyst's job she pursued for security's sake and tired of feeling obliged to stick close to her family while dating seemingly appropriate men who just don't thrill her, Niki Randhawa leaps on a last-minute flight for her friend Diya's wedding in India. She arrives just in time for Diwali, the Festival of Lights, held annually in November. At the wedding, she meets London musician Sameer Mukherji, who sets her heart vibrating while reawakening her passion for the arts, and soon she needs to choose between Sam and a job offer back home—a decision that carries her into the Christmas holiday.
Macomber, Debbie. Dear Santa. Ballantine. Oct. 2021. 256p. ISBN 9781984818812. $21. lrg. prnt. CD. ROMANCE
Lindy Carmichael is home in Wenatchee, WA, for the holidays but not full of Christmas cheer; the man she loved has cheated on her with her best friend, and her graphic design job is going nowhere. When her mother tries to brighten her mood by reminding Lindy of an old family tradition of reading through the letters she wrote to Santa, Lindy decides to write herself a letter in an act of healing. Meanwhile, she runs into a handsome former classmate, and that could be a real holiday gift.
Morgan, Sarah. The Christmas Escape. HQN. Oct. 2021. 384p. ISBN 9781335529053. $28.99; pap. ISBN 9781335462817. $16.99. CD. ROMANCE
Though she and Christy are close-as-breathing best friends, Alix is dismayed when Christy asks her to take bubbly daughter Holly on a Lapland holiday just days before Christmas. She's not much experienced with children, and the enticing Zac, the best friend of Holly's dad, will be there to see how badly she stumbles. But it's for a good cause: Christy is trying to rebuild her crumbling relationship with her husband, and maybe Alix will be doing some relationship building as well. With a 100,000-copy paperback and 10,000-copy hardcover first printing.
Roberts, Nora. Christmas Everlasting. Harlequin. Oct. 2021. 320p. ISBN 9781335231000. pap. $16.99. ROMANCE
In the giving spirit, Roberts reissues two beloved holidays classics. "Local Hero" stars frantic single mother Hester Wallace, especially burdened now that the holidays are here, who takes up neighborly comic book writer Mitch Dempsey on his offer to look after her nine-year-old son with romantic results. In "All I Want for Christmas," music teacher Nell is charmed by her students Zeke and Zack, identical six-year-old twins, but their single-minded single dad doesn't seem to understand that all they want for Christmas is Nell as a mom. With a 75,000-copy first printing.
Ryan, Anne Marie. Christmas by the Book. Putnam. Oct. 2021. 320p. ISBN 9780593331248. pap. $16. Downloadable. HOLIDAYS
A Hachette Children's Books editor in the UK and the pseudonymous author of several children's books, Ryan goes adult with the story of booksellers Nora and Simon, whose delightful English-village bookshop may be facing its last Christmas. Inspired when an elderly gentleman purchases a book for his ill grandson, they decide to deliver books to six residents who could use some cheering up, from an overworked single father to a retired teacher who finds living on her own difficult. And maybe the bookstore will have a Christmas miracle after all.
Shipman, Viola. The Secret of Snow. Graydon House: Harlequin. Oct. 2021. 384p. ISBN 9781525806445. pap. $16.99. CD. HOLIDAYS
In Shipman's first holiday novel, 50-year-old Southern California–based meteorologist Sonny Dunes throws an on-air tantrum when she learns that she is about to be replaced by an AI meteorologist, and the only job she can now land is in her very chilly northern Michigan hometown. Despite painful family memories and a fake-friendly boss from her past, Sonny commits herself wholly to Michigan winters, and meeting the director of the Winter Ice Sculpture Contest could deliver the love and warmth she needs. With a 100,000-copy first printing.
Thayne, RaeAnne. Sleigh Bells Ring. HQN. Oct. 2021. 352p. ISBN 9781335529060. $28.99. CD. ROMANCE
During the 30 months that Annie McCade has been caretaker of beautiful Angel's View Ranch for the Sheridans, no one in the family has ever visited, so it's a real surprise when Tate Sheridan drops in before Christmas and announces that the entire family is arriving soon. Even with Annie's niece and nephew there in her temporary custody, Tate wants Annie to stay and help him—as long as she pretends to be his long-lost love to keep his matchmaking grandmother at bay. After all, she and Tate were friends once…and maybe they'll be more than friends again. With a 125,000-copy paperback and 10,000-copy hardcover first printing.
Wilde, Lori. Second Chance Christmas. Avon: HarperCollins. Oct. 2021. 384p. ISBN 9780062953223. $27.99. ROMANCE
In Twlight, TX, a setting beloved by Wilde fans, best friends Joel and Jana are organizing the church's Nativity scene when they discover a live baby in the crib with a note saying that the mother will return soon. But how soon? Jana takes the baby home, and they both start to fall in love with the sweet little bundle—while soon realizing that they are in love with each other. With a 300,000-copy paperback and 25,000-copy hardcover first printing.
Click here for additional new Prepub Alert columns