Flowers, ever popular, are enjoying even more admiration at the moment. Help patrons who wish to grow their own do so (at any scale from windowsill to farm) or, as these books also foster, to live a life enriched by the beauty of blooms.
Flowers, ever popular, are enjoying even more admiration at the moment. Help patrons who wish to grow their own do so (at any scale from windowsill to farm) or, as these books also foster, to live a life enriched by the beauty of blooms.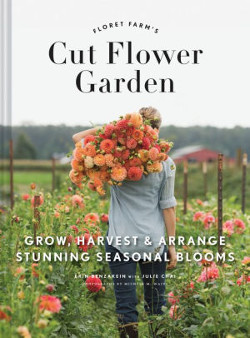 Erin Benzakein's American Horticultural Society Award-winning Floret Farm's Cut Flower Garden: Grow, Harvest, and Arrange Stunning Seasonal Blooms (Chronicle. 2017. ISBN 9781452145761) is the go-to resource. She offers a straightforward and encouraging guide to flower production, even if that is only a pot on a sunny windowsill. While the basics can be found in a range of works, what makes Benzakein's offering notable is her ethos and eye. The images are lovely and immediately recognizable, with an Instagram flair but a sincerity as well. Benzakein is a self-made businesswoman, who created her blooming empire while raising two small kids, and her savvy and energy shine through, giving her book an addictive vitality and spirit. Read-Alike: Suggest Sister Pie: The Recipes and Stories of a Big-Hearted Bakery in Detroit by Lisa Ludwinski. It captures some of the same sheer joy of reading Floret and recognizes that readers dive into nonfiction instruction books as much for the company the author provides as the story she has to tell. Also, with news that Floret Farm is going to feature in a new Magnolia TV network show this October, readers might want to start watching gardening TV. The only place to begin is BBC's Gardener's World (via YouTube and BritBox).
Once readers are ready to move beyond their immersion in the world of Floret (there is another book, a blog, and a website to explore as well), introduce them to Clare Nolan. She is a British writer clearly inspired by Benzakein and the author of In Bloom: Growing, Harvesting, and Arranging Homegrown Flowers All Year Round (CompanionHouse. 2019. ISBN 9781620083284). At first glance it might seem a bit too derivative, but read on and it is soon clear that Nolan is providing the next sentences (and charts) all Benzakein's readers need. Beyond the informational power punch, the book is correspondingly lovely to look at with a decidedly UK cottage garden vibe. It is also scaled for those who want to grow flowers just for the sheer joy of having them in their homes. Read-Alike: Another UK voice is Sarah Raven. Suggest her The Cutting Garden: Growing and Arranging Garden Flowers for more instruction and inspiration.
Martha Stewart has been planting and arranging flowers for decades and her Martha's Flowers: A Practical Guide to Growing, Gathering, and Enjoying (Clarkson Potter. 2018. ISBN 9780307954770) is an ode to her love of blooms. As to be expected with works by Stewart, this resource offers more inspiration and visual eye candy than dig-in-the-dirt practicality, but it still manages to provide valuable and hard-earned educational points by offering a perspective and insight that comes only from a lifetime of planning cutting gardens. The work has a dual focus: part how to grow and, in larger part, how to arrange. The arrangement segments are lovely and showy, but much of what is modeled by her coauthor Kevin Sharkey can be scaled back to jam jars and thrift store finds. Read-Alike: Suggest The Flower Recipe Book by Alethea Harampolis and Jill Rizzo for step-by-step directions for dozens of lovely arrangements.
The focus on flowers had to spill from growing and arranging to living a flower-inspired life. On Flowers: Lessons from an Accidental Florist by Amy Merrick (Artisan. 2019. ISBN 9781579658120) does just that. It offers readers a beautiful, quirky gift of a book, something to dream over and hug tight. Merrick has a storied resume. She wrote for Design*Sponge, designed vases for West Elm, and created floral arrangements that landed in the pages of Vogue and in the halls of the Metropolitan Museum of Art. Her debut, which made waves when it came out last year and is still a must-have, explores her lovely, rich floral life in all its many shades and perspectives. Read-Alike: For readers who want more focus on detail and hope to find further dreamy engagement with all things floral, suggest In and Out of the Garden by Sara Midda.
Monty Don is the opposite of Merrick. Long beloved in the UK as the host of the BBC's Gardener's World, U.S. viewers are meeting him via Netflix and BritBox. Don is a muck-boots, dirty-nails, blue-pants gardener who will teach readers how to grow anything—from something to be cut (although he would rather leave it in the ground) to something to be eaten (and he showcases a huge harvest). His newly reprinted The Complete Gardener: A Practical, Imaginative Guide to Every Aspect of Gardening (DK. Feb. 2020. ISBN 9781405342704) is full of advice about growing flowers and making a garden. His point of view is that gardening can change your life. That lofty goal is nailed down with clear instruction and practical inspiration. Read-Alike: Adam Frost, a co-presenter with Don on Gardener's World and an award-winning garden designer, is out with How To Create Your Garden: Ideas and Advice for Transforming Your Outdoor Space. It offers ideas to cultivate whatever space you have.
---
Neal Wyatt is LJ's readers' advisory columnist, contributing The Reader's Shelf, Book Pulse, and Wyatt's World columns. She is the coauthor of The Readers' Advisory Guide to Genre Fiction, 3d ed. (ALA Editions, 2019). Contact her at nwyatt@mediasourceinc.com.