Titles in science, political science, and medicine reflect on what we've learned from the pandemic and what happens next.
Click here for additional new Prepub Alert columns
Borrell, Brendan. The First Shots. Houghton Harcourt. Oct. 2021. 320p. ISBN 9780358569848. $28. SCIENCE
Cuomo, Chris. Deep Denial. Custom House: Morrow. Oct. 2021. 320p. ISBN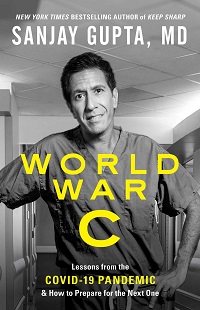 9780062887719. $28.99. lrg. prnt. POLITICAL SCIENCE
Gupta, Sanjay. World War C: Lessons from the Pandemic and How To Prepare for the Next One. S. & S. Oct. 2021. 320p. ISBN 9781982166106. $28. HEALTH & FITNESS
Patterson, James & others. E.R. Nurses: True Stories from America's Greatest Unsung Heroes. Little, Brown. Oct. 2021. 304p. ISBN 9780759554269. $29. lrg. prnt. MEDICAL
An Outside magazine correspondent whose award-winning journalism has appeared in venues ranging from the Atlantic to Wired, Borrell draws on exclusive emails and insider emails to track the race to produce The First Shots to protect against COVID-19; look for an HBO limited series. In Deep Denial, multi-award-winning CNN anchor Cuomo reflects on the fault lines in American society revealed by the pandemic—from a hobbled public health care system to a failure to commit to equality and racial justice—and more personal thoughts on home and family after he contracted COVID-19 and kept reporting from his basement (150,000-copy first printing). CNN chief medical correspondent, who's also been in the thick of COVID-19 reporting, Gupta gives us World War C, answering major questions on how the pandemic unfolded and what happens next, e.g., can we obliterate the virus and, if not, how do we live with it? (250,000-copy first printing). The pandemic has shown us the crucial work done in our communities by E.R. Nurses, and the mega-best-selling Patterson joins forces with Walk in My Combat Boots coauthor Matt Eversmann and Edgar finalist Chris Mooney to reveal the extent of our indebtedness.