Eight key award winners, best-selling authors, and promising first novelists who will draw in readers this January.
Askaripour, Mateo. Black Buck. Houghton Harcourt. Jan. 2021. 400p. ISBN 9780358380887. $26. LITERARY/AFRICAN AMERICAN
Never mind that he was valedictorian at Bronx Science (no mean feat), laidback Darren just wants to hang out, but he's talked into taking a job with the elite sales team at a scorching new tech startup in New York. As the only Black person in the company, he survives by reimagining himself as the no-holds-barred Buck, but tragedy at home gives him a new plan—he's going to help young people of color succeed in sales. Askaripour, a 2018 Rhode Island Writers Colony writer-in-residence, scores a 75,000-copy first printing for his debut.
Barry, Kevin. That Old Country Music: Stories. Doubleday. Jan. 2021. 208p. ISBN 9780385540339. $23.95. LITERARY/SHORT STORIES
A multiple award winner (e.g., IMPAC Dublin Literary Award, the Goldsmiths Prize,) whose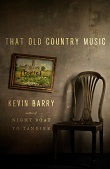 recent Night Boat to Tangier was a New York Times (and LJ) Best Book, Barry returns with a story collection primed to knock your socks off. Altogether 11 stories, three published in The New Yorker, reveal an Ireland that remains eternal even as it modernizes. As Barry is author of two stellar story collections, Dark Lies the Island and There Are Little Kingdoms, and winner of a Sunday Times EFG Short Story trophy, this will be much anticipated by anyone in the know.
Benjamin, Melanie. The Children's Blizzard. Delacorte. Jan. 2021. 288p. ISBN 9780399182280. $28. HISTORICAL/LITERARY
The New York Times best-selling author of The Aviator's Wife, Benjamin drew on oral histories to reimagine events surrounding the terrible blizzard that struck the Dakota territory on January 12, 1888, trapping lightly clad children at school after what had been a mild morning. Here, twin-sister schoolteachers Raina and Gerda Olsen must decide whether to shelter children at the school or send them home, while a newspaperman, guilt-ridden that his embellished stories drew Northern European immigrants to the godforsaken land, falls for a maidservant who miraculously survives the storm.
Hawkins, Rachel. The Wife Upstairs. St. Martin's. Jan. 2021. 304p. ISBN 9781250245496. $27.99. SUSPENSE
Impecunious Jane walks dogs in glamorous Thornfield Estates, hiding her true identity and lifting the occasional shiny bauble from her rich clients. Then she falls for rich, stormy Eddie Rochester, whose gorgeous, brand-name-touting first wife, Bea, drowned in a boating accident. Yes, a contemporary Southern gothic Jane Eyre from New York Times best-selling YA author Hawkins, taking her first chance with adult fiction. With a 100,000-copy first printing.
Jones, Cherie. How the One-Armed Sister Sweeps Her House. Little, Brown. Jan. 2021. 240p. ISBN 9780316536981. $27. LITERARY
A Commonwealth Short Story Prize winner, among other honors, practicing lawyer Jones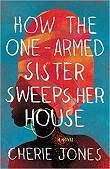 dreams up her first novel, set in sparkling Baxter Beach, Barbados. There, rich, spoiled ex-pats live in uneasy proximity to the locals who serve them until a botched robbery by charming smalltime criminal Adan reveals four people steeped in tragedy: a mother who has lost her baby, a woman trapped by grief and her unsteady existence between two worlds, and two men who risk everything to find a better life. So much for paradise.
Loedel, Daniel. Hades, Argentina. Riverhead. Jan. 2021. 304p. ISBN 9780593188644. $27. LITERARY
In this debut from Brooklyn-based Scribner editor Loedel, opening in 1976 and drawing on the author's family history, medical student Tomás Orilla has moved to Buenos Aires in impulsive pursuit of childhood sweetheart Isabel. But she is deeply involved with the insurgency challenging governmental oppression and puts him to a test that could be the end of them both. Decades later he returns from New York to revisit what happened—and what might have been.
Preston, Douglas & Lincoln Child. The Scorpion's Tail. Grand Central. Jan. 2021. 480p. ISBN 9781538747278. $28. THRILLER
On their second outing (after Old Bones), Nora Kelly, an archaeologist at the Santa Fe Archeological Institute, and rookie FBI Agent Corrie Swanson are tasked with investigating when a half-century-old mummy is found in a New Mexico ghost town. The victim's golden cross and clearly horrific death—as indicated by his terrible grimace and layers of skin that have peeled off the body—leads them to a crucial moment in New World history. With a 250,000-copy first printing.
Smith, Michael Farris. Nick. Little, Brown. Jan. 2021. ISBN 9780316529761. $27. HISTORICAL
Before he related the immortal story of Gatsy and Daisy, Nick Carraway had his own story, as revealed here by Southern Book Prize and Gold Dagger finalist Smith. Completely derailed by the devastation he witnessed in World War I's trenches, Nick decides to head off across the Continent, swirling through a doomed romance in Paris before finally heading to New Orleans.