Greenidge chronicles the life of turn-of-the-20th-century black radical William Monroe Trotter, while Keith and Clavin give us Eugene Bullard, the world's first African American pilot, plus a famed boxer, Paris nightclub impresario, and World War II spy. Myint-U gives context to Burma's present crisis, Sciolino captures Paris history by sailing the Seine, and Secrest shows that Olivetti, not IBM et al., built the first desktop computer.
Greenidge, Kerri K. Black Radical: The Life and Times of William Monroe Trotter. Liveright: Norton. Nov. 2019. 400p. ISBN 9781631495342; ebk. ISBN 9781631495359. $35. BIOGRAPHY
An historian at Tufts University's Consortium of Studies in Race, Colonialism, and Diaspora, where she is director of American studies, Greenidge resurrects the story of the Harvard-educated William Monroe Trotter (1872–1934), who sought to persuade black working-class citizens to exercise their political power during the post-Reconstruction era. As such, he stood in contrast to the more careful Booker T. Washington and the elite-focused W.E.B. Du Bois while presaging the efforts of Marcus Garvey, Malcolm X, and Martin Luther King Jr. And, yes, the author's sister is acclaimed novelist Kaitlyn Greenidge (We Love You, Charlie Freeman).
Keith, Phil with Tom Clavin. All Blood Runs Red: The Legendary Life of Eugene Bullard—Boxer, Pilot, Soldier, Spy. Hanover Square: Harlequin. Nov. 2019. 352p. ISBN 9781335005564. $27.99. BIOGRAPHY
The son of a former slave and a Creek Indian, Eugene Bullard fled racist Georgia at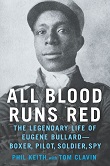 age 11, landed in Paris five years later, and emerged as the world-famous boxer Black Sparrow by age 18. He joined the Foreign Legion when World War I broke out, becoming the first African American fighter pilot in history, and returned a war hero to Paris. There, he emerged as a jazz musician and night club impresario, rubbing shoulders with Hemingway and Fitzgerald at his club and hiring young Langston Hughes as a busboy. He married a French countess and during World War II became a French spy. Smuggled out of France, he spent his last days in Harlem with his daughters as an assistant to Louis Armstrong. What a story award-winning Keith (Blackhorse Riders) and New York Times best-selling Clavin (Dodge City) have to tell; with a 75,000-copy first printing.
Myint-U, Thant. The Hidden History of Burma: Race, Capitalism, and the Crisis of Democracy in the 21st Century. Norton. Nov. 2018. 272p. ISBN 9781324003298. HISTORY
Things were looking good for Burma when Nobel Peace Prize laureate Aung San Suu Kyi was released from house arrest in 2010 and reentered politics; by 2013, Fodor's declared the country one of the world's "buzzy hotspots." Now the country stands accused of war crimes owing to its persecution and expulsion of hundreds of thousands of Rohingya Muslims, as detailed in reporting by Reuters that landed staffers Wa Lone and Kyaw Soe Oo in prison and recently won the Pulitzer Prize for international reporting. Myint-U, a renowned scholar and diplomat named one of "100 Leading Global Thinkers" by Foreign Policy magazine in 2013 and one of 50 "World Thinkers" by Prospect magazine in 2014, provides a you-are-there perspective.
Sciolino, Elaine. The Seine: The River That Made Paris. Norton. Nov. 2019. 304p. ISBN 9780393609356. $26.95; ebk. ISBN 9780393609356. HISTORY/TRAVELOG
A contributing writer and former chief diplomatic correspondent and Paris bureau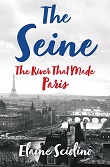 chief for the New York Times, Sciolino vivified the City of Light by capturing a few enchanting blocks in her New York Times best-selling The Only Street in Paris. Here she focuses on "the river that made Paris"—rivers do make their cities, but the Seine is surely special. Starting at the near-mythic source of the Seine in distant Burgundy and following it down to Le Havre, where it flows into the sea, Sciolino blends memoir, travelog, and history for a grand river ride. You've always wanted to chat with a bargewoman, a riverbank bookseller, and a houseboat-dweller and swim in the Seine, right? Especially timely, with Paris and Notre-Dame on our minds.
Secrest, Meryle. The Mysterious Affair at Olivetti: IBM, the CIA, and the Cold War Conspiracy To Shut Down Production of the World's First Desktop Computer. Knopf. Nov. 2019. 352p. ISBN 9780451493651. $30; ebk. ISBN 9780451493668. Downloadable. HISTORY
Winner of the Presidential National Humanities Medal and a Pulitzer Prize finalist, acclaimed biographer Secrest delves into the heretofore little-known story of the first desktop computer, developed ten years before the advent of Osborne 1, the Apple 1, the first Intel microprocessor, and IBM's PC5150. After World War II, Italy's Olivetti company—famed for its typewriters—entered the electronics race, quickly surpassing IBM and putting its own mainframe computer on the market with its desktop prototype. It sold 40,000 units, including to NASA for its lunar landings, and even purchased that Hartford-based Underwood. Then came the antitrust suit filed by the U.S. government in a bid to stop Olivetti and its socialist-idealist leader Adriano Olivetti, whose fatal heart attack was followed 18 months later by the suspicious car-crash death of its top engineer. With a 35,000-copy first printing.